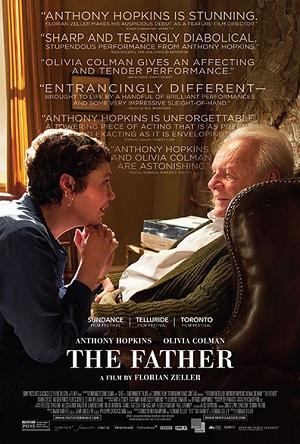 [Rating: Rock Fist Way Up]
The Father opens today in limited theatrical release and March 26 on VOD.
Most people have seen some form of this movie before and understand that it will be a bumpy ride. Films about dementia are devastating, and the new one by French playwright Florian Zeller, The Father, is no different, although its approach to the subject matter and its characters set it apart from the field and elevate it within the genre. Cognitive decline is tough on family members, to be sure (check out the stable of Oscar bait examples like The Savages or Aurora Borealis), but few films have taken a stab at portraying the situation from the POV of the afflicted, which The Father does with deliberate, nuanced mastery.
Adapted from Zeller's stage play, The Father owes much to these theatrical roots by way of its setting and set design. Staged primarily in one strategically decorated apartment, the film opens with Anne (Olivia Colman) visiting her dad, Anthony (Anthony Hopkins), at his London flat. The interplay is immediately familiar, with Anne telling her father that she's "met someone," and intends to move to Paris to be with him. Anne has been making daily trips to check on her dad, but with the English Channel soon to be between them, if the new nurse (Imogen Poots) she's hired to look after him doesn't work out, well…the pain and anguish on Anne's face is enough to fill in the blanks, there.
Although Anthony demonstrates some level of forgetfulness during the chat, the efficiency with which he parries Anne's concerns suggest that he may be able to take care of himself as he claims; yet the moment doesn't last. Anthony returns home from the market in the next scene to find a strange man, who claims to be Anne's husband, Paul (Mark Gatiss), in the living room. Anthony feigns recognition though it's clear he's got no idea who this guy is, and even less of a clue why Paul claims the apartment to be his, and not Anthony's. Initially relieved when Anne arrives to straighten everything out, Anthony is left speechless when the woman who claims to be Anne looks nothing like Olivia Colman (in this scene she is played by Olivia Williams).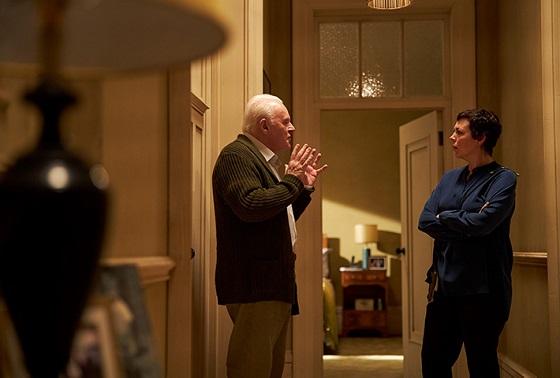 Split somewhat evenly between Anne's perspective and Anthony's, The Father puts the audience through a handful of days and moments that often loop back or reference each other to expand the narrative circle, yet with visual or setting "glitches." The script never places Anthony in a situation that isn't rooted at least partially in reality, giving the audience a sense of how faces, rooms, or fragments of conversations, perhaps shuffled in the brain so yesterday and last year merge, can act as broken signposts of the mind. It's devastating and effective in equal measure, and keeps the audience mentally off-balance when trying to process moments scene to scene.
Anne spoke about moving to Paris early in the film, this wasn't imagined, yet in the next scene Anthony's mention of Paris is met with confused looks. Just like the flat that was his yesterday now seems to be Anne's, people, places, and even the "when" of Anthony's world seem to be shifting all the time. And it's not just Paris or the flat, either. Anthony's confused conversation with Paul seems to repeat itself later on, yet this time Paul doesn't look the same (he's played alternatively by both Gatiss and Rufus Sewell depending on the moment). Anthony's obsession with his watch, at once a practical detail about forgetfulness but also a metaphor for his inability to orient himself at any given moment, comes up again and again, reminding the audience what's at stake for the man. Anthony isn't just confusing faces and locations, he's losing a sense of his place in the world both literally and emotionally.
Zeller's use of the camera, which rarely moves close enough for an intimate moment, puts the audience at a remove: like a person watching something tragic unfold with no way to affect the outcome. If the use of multiple actors for the same role didn't put the viewer into the frantic headspace of Anthony, moves like this help them along, as does the sparse score, which never rescues these moments from despair. Set in just a few locations with furniture and art strategically positioned to reflect each moment's place in Anthony's mind, Zeller and his team make sure no moment or stitch of fabric goes unused.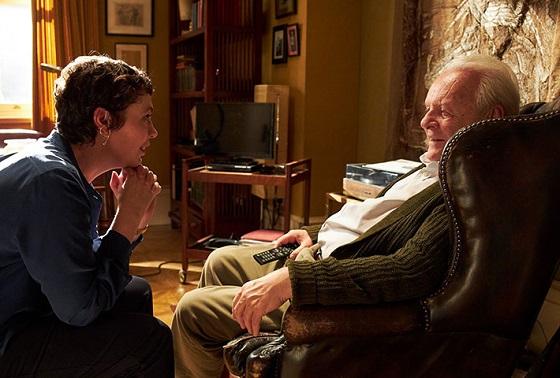 The same can be said of the performances, which probe the fear, frustration, confusion, and exhaustion of everyone passing through this world. Hopkins, taking a break from cashing checks on performative auto-pilot, reminds audiences why he's still considered one of the greatest living actors in the world, infusing Anthony with a frantic desperation masked by a resolute and authoritative bearing that obviously kept him in good stead up till now. Alternating between acerbic barbs, literal tap dancing, and unmoored confusion, the actor never strikes a false note, and conveys the desperate last attempts of a man trying to hang on to his sanity and a life that's becoming increasingly unrecognizable.
It's Colman who does the most with the least, however, communicating profound grief and exasperation with a sigh, head shake, or nod. Although it is never said outright, the interplay between her and Paul paint a grim picture of what Anthony's illness has done to her marriage, and in her darkest moments, she seems close to losing her own sanity as a result. Fresh off her first Oscar for The Favourite, Colman deserves a hard look for her second with this performance.
Painting a familiar picture with colors and textures audiences have never seen before, Zeller has crafted something unique with The Father, giving a voice and a face to an affliction that is too often limited to those suffering on the periphery of it. More than just a gimmick, the use of multiple actors to portray the same people, and the deployment of the same set in different décor and furniture arrangements, provide a level of depth and understanding to a movie trope (and real life tragedy) that is exhaustively familiar, but given fresh life, here. Anchored by singular turns from the leads, and a sharp yet sympathetic eye behind the camera, The Father is devastating and essential filmmaking in equal measure.