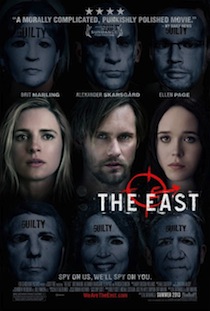 The espionage thriller gets an update with the release of The East. And let's face it, born largely out of the Cold War; the espionage thriller needed a facelift. Pitting spy against spy and super power against super power just doesn't work as anything other than a historical document or relic of the not-so-distant past.
Co-written by and starring Brit Marling, who also co-wrote and starred in Another Earth and Sound of My Voice, The East follows Sarah (Brit Marling), an agent trying to infiltrate the ultra-secretive domestic eco-terrorist group, the East.
Instead of working for the FBI or CIA, Sarah works for a private firm whose clients include the big corporations the East is trying to disrupt. Instead of looking like semi-ethnic people of color, the members of the East are mainly white, middle and upper class Americans. This is a spy and monkey wrench gang created for our current historical moment.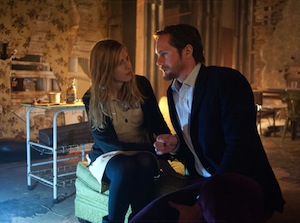 With a simple plot, Brit Marling and director Zal Batmanglij can give their focus to their characters and the unanswerable questions they face. As Sarah gets more involved with her East counterparts, her loyalties shift and change. Sarah and the viewer question whether the acts of violence and mayhem that the East commits are acts of terrorism or the necessary response to a broken system.
With each act one can sympathize with the argument presented, whether it's against Big Pharma's acceptance of a new vaccine's terrible side effects or a manufacturing plant's poisonous run off. Our anxiety grows when we watch the East's response, which is as morally questionable as the wrongdoing they seek to expose.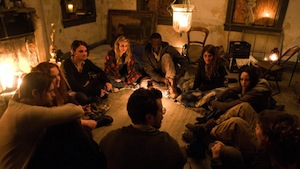 Zal Batmanglij and Brit Marling walk a fine line. They ensure that differing characters present a range of viewpoints, but never champion any single viewpoint as the right one. We are given a story where neither the East nor the corporations they attack are bad, but both engage in activities that are questionable, harmful or violent.
Other topics are brought up and explored that add layers of complexity to the film. Questions of activism versus terrorism, who is entitled to or capable of becoming an activist, the responsibilities that each of us have in environmental or social stewardship, and the distinctions between a face to face and online relationship are just some of the topics explored.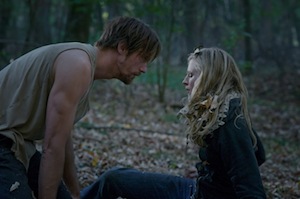 These filmmakers also accomplish the rare feat of giving a huge amount of character development to a large ensemble cast. The East itself is made up of more than 6 characters including leaders Izzy (Ellen Page) and Benji (Alexander Skarsgård). There is Sarah, her boss Sharon (Patricia Clarkson), Sarah's boyfriend Tim (Jason Ritter), pharmaceutical exec Paige Williams (Julia Ormond). Though the list of main characters is long, each one gets enough screen time to develop a distinct personality that gives weight to their actions.
You can also see from this abridged list that unlike most espionage thrillers, The East boasts a stellar female cast. This is most remarkable because no special attention is drawn to this detail. The screen just happens to be populated by a group that more closely represents what the audience might encounter in their daily lives.
Another related aspect of The East that is remarkable because of its subtlety is that character traits the are often marked as "female" – empathy, nurturing, emotional sensitivity – traits which never come into play in a spy film, are developed and necessary to the choices our characters make. These are not simply women placed into aggressive male roles, but characters, which show a broader range of emotions.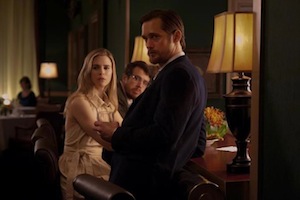 Sarah begins the film as an ambitious and motivated agent, but in order to engage with the members of the East she must become emotionally vulnerable. This vulnerability changes the way Sarah sees the East, her investigation firm and its corporate clients. Sarah's vulnerability makes her stronger.
The East shows remarkable maturity for young filmmakers Brit Marling and Zal Batmanglij. The depth that is explored is rare for an espionage thriller, but makes The East enjoyable on numerous levels and worth multiple viewings.
If you're interested in more coverage of The East, check out my interview with Brit Marling. She and I geek out about filmmaking. It's adorable.