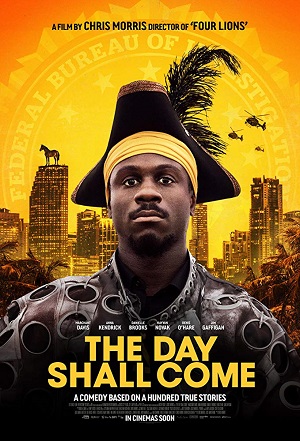 [Rating: Swiss Fist]

It's nice to see that there are still filmmakers today that know how to tackle the genre of satire.
The English comedian Chris Morris definitely has a unique approach to it. Following up his breakout hit, 2010's Four Lions, about four inept British Islamic terrorists, Morris returns to the director's chair with The Day Shall Come, another satirical black comedy, this time examining the farcical plunders of FBI stings, shady setups, and modern revolutionists. Along with British TV writer Jesse Armstrong, they create a script of one-liners and far-fetched situations that make you second guess exactly if these things actually happen to innocent people.
Set in the Miami projects of Liberty City (while actually being filmed in the Dominican Republic), Morris directs a tale that shows the FBI bumbling to identify possible suspect terrorists and create stings for easy win situation. An eager young agent (Anna Kendrick) follows and targets a local commune prophet, Moses Al Shabaz (Marchánt Davis) and his small "army" as they lead their disillusioned "Star of Six" crusade to help their community and also prevent from being evicted from their urban farm.
Their paths cross, leading to flippant conversations and silly situations that are peppered with satirical contentions. Davis, adorned in headdress reminiscent of Marcus Garvey and draped in a fancy shower curtain, steals the movie as he plays a sympathetic character who truly believes in the power of his actions and is gullible to match. He prays to François-Dominique Toussaint Louverture and "Black Santa" and is erratic enough to gather the threat manufacturing attention of local and federal agents. Along with Kendrick, the cast is rounded out by strong actors and comedians, such as Denis O'Hare, Jim Gaffigan and Danielle Brooks.
At the risk of comparison, this is not Four Lions. While it creates a new path in the terrorist political satire lane, the jokes are not as "laugh out loud" as Morris's feature debut. In between, the ridiculous situations, the humor is decreased and relies more on character development and the movement of story line than banter. This leads to less than funny scenes which may turn some away. While whimsical at times, it lacks the firepower (and proper use of a bazooka) that Four Lions packed into every scene.
As far as the independent scene goes, it was worth the watch just to see political satire done well on scene and be interesting enough to make you question fact from fiction.