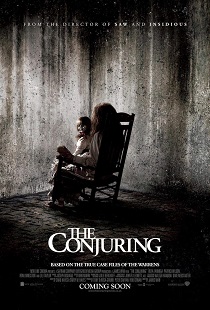 Here's my 4-word review of The Conjuring. It's really fucking good.
And here's my 666-word one:
Attention Paranormal Activity series: This is how you make a creepy and and entertaining haunted house movie. The Conjuring is well paced, full of tension, incredibly spooky, and at times downright scary. Even better, it accomplishes all of this without a hint of slasher gore, and never mistakes boring for the good slow burn of rising anticipation.
Now don't get me wrong, I love gory horror movies. I raved about the remake of Evil Dead a few short months ago. But The Conjuring is a call back to an different era, both in setting and filmic style.  This movie has a lot more in common with 1973's The Exorcist and 1979's The Amityville Horror than most of its modern horror counterparts. I'm not saying it's a great as those movies, but it can certainly be invited to hang out at the same parties.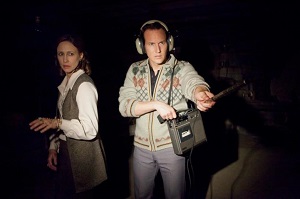 Set in 1971, The Conjuring tells the story of the Perron family, their haunted house, and two paranormal investigators, Ed and Lorraine Warren (Patrick Wilson and Vera Farmiga). But here's the kicker, it claims to be telling a true story. And it is — well, at least someone's version of it. All of the main players in the movie are real people. Ed and Lorraine Warren actually were paranormal investigators who were involved in the Amityville investigation that lead to the 1977 book and the 1979 film.
They also founded the New England Society for Psychic Research. Andrea Perron grew up in the house depicted and wrote a three-part book about her experiences on the haunted farm called House of Darkness, House of Light. Their versions of what happened on that farm make up the basis for the story told  in The Conjuring. I'm not here to make up anyone's mind about how truthful this "true" story is, but I am here to say it makes for a hell of good movie.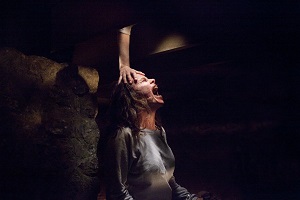 Here's the short version of the plot: Roger and Carolyn Perron (Ron Livingston and Lily Taylor) buy a secluded farm house in Rhode Island that they don't know much about. They move in with their four daughters, and things go bump in the night. Once they've reached a point of desperation, they recruit the Warrens to help them with their problem.
Don't get me wrong — we're not exactly treading new ground here, but director James Wan's handing of these age old story elements is so good it doesn't matter. The pacing is slow but doesn't drag. It doesn't get in hurry to give away it's secrets and never wavers in it's tone. It is beautifully shot, the cinematography is very muted, and the film feels like it could have been shot in the same era it's set in. It very much feels like a 1970s horror film, before slashers were haunting teenage dreams and well before found footage became the way to make a story feel real.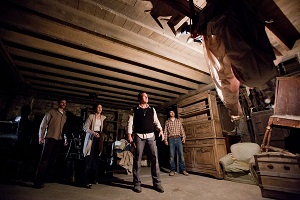 The Conjuring takes it's 1970s vibe very seriously. In fact, other than a few dark jokes to relieve a little tension here and there, The Conjuring takes everything seriously. Here, the truth of good and evil and dark forces are not really questioned in any kind of cynical way, a feat carried out mostly by Patrick Wilson's portrayal of Ed Warren. His matter-of-fact approach to the supernatural makes the character and the world around it very real. There's no con here. The Warrens are serious about what they do and there is real danger in the demons they battle.
I'm giving The Conjuring a Solid Rock Fist Up. It doesn't reinvent the wheel, but it's a really well-executed haunted-house movie. It's creatively shot, and I hope it finds it's way into the vision of more than just horror fans. It's proof that you can still make a great scary movie without having to resort to body counts or gimmicks.
I recommend it for anyone who enjoys a good ghost story with enough tension that you'll occasionally notice yourself holding your breath.