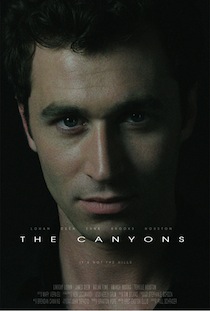 When I heard about Lindsay Lohan's new film The Canyons I was skeptical, but intrigued. A sex-driven thriller written by Bret Easton Ellis, the writer who penned American Psycho, and directed by Paul Schrader, the writer of Taxi Driver and Raging Bull might just be worth watching.
Now that I have seen the film, I'm still on the fence.
The plot is worthy of the trashiest of late night adult viewing options.
Christian (played by James Deen, a star in the adult entertainment industry), an affluent trust funder in L.A., funds a horror film. Christian's girlfriend, Tara (Lindsay Lohan), and his assistant, Gina (Amanda Brooks) convince Christian to cast Gina's boyfriend, acting newcomer Ryan (Nolan Gerard Funk), in the lead role.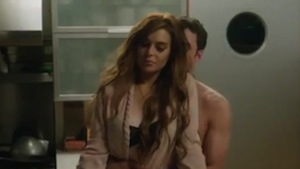 Within the first few minutes we discover that Christian has some dangerous sex fetishes, and Tara and Ryan are involved with one another. As the film progresses Christian becomes increasingly suspicious of Tara and his violent nature begins to show through.
The acting is either wooden, or completely over the top. People fall out of their clothes and into bed with one another in a manner that is not so much shocking or arousing as it is hilarious. The Canyons would be a film that I would normally condemn for any number or reasons, but I have a sneaking suspicion that all of this camp was intentional.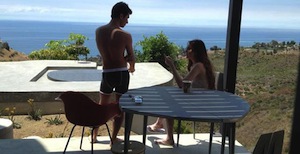 Paul Schrader and Bret Easton Ellis have both explored subjects of questionable taste, but often with such relish that the audience can revel in the vulgarity with them. There are too many clues that these two veteran filmmakers knew exactly what they were creating when they made The Canyons.
Christian is funding a slasher film and slowly devolves into a character from one. His trust mandates that he continue seeing psychiatrist Dr. Campbell (Gus Van Sant), and while Christian describes his discomfort with a previous night's sexual escapades, he says, "I didn't feel like I was in control," and "It doesn't usually go down like that. Usually I'm the one directing the scene. It made me feel like an actor."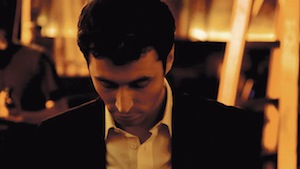 James Deen, a porn star, is saying this to Gus Van Sant, an established indie director. This can't just be an accident.
It is my hope that lines like "Bam!" and "Nod for me, baby," join "Garbage Day!" and "Oh God. Oh Man" as Internet favorites.
Not that this makes The Canyons a good film. There are far too many driving sequences used as transitions, acting that is difficult to stomach even for a schlocky thriller, and giggle-producing sexual situations for this to pass as a good film. Still The Canyons just might be a great, bad film, if you have a taste for such things.