The genre of the con-man movie is a tricky one for sure. One must assume, given the nature of the swindling main characters, that there will be con upon con, layers of which reveal themselves only as strategically as the screenplay allows. As a defense mechanism, the audience will try to stay one step ahead of the game, constantly in fear of getting too emotionally invested in characters who may be putting each other (and us) on. Developing a convincing love story between a con man and the conned amidst this thorny backdrop would be a foolhardy thing to try indeed.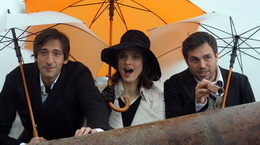 That's why writer/director Rian Johnson's sophomore effort, "The Brothers Bloom," is such an impressive film. Not only does Johnson create a charming love story, but he also provides tons of clues as to what may transpire during the "long con" section of the movie by having its architect use classical storytelling devices. In the end, "The Brothers Bloom" is as much about society's need for a well-told story as it is about an emotional connection between its fictional characters. This sincerity is ultimately what lifts the picture above many of its predecessors.
Stephen (Mark Ruffalo) is that architect, a man who puts together confidence games that mimic, reference, and—in Stephen's eyes at least—rival the best stories in literature. Of course, the audience for these extravagant put-ons is a considerably smaller one. Not content with simply stealing huge amounts of money, Stephen instead wants his victims to gain insight into themselves while they are unknowing participants in his grand story, which he carries out with his increasingly malcontent brother, Bloom (Adrien Brody).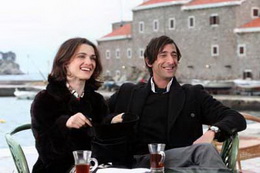 After each elaborate con is concluded, Bloom (a romantic who gets too attached to many of the duo's victims) swears to his brother that he is finished, but Stephen always manages to convince him to do "one last con." Johnson trots out that old sturdy cliché as the basis for "The Brothers Bloom," and we have to believe that Bloom means it this time—otherwise this movie would lack sufficient conflict and therefore wouldn't be following Stephen's own guidelines. This kind of self-referential quality makes the movie an interesting puzzle to try to solve.
Early on, in a delightful seven-minute opening sequence, Johnson establishes the fairy-tale not-quite-reality world of "The Brothers Bloom." Although it's purportedly set in the present, the art direction and costume design of the movie is a combination of European old-world charm and 1930s American Hollywood. It's not that the entire universe of the brothers has received some sort of vintage makeover, it's just that the faraway locales the brothers travel to (Prague, St. Petersburg, and Montenegro) have the same classic beauty that coincides with their outdated mode of dress. (It must be noted that they also travel to New Jersey, but the mansion they see there looks older then the entire state.)

A mischievous comic tone is also set right away, so that by the time we meet eccentric shut-in heiress Penelope Stamp (a luminous Rachel Weisz), it fits right in. (A scene where we find out what Penelope does with all of her money and spare time in her mansion is probably the funniest and most clever in any movie this year.) The brothers' sidekick Bang Bang (Rinko Kikuchi), is a mysterious and silent explosives expert whose very presence sets up more inspired lunacy and screwball comedy.
Of course, Bloom falls for Penelope while the brothers are fleecing her, and he desperately yearns to break free and live an "unwritten life"—one that his brother hasn't scripted. (Ironically, it's Bloom's brother who finishes the sentence for him when he protests.) The familial ties are strong, however, and Bloom is indebted to Stephen. He feels trapped. As kids, they were kicked out of 38 foster homes together, and his older brother's imaginative schemes have taken them all over the world, saving them from a life of mediocrity. This last con represents Stephen's crowning achievement, so Bloom reluctantly goes along with it.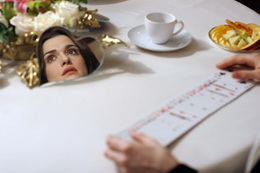 Johnson's script is densely packed with as much discussion of storytelling devices as it is of those devices themselves: foreshadowing, symbolism, dramatic irony, literary references, etc. By adding this conceit to Stephen's character, the writer/director adds another layer of mystery to the proceedings. When things get darker towards the movie's last act, it's clear that Johnson isn't just satisfied with the expected clinical plot twist.
The film's climax—which actually takes place on a stage—further pushes the boundaries between what is real and what is a story. It's ambitious to attempt a resoundingly emotional conclusion within the murky waters of people who lie for a living, and Johnson's movie succeeds in that respect, while also crying out for a second viewing. After all, the script had been telling us the whole time what it was really about because it follows Stephen's rules for literary accomplishment.
Sidenote: "The Brothers Bloom" has been getting a lot of criticism lately in the form of snide comparisons to Wes Anderson. It's an easy shorthand, but it also shows a shocking lack of film history knowledge on the part of the reviewer to say that. Does Anderson have a corner on the market when it comes to whimsy? When did everyone decide that was Anderson's torch to bear? And when did Anderson take Tim Burton's crown—remember when Burton used to be the reigning king of the whimsical? Tone aside, Johnson's onscreen composition has none of the symmetrical framing and evenly-lit deep focus of Wes Anderson either. Also, if both Anderson and Johnson are both inspired by Fellini, how does that make Johnson Andersonesque?