[Rating: Solid Rock Fist Up]
Demonic visions and decapitations sum up The Blackcoat's Daughter in a nutshell. That in no way is a bad thing, as the tension is tightened to the point of asphyxiation in this new psychological horror film.
While not perfect, if you're looking for something to keep you up thinking for the rest of the night, this will do the trick.
Directed by Oz Perkins, son of late Psycho star Anthony Perkins, the movie follows two narratives. The first, two young women end up stuck at their Catholic boarding school during break. 15-year-old Katherine's (Kiernan Shipka) parents fail to pick her up. An older student named Rose (Lucy Boynton) has the same issue. She however told her parents the wrong date purposely so she could inform her boyfriend she may be pregnant.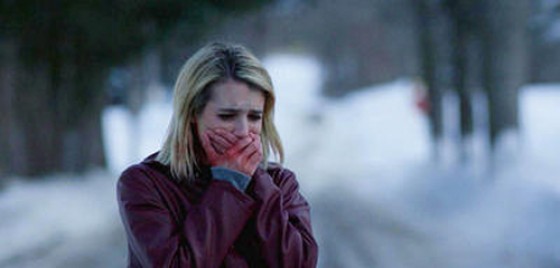 The second narrative follows a distraught woman named Joan (Emma Roberts). When we are introduced to her, we see in flashback that she escaped a psych ward. She is offered a ride by a kind stranger (James Remar), and learns he and his wife are traveling to visit the grave of his daughter who was murdered.
Well before both of these stories collide, it's obvious where the connection is. Even looking at the poster for the movie, it is easy to figure things out.
Still, the sense of mounting dread makes this movie a powerful horror standout. The scares don't jump out at you every 10 to 15 minutes. The film instead builds the mood with dark, claustrophobic shots and spine tingling sounds.
While it's not difficult to piece together what's happening, we are not given a complete explanation as to what exactly is going on. Is the chaos brought on by some otherworldly demon, or is it all a manifestation from a young woman's fractured mind?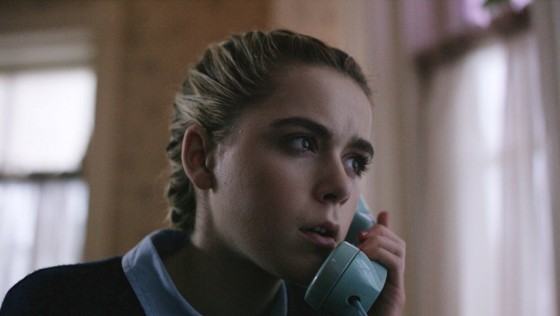 The Blackcoat's Daughter is in not about cheap scares. It builds a sense of tension with every shot. The score only adds to the dark tone. The chill inducing visuals while simple, only multiply the effectiveness of this creepy gem.
While not perfect, it's probably the most effective psychological horror film you can find in the theater on on VOD right now.