[Minor Rock Fist Down]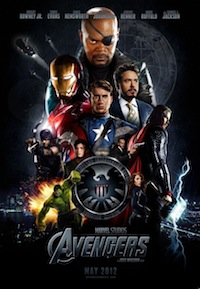 The Avengers is already a winner as far as buzz, and soon will reign supreme over the box office. It seems almost silly to review it, since my small voice will be drowned out in a sea of screaming fans.
You know what? I'm okay with that.
We are all inherently critical beings and we should expect a lot from a movie that has unlimited resources at its disposal.
So does The Avengers live up to the hype?
Sorta.
It does give fans the long craved for assembling of the mightiest heroes that has been hinted at for years, but regardless of the can't lose hype machine that seems to drive this all too perfect union between comic book superhero film and geek legend Joss Whedon, there's something really wrong with the film.
Let's start with the good.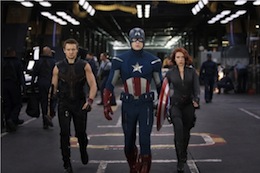 Mark Ruffalo as Bruce Banner is excellent. Ruffalo uses his small amount of screen time to craft a character that is both vulnerable and a ticking time bomb. He makes the character real and human.
There are also some pretty impressive action sequences, which culminate in a 30-minute romp through downtown New York. Yeah it's cool to see Captain America fight by Thor, or Iron Man throw down next to the Hulk, but this also gets me to the problems.
There is nothing particularly new or interesting about this film. It feels simply like the next in a chain of bland overly formulaic summer movies created to entertain us for a week or so in the theater, and later on our 52 inch flat-screen 3D capable TVs before the DVD is pushed to the back of the movie shelf, hidden behind 2013, 2014, and 2015's offerings.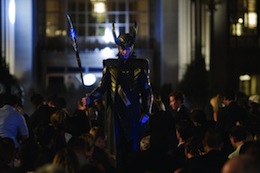 The visuals, especially in the fight sequences, are reminiscent of many recent Michael Bay films, from deliberate tracking shots which circle our heroes as the world crumbles around them to the disposable and indistinguishable Chitauri, who are as weak or strong as they need to be for any given scene.
All action films have flexible consequences. Our heroes walk away from crash landings that would kill everybody on board, only to get the wind knocked out of them with a well-placed punch in the next scene.
Suspension of disbelief relies on a consistency to the established rules within the story. Someone can jump from a moving plane, 40 feet above a building and land on the rooftop with a roll or two, but that person shouldn't then succumb to a normal bout of fisticuffs. One does not allow for the other within the same context. The Avengers pushes us far beyond these limits, and consistently breaks its own established rules.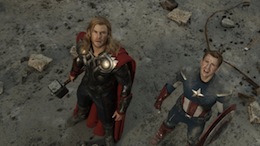 Let me be clear. I don't care what the rules of any film's physical world are. They can be anything, but that can't shift willy-nilly as the needs of the plot dictate.
Finally the script itself is passable, but utterly predictable. If you've watched two big summer movies in the past 10 years, you already know what's going to happen.
Bad guy steals powerful thing, messes with good guys. The good guys, after struggling with their identities and reluctance to accept the responsibility thrust upon them, finally get together and fight their way to the bad guy, and quell whatever mayhem the bad guy started.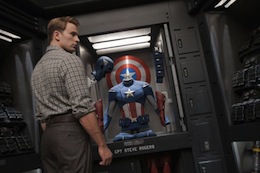 Captain America (Chris Evans) talks in grandiose terms about being a soldier; only to have the cocky billionaire, Tony Stark (Robert Downey Jr.), remind him that he, Stark, is not a soldier. Owning a mobile weapon suit and moonlighting as a freedom fighter really doesn't count.
Stark himself is reduced to a nickname-spouting sidenote in the unevenly handled ensemble.
Scarlett Johansson is there to look hot, kick ass, and occasionally act vulnerable when the dudes above need information from a bad guy.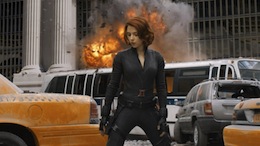 Black Widow's trick is so overt in the beginning of the film – she "interrogates" a Russian officer while bound to a chair only to bust free and dispatch her captors – that when she walks into to Loki's holding block later in the film, the viewer should know exactly why she's there. Her feigning weakness is just a ruse to draw information out of the Norse trickster.
One can see every plot development, every turn of phrase, every small character shift coming from miles away, and as they played out, I was not impressed that Whedon had stayed true to characters or storylines; I was just bored.
The final battle unfolds in glorious fashion and there are many big moments, but when everything goes by exactly as predicted, exactly as expected it's like watching Whedon play with really expensive action figures.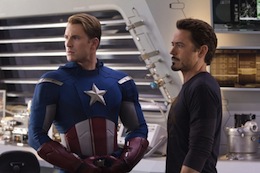 I understand that I'm going to be in the minority on this one. Most people will go and blindly consume The Avengers getting exactly what they want without surprise or subversion of expectation. They'll emerge from darkened theaters, punching the air; shooting invisible arrows from ethereal bows; deflecting imagined lasers with an imagined metal shield.
That's all right by me.
Go and have a blast and forget the fact that you've seen this all before.
As for me, while I watched The Avengers I could see Joss Whedon resign himself to his chains that he created years ago out of the hopes and dreams of fanboys and Comicon attendees everywhere.