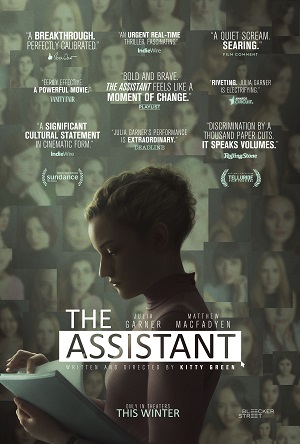 [Rating: Minor Rock Fist Down]
A fly-on-the-wall exploration of Hollywood's casting couch culture pre-#MeToo, The Assistant does a great job setting the stage for the story it wants to tell, yet fumbles when trying to tell it. A movie that is dripping with Harvey Weinstein subtext without ever mentioning the disgraced movie mogul by name, its story focuses less on the industry and more on what it means to know something in your heart that doesn't necessarily have the backing of hard facts. Writer/director Kitty Green does a marvelous job creating a world that acts as an introduction into this dilemma, yet The Assistant ultimately fails to create a character or narrative that adequately confronts the conflicts established throughout.
Jane (Julia Garner) is an assistant to a high-profile movie producer in his Manhattan office, where the film sets her up as the first in and last to leave each day. Although she's only been in her position for five weeks, Jane handles a variety of office functions that involve everything from script printing to travel and calendar coordination. Jane's boss (never seen or named in the movie) is the center of this universe, and while she does notice odd things from time to time, like a random earring on the floor near the private office's couch, she's able to compartmentalize most of it at the prodding of those around her, who constantly reinforce how lucky she is to have her job.
Green's script and direction paint a vivid picture of a male-dominated universe where women are invisible at best, and recklessly disposable at worst. Jane isn't allowed any creativity or inspiration in her work (ironic considering the field), and is limited to rote tasks like measuring out powder for her boss' afternoon protein shake, confirming travel arrangements, cleaning up after meetings, and dealing with the phone calls her male co-workers don't want to handle. When she does have to compose an email that is meant to convey something personal, it is done with these same colleagues looking over her shoulder, editing the message in real-time and telling her what phrases would work better.
The Assistant is composed entirely of these small moments and microaggressions, and never leaves Jane's point of view. The choice to keep "Him" off-screen also serves to establish a power dynamic within this world that clearly sets Jane's place within it. Jane is only ever acknowledged as a necessity: the people she works with taking pains not to so much as look at her unless they must. The boss, on the other hand, is never named, which is more than just a storytelling choice, but also a function of the world-building. No one ever asks who is being discussed: "him" is enough.
There are gaps in The Assistant, though, and while the atmosphere is well assembled, the foundation underpinning all of this is not. No time is ever given over to the "why" of Jane's story, which is a problem. Indeed, if the film is going to play coy about the Weinstein subtext, it has to give the audience some background about this world and why Jane would sacrifice so much to be a part of it. Although the script does set up a few conversations about what a great opportunity Jane's job represents, it never shows or demonstrates this. Had the film been set in a brightly lit Los Angeles neo-modern office with a row of Oscars in the background, that might have been enough, but in the world of The Assistant, these clues are absent, and the audience is not meant to know anything about Good Will Hunting or Pulp Fiction or The King's Speech.
In this way, Green wants to have her cake and eat it too, for the film never anchors this in an overt way to Weinstein, yet it wants the audience to assume this background to plug the aforementioned gaps in the narrative. What's more, Jane as a character is also something of a fantasy in her Admin. role, for she is an entry-level secretary at one point, a multi-tasking Executive Assistant at another, and at other times a member of the payroll department, a receptionist, and an Office Manager. Even a put-upon personal assistant in the most high-pressure setting wouldn't be called upon to do all of this: it would be like a heart surgeon also doing rounds in the E.R. during the back half of their rotation.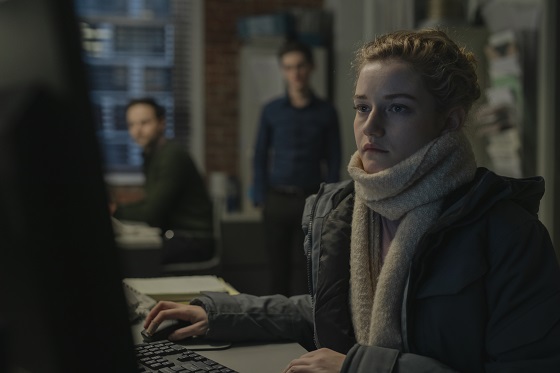 So, The Assistant is showing instead of telling, sure, yet these shortcuts do little to imbue the picture with any cohesion capable of telling the audience anything. It's not just that the characters and the story don't ring true to Administrative professionals (the copier paper jam moment did that all by itself), but the film's insistence that it doesn't have to establish motive, context, or a sense of place sell the whole effort short. There are some great scenes, to be sure, and if one walks into the film with an understanding that this is a Weinstein parable, it does alright for itself, yet as a standalone effort it doesn't really scan.
Indeed, The Assistant feels less like a movie and more like the first episode in a limited series. It sets up the characters well and creates a world that is both nuanced and particular, but it feels like little more than an introduction to a universe not yet fleshed out. Some moments do come across as relevant and authentic, like Jane's meeting with her H.R. manager (Matthew Macfadyen), yet these set-ups rarely have a pay-off in The Assistant. Like the unnamed boss always out of frame, Green's film feels just out of reach, and clouded by overwhelming forces that dominate the atmosphere yet never come into focus. Like Weinstein himself, the time will come for this story – it will just be for someone else to tell it.