Neill Blomkamp's feature-length directorial debut does what really good science fiction does—it makes you think about the world you live in.
It also does what mainstream crowd-pleasing sci-fi does and entertains with a lot of well-designed action scenes and classic Hollywood tropes.
Using a stranded and impoverished alien race as a stand-in for the apartheid world that he grew up in in South Africa, Blomkamp (who co-wrote the film with Terri Tatchell) fills "District 9" full of real-world parallels.
But what starts out as a heavy-handed—if not very clever—social lesson (under the guise of a film cobbled together by news cameras and TV reports) ends up a rousing chase picture with some unexpected emotional twists and turns.
I've attached a slideshow that I made minutes after watching the movie last week as a tribute to its influences. I tried not to get too specific, but as I was watching the movie, there were moments that reminded me very much of other iconic scenes.
To his credit, Blomkamp (who expanded the movie from his 2005 short "Alive in Joburg") reappropriates these old ideas to make something new and fresh.
I've always admired how "Cloverfield" used it's single-camera storytelling device as a way to cut back on budget and employ the less-is-more approach to special effects, but keeping all the action confined to one single viewpoint was sometimes quite limiting (not to mention hard to stomach, thanks to a huge amount of shaky-cam).
"District 9" grounds us in the reality that aliens have lived among humans in Johannesburg, South Africa for 20 years. They are confined to a makeshift slum that bears the movie's title and are treated with open derision and hatred—their shrimp-like features earning them the nickname "prawns."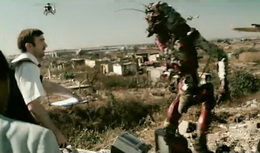 From this simple high-concept premise, Blomkamp starts to tweak things just slightly. Our hero is a bureaucrat named Wikus van der Merwe (played by Blomkamp's childhood friend Sharlto Copley), who heads up a mission to evacuate the aliens to another camp. It's a big performance for Copley, whose character undergoes a physical and mental readjustment that will drastically change his life in a matter of days.
There are powerful images of black people calling for the segregation and elimination of the prawns throughout the movie. There is a kind of lost hopelessness that permeates these early scenes—mostly shot by "news cameras"—and everyone who is interviewed is talking about Wikus as if we already know what happened to him. This creates a sense of dread and mystery that lasts throughout the movie.
The script takes swipes at the military and the government and the cinematography—some of it washed out in a blur of simulated VHS—enhances the reality and smooths out the CGI so it blends seamlessly.
Aaron Weber from Transbuddha has an expanded rave review here, while contributor Trey Hock offers a counterpoint here. Check them both out for more takes on this fascinating movie.