In the disturbing and perfectly calibrated new drama Take Shelter, Michael Shannon plays Curtis, a respected family man in a rural Ohio town. He is lucky enough to be able to provide for his family through his job drilling oil, his beautiful wife (Jessica Chastain) loves him unconditionally, and he dotes on his young daughter (Tova Stewart), who is also deaf.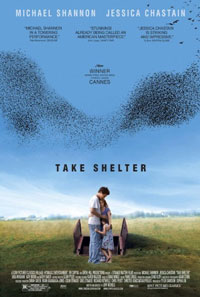 His best friend says he has "a good life." But when things are going too good, there is always seems to be a looming threat around the corner.
In Take Shelter, writer/director Jeff Nichols (Shotgun Stories, also with Michael Shannon) makes that threat—this 21st century fear of losing everything you have—and makes it physical. Curtis is waking up in a cold sweat with recurring nightmares of huge storm clouds and tornadoes, and he starts seeing birds flocking together in all kinds of disturbing patterns. No one but him seems to notice.
An apocalyptic storm is coming all right, but the rational and normally balanced Curtis can't decide whether it's real or in his head.
Take Shelter may seem like a standard "is he crazy or isn't he"-style thriller on the surface. Curtis is acutely aware of the schizophrenia that his mother was diagnosed with when he was a kid, so he responsibly attempts to seek treatment in case he's inherited some of her traits.
His frustration with the process of getting help is a nice corollary to those in the audience who may want easy answers.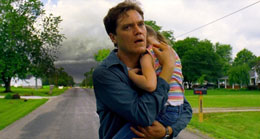 But Take Shelter isn't concerned with the trivialities and plot devices that come with mysteries or modern-day puzzlers.  Instead, it offers a portrait of destructive behavior that is motivated by the purest of intentions: wanting to protect your family.
Michael Shannon (Oscar nominated for 2009's Revolutionary Road and so creepy as Kim Fowley in The Runaways) is the perfect vessel to channel the audience's fears. Usually cast in more obviously sinister roles because of his craggy, expressive face, he plays the everyman in Take Shelter with quiet confidence.
As Curtis struggles to keep his visions a secret, Michael Shannon imbues his character with so much sympathy that it's impossible not to identify with him.
Jessica Chastain, who is having an impressive year incidentally (The Tree of Life, The Debt), has a very possessed quality that allows her to remain in the moment but hint at all the years of contentment and trust with her husband that came before the events depicted in the film. She and Michael Shannon have one of the most natural and believable marriages put to film in recent memory.
Nichols illustrates both halves of Take Shelter—the fragmentation of Curtis and the straight-up suspense story—with remarkable clarity. His portrait of Midwestern restlessness in these uncertain times is as arresting as the scenes of mounting dread and terror.
By tapping into contemporary paranoia and tying it into hot topics like environmental disasters and Biblical end times, he's created a movie that may haunt you long after you see it.
Shown at the Sundance Film Festival in January and the Cannes Film Festival in May, this unique film has been gaining steam all year, in part because of Michael Shannon's intense, sometimes low-key performance. I would love to see a slew of nominations for Jeff Nichols and his movie come Oscar time.