A life is a series of moments, lived chronologically one at a time, until death. A person looking from the outside in on someone's life will have a perspective, but the only person who knows the inner workings of one's soul is the person who lived the live and whose thoughts are constantly racing through one's head.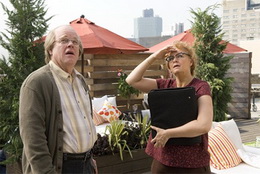 Writer/director Charlie Kaufman's remarkable new movie "Synecdoche, New York" wraps itself so completely around the head of its central character that any kind of shared reality becomes completely unreliable. The film is not about how other people see depressed Schenectady, N.Y-based theater director Caden Cotard (a brilliant Philip Seymour Hoffman), but rather it presents the perspective of the man himself—a vision warped by his own neuroses and his natural tendency to view everything as a play.
Or does it? How would Caden know what went on between one of his female obsessions, Hazel (Samantha Morton), and her real estate agent if he wasn't actually there? And why do the two of them discuss the danger of smoke inhalation so casually as small fires continue to burn in the corners of every room of the house?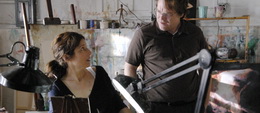 There is no real way to give a straightforward plot summary of "Synecdoche," so I won't try. (But here's a clue: The word "synecdoche" is a figure of speech in which a part is used for the whole or the whole for a part.) I can tell you this much—and this is my perspective: Some time around the moment that his unfulfilled wife (an artist played by Catherine Keener) leaves him, his point of view becomes one huge jumble. Rather than staging the moments of Caden's life in any kind of chronological or even remotely representational manner, "Synecdoche" becomes a self-obsessed miasma where the players in his life story become involved in staging a bigger-than-life-sized play of Caden's life that is constantly changing and never finished.
When a lanky, balding man named Sammy (Tom Noonan) offers himself up as the perfect actor to play Caden in his masterpiece-in-progress, he says he is right for the role because he has been watching Caden his entire life. Looking back on some of the earlier scenes in the film—sure enough—there he is, lurking silently in the background. Is this possible?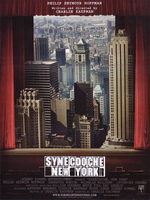 Probably not. Everything in "Synecdoche," including Caden's last name (Cotard's syndrome sufferers believe that they do not exist), is a symbol. I can tell you right now that this movie is not for everybody. But what it lacks in a cohesive logical storyline, it more than makes up for in its broad-spectrum mentality and the sheer power of its emotion.
Before the story goes too far off the rails, something Caden's wife says about his latest theater production—"Death of a Salesman" cast with younger actors ( A symbol? You bet.)—sticks with him and haunts him for the rest of his life. She says that she believes he has a more important story to tell; that there is a lot more in him. It gives him a longing for that seemingly unreachable "more" and also provides him with a lifetime of self-doubt.
There is no way to dissect "Synecdoche, New York" in order to find out "what really happened;" no surefire method to construct a realist narrative. But when the screen went white at the end, I felt as if I'd viewed a very intimate and somehow complete snapshot of one man's life and how he saw the players in his story as they weaved their way in and out. Kaufman has succeeded in portraying an unflinchingly honest and deep examination of the soul of a person without jumping through traditional hoops of "this happened here, this happened next."
Charlie Kaufman also wrote the screenplay for "Eternal Sunshine of the Spotless Mind," a movie that I adore. A film professor of mine said about that movie: "Anyone who says they understand it is just pretending to understand it." But "Eternal" has an even more straightforward narrative than "Synecdoche"—so much so that "Eternal" could be easily mapped out for those who feel they need it. Kaufman's newest is up for way more interpretation, and begs this question: "What constitutes understanding?"
I don't feel compelled to map out the plot of a movie in my mind when I leave the theater. More than anything, I yearn to have an emotional connection with a movie, and I had a big one with "Synecdoche." Kaufman's film seems very personal. Are the neuroses of Caden Cotard shared by Charlie Kaufman? Most assuredly, I say. Otherwise this movie wouldn't have such a strong emotional charge. Does it translate? Most definitely.
Summing up the lessons learned in a life doesn't have to take a lifetime, despite the fact that in our lives, one day will inevitably follow another just as it always has. Movies don't have to work that way; they can be rearrange and change. "Synecdoche, New York" is an impressionistic view of one man's life from inside out as he gradually learns that his is not the only story. It's a synecdoche—his life stands for everyone else's and everyone else's life stands for his own. Caden puts it best in the movie when he says, "There are nearly thirteen million people in the world. None of those people is an extra. They're all the leads of their own stories. They have to be given their due."