It's been a very strange 17 years for both Mel Gibson and Jodie Foster since they co-starred in the box office hit "Maverick." Regardless of the odd turns their careers and personal lives took and the headlines they inspired, they are both very gifted actors and filmmakers and it's a relief to see them work so passionately on a very daring film.
Foster makes her first return to the director's chair since 1995's underrated "Home for the Holidays." She also stars as Meredith Black, whose husband Walter (Gibson) has been crippled by debilitating depression for two years. He's tried every pill and every form of treatment available and nothing has helped.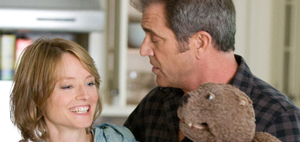 Together they have two sons, both of which exhibit troubling similarities to their father. The older, Porter (Anton Yelchin), has gone to great lengths to enumerate these similarities so that he may eliminate them. The younger son, Henry (Riley Thomas Stewart), is very passive and solitary and is being bullied because of it.
Meredith finally snaps, and kicks Walter out of the house. While visiting a liquor store, he happens upon a beaver puppet in a dumpster. He tries to ignore it, but is drawn to it and picks it up. Back at the hotel, he places it on his hand and stares at it. While contemplating suicide by jumping off of the hotel balcony, Walter is particularly shocked when the puppet attempts to talk him out it.
He stumbles and passes out but is later woken up by the puppet. In a thick Cockney accent, it explains its name is just the Beaver, and he can help Walter be able to face life again, he just needs to do as he says. As suggested, Walter types up cards stating that the Beaver is a prescription puppet, and it is being used because all other treatments have failed. People should address all communication to the Beaver and not to Walter himself.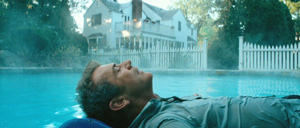 His young son Henry immediately accepts the Beaver and even strikes up a fast friendship with him. Meredith is angry and skeptical. Walter's lips are clearly moving when the Beaver talks. It's not as if the words were coming out of anyone's head but his, yet she has to admit this is the most alive she has seen him in years. She allows him to spend time with the family, in part because of how engaged Henry is and also because she sees a glimmer of the man she feel in love with.
Of course Porter, a high school senior close to graduation, wants nothing to do with his crazy father and his crazier puppet. He's busy earning money by writing papers for his fellow students. It seems he has a gift for adopting the voice of others and writing the best paper they would be capable of, if they only knew what to say.
"The Beaver" attempts to balance the father's extraordinary story, with that of his elder son. For the most part it works. Porter's struggle helps give a glimpse of what Walter must have been like before everything fell apart. It's clear that if Porter does not learn to deal with the same demons his father wrestles with, he could end up just like him.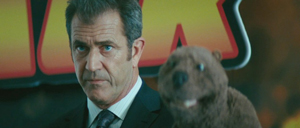 The conventionality of Porter's tale seems like a weakness at first, but it's an important entry point for the audience. It offers an alternative surrogate for those who can't identify with a man so desperately paralyzed by depression that his only hope is made of cotton and worn on his hand.
In fact, the film as a whole has a very accessible, mainstream feel to it — which is surprising, given the very unusual premise. It's a very, very tricky thing to attempt, and Foster does an absolutely admirable job finding the right balance between melancholy and humor, and between absurdity and realism. No matter how odd things get, they never feel impossible.
The performances across the board are excellent, but there cannot be enough said about Gibson's heartbreaking portrayal as Walter and the Beaver. It is so tortured and honest you can't help but wonder where the actor stops and the character begins. I would guess at the puppet, personally.
"The Beaver" is a film about sadness and catharsis. It's engaging, and exactly as accessible as it needs to be. It's funny, but by no means a comedy. It is one of the best movies ever made about depression.
You will believe a Beaver can talk.