SXSW 2011 is underway and contributor George Hickman is filing his reports each day as the festival and its several world premiere movie events and panels continue. Here are a couple mini-reviews of new films at SXSW this year.
One of the best things about the SXSW Film Festival is that the vast majority of the films have three screenings, so positive word of mouth can point you toward films you would have skipped based on the synopsis alone.
Reading the sentence, "A young couple infiltrates a cult that meets in the San Fernando Valley," did not inspire hope. It sounds like the basic setup for a few different movies I've already seen, most of which I didn't care for.
However, reactions to its premiere were so positive, I decided to check it out.
Despite the sinister connotation that cults have in popular culture, to my relief this is not a horror film. While there are certainly tense moments, "Sound of My Voice" (directed by feature film first-timer Zal Batmanglij) is actually a very bright and somewhat optimistic film that explores why being human means being compelled to follow, along with the various ways we try to fix ourselves by looking outward for answers.
Peter (Christopher Denham) and Lorna (Nicole Vicius) are an attractive, loving couple in their late twenties. Peter actually grew up in a cult, and is making a documentary to try and expose them and their practices. The film opens with them following very specific, ritualistic instructions. After showering and changing into hospital gowns, they are blindfolded, cuffed and driven to a house. There, a seemingly fragile but charismatic young woman Maggie (Brit Marling) is introduced as the center of the group.
Maggie is not the stereotypical cult leader. She sounds more like a yoga instructor than a preacher proselytizing from a pulpit. When she speaks, you can't help but be captivated. Her story is extraordinary, but vague in a way that suggests premeditation.
Is she in fact a fraud, or could she really be a time traveler from a post-apocalyptic future?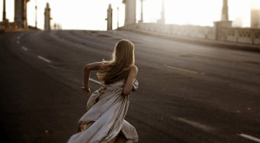 That's right. Maggie claims to be from the future, sent back to warn the people she cares for about the coming apocalypse. It may seem absurd, but through her magnetic charm and unflappable sincerity, you can't help but consider the possibility. Peter and Lorna struggle with this in their own way, and neither one wants to admit just how much they want to believe her.
In addition to this intriguing central mystery, the "Sound of My Voice" has a lot going for it, including excellent dialogue, an appropriate and welcome sense of humor, and remarkable performances from the leads. Peter and Lorna talk and fight and love like a very real, flawed couple. But Marling deserves limitless praise for her remarkable performance as Maggie. It is so wonderfully perfect that I could see myself following her into the wilderness.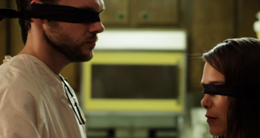 The only other film I can think of that can match this one tonally is Brad Anderson's underrated "Happy Accidents," which also happens to involve a character who claims to be a time traveler. Despite this comparison, this film is definitely unique. Unlike other independent films with similarly negligible budgets, the filmmakers here actually care about effectively structuring a narrative that unfolds in an utterly compelling fashion.
I really can't stress just how much of an accomplishment that is, and how great this movie is.
It's thoughtful, funny, and captivating, and like a catchy pop song, "Sound Of My Voice" will stick in your head for a long time.