Simon Pegg and Nick Frost have proven their chemistry time and again as one of the best onscreen comedic duos currently working. Aside from cameo roles, the alien encounter/buddy comedy/road movie "Paul" marks their first feature not to be directed by Edgar Wright.
While Wright was making "Scott Pilgrim Vs. the World," Pegg and Frost enlisted the help of "Superbad" and "Adventureland" director Greg Mottola to help them make the science-fiction answer to the zombie film homage "Shaun of the Dead," and the buddy cop love letter "Hot Fuzz." Thankfully Mottola, who has yet to make a bad film, continues his winning streak here.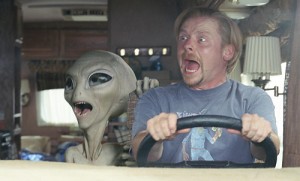 "Paul" opens with Graeme Willy (Simon Pegg) and Clive Gollings (Nick Frost) playing two British science-fiction and comic-book-obsessed nerds, fulfilling a lifelong dream of traveling to the United States to attend the San Diego Comic Con and then take a road trip to visit landmarks from sci-fi films and places known for alien encounters.
Outside of Area 51 they witness a car crash. Much to their shock, a diminutive alien named Paul (voiced by Seth Rogen) exits the wreckage and explains to them he has been assisting the government for over 60 years. The reason that he looks so stereotypical is that the common perception of Aliens was inspired by him, as were other aspects of popular culture. Unfortunately though, now that he's shared all his knowledge, the government wants to dissect him to study his physiology. He needs their help to escape so he can signal his friends to come and pick him up.
Graeme and Clive reluctantly agree, but soon they're being followed by a determined Secret Service agent (Jason Bateman), and his two lower level cronies (Bill Hader and Joe Lo Truglio). To make matters more complicated, the two nerds find themselves forced to abduct a naive but good-natured woman named Ruth (Kristen Wiig) after she accidentally sees Paul.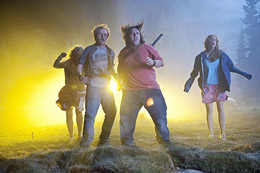 While she decides to help them, her over-protective father makes it his personal mission to track her down, refusing to depend upon the bumbling law enforcement. Can the geeks get the alien home before the government or Ruth's father stops them? Will Ruth and Graeme's flirtation blossom into a romance? Will Graeme and Clive still be friends by the time the trip is over?
There are about a million ways that "Paul" could have been a trainwreck, but it works surprisingly well. It's consistently very funny and sweet. This is Mottola's most visually ambitious film, and probably the largest budget he's ever worked with. The all-CGI alien is convincing enough to suspend disbelief, and all the other effects range from really good to perfectly adequate.
While the director does a commendable job on the action and effects sequences, he really shines when it comes finding the right tone between the earnestness of the characters and the absurdity of the plot. The main cast has great chemistry, and they're aided by several well known comedic actors in supporting roles.
As a screenwriter, Pegg has an affinity for celebrating the elements of pop culture he is most fond of. "Paul" is packed with these types of references, most of which are cleverly integrated. It can be a tightrope, and thankfully the vast majority of these callbacks are met with a laugh instead of a groan. It's the same balancing act Pegg and his collaborators were able to pull off in "Hot Fuzz," "Shaun of the Dead," and the cult favorite television series "Spaced."
In the end, "Paul" is a hilarious, fun, and deeply lovable film I was very happy to encounter.