SXSW 2011 is underway and contributor George Hickman is filing his reports each day as the festival and its several world premiere movie events and panels continue.

"Saturday Night Live" cast member Kristen Wiig first gained cinematic notoriety for her scene-stealing bit part in Judd Apatow's "Knocked Up."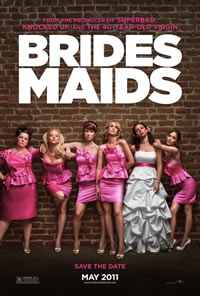 Since then, she's been the go-to comedic actress for several films, including current SXSW selection "Paul." In the past, Apatow has been unfairly accused of working primarily with a "boys club" of actors and writers such as Seth Rogen and Jason Segel.
Perhaps in reaction to that criticism, Apatow has started to work with more female talent in a creative capacity, which includes producing an upcoming project by Lena Dunham, the writer/director of last year's SxSw favorite "Tiny Furniture." It also includes producing "Bridesmaids," the uproarious new comedy co-written by Wiig and her fellow Groundlings alumni Annie Mumolo.
"Bridesmaids" stars Wiig as Annie, a woman beset by a series of misfortune. Her live-in boyfriend left her after her bakery went under. This failure also wiped out her savings and thrust her deeply in debt, and she's forced to drive an old car that barely runs, and live with two deeply annoying roommates, one of which refuses to pay rent.
While she longs for love and commitment, she settles for unsatisfying, degrading sex with a rich, attractive douchebag (Jon Hamm). To make matters worse, her lifelong best friend Lillian (Maya Rudolph) has unfortunately been spending less time in their hometown, and more time miles away with her successful boyfriend.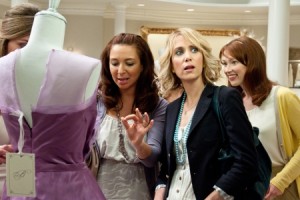 Annie's understandably filled with both happiness and envy when Lillian informs her that she is now engaged. Determined to do a great job as maid of honor despite her dire financial straits, she's immediately undermined by Lillian's beautiful, wealthy bridesmaid Helen (Rose Byrne), who upstages Annie at the engagement party and declares that Lillian is her best friend, despite them knowing each other for less than a year. The lone bright spot for her occurs when a random encounter with a charming police officer evolves into a flirtation that both excites and scares her.
Meanwhile the rivalry between Helen and herself deepens as they struggle for control of the bridal party events, the loyalty of the other bridesmaids, and most importantly Lillian's affection. What follows is a chain of escalating disasters as Annie's well intentioned plans are derailed with awkward and hilarious results. Thankfully, no matter how outrageous things get, the film never derails, as Wiig's multi-layered performance as Annie keeps you involved and rooting for her, despite her flaws.
The actresses playing the other bridesmaids also stay outside the realm of caricature thanks to a level of vulnerability they all bring to their performances. Individually they are very funny, but together they comprise the best comedic ensemble since "Anchorman."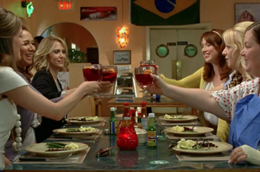 The plot and setting has led "Bridesmaids" to be referred to as the female version of "The Hangover." Hopefully that will work as a marketing angle, but "Bridesmaids" is definitely the better film. It has emotional depth and honesty that the other film could only dream of. And thankfully it makes the spectacle that much funnier since you're emotionally invested in the characters. This is thanks in large part to the perceptive, intelligent, and consistently amusing script and the deft touch of "Freaks and Geeks" creator Paul Feig, who delivers his most measured and entertaining film to date as a director.
It's refreshing to find a film like "Bridesmaids." It may be written by women, with 85 percent of the dialogue being spoken by women, but the humor is often broad or raunchy enough to crack up even men who feign seizures to avoid watching romantic comedies. It's a great date movie that succeeds where ones like the ugly and soulless "Bride Wars" failed.
Not only is "Bridesmaids" one of the most satisfying romantic comedies to come along in years, it is also the funniest comedy in recent memory.