"Beginners" opens with Oliver (Ewan McGregor), trying to make sense of the death of his father (Christopher Plummer) and what it means for his life. Until his mother (Mary Page Keller) died five years earlier, Oliver had always assumed his father, Hal, was just an emotionally distant man who did not love or did not know how to show affection for his wife.
Shortly after the funeral however, Hal told him he had been gay all his life, and even though he was now 75 years-old, he still wanted to pursue the lifestyle for his remaining years.
Oliver is adrift. His friends try to cheer him up, but it's mostly fruitless. He works as a graphic designer, but his clients' disapprove of the artwork he is most passionate about. His only companion is his father's dog Arthur.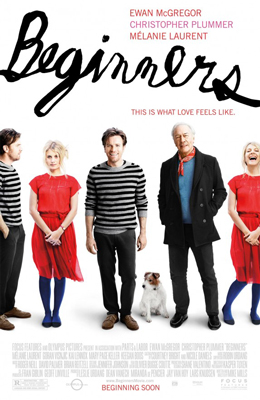 Arthur is infallibly loyal, but whines incessantly if left alone. It seems another loss would be too much to bear. They make great companions as they're both sad, but adorable in their way, and loyalty and companionship is what they both need. In one of the film's many inspired touches, Oliver imagines what Arthur must be thinking and it's displayed as subtitles on the screen.
After being dragged to a Halloween party, the pair attracts the attention of Anna (Melanie Laurent), a French actress who immediately identifies with Oliver's despair. As their romance blossoms, both Oliver and Anna struggle with their own insecurities and the role their parents played in shaping their instincts to run away.
"Beginners," is Mike Mills' narrative follow-up to his 2005 debut "Thumbsucker." Unlike that film, Mills did not adapt a novel. Instead he used his own life for inspiration. Mills was a graphic designer, and his father did come out at the age of 75. This helps explain why the film so effectively captures the melancholy and but also humor that comes from such a loss.
And it wasn't just his parents that he lost, it was his whole concept of marriage and relationships and why they work or don't work and why they can't work for him. Oliver spent his adult life believing that marriage was not the answer because of the emotional distance of his parents.
Since there was an explanation for that distance, does that mean everything he thought he knew about himself was wrong?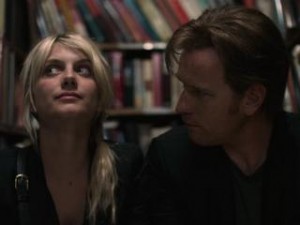 It may be hard to tell from the synopsis, but "Beginners" is a unique film in the way its structured. It actually bounces around in time, often covering different aspects of the same time frame as Oliver remembers key moments of his life and re-examines their significance. For a character that dies within the first five minutes, we actually see a lot of Hal, as well as his wife.
Oliver also narrates the film, but in a repetitious, poetic cadence that focuses on the difference between time periods by comparing their more tangible qualities.
This structure, with its obsessive yet seemingly abstract focus brilliantly matches the thought process of someone who has suffered a great loss and is trying to make sense of the life he has left by going over and over the events leading up to that point.
While this may all sound unbearably dour, it's not. "Beginners" is actually quite funny, with an almost whimsical tone that makes seemingly unendurable events perfectly endurable. It's actually a tone similar to last year's excellent "Rabbit Hole." Like that movie, "Beginners" is a wonderful film, and a landmark achievement in tragedy, comedy, and catharsis.