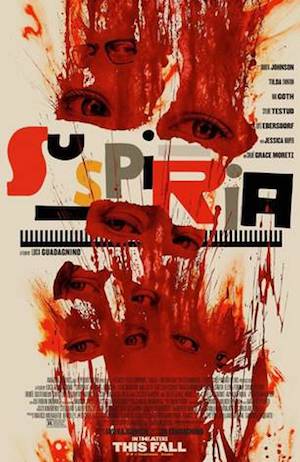 [Rating: Minor Rock Fist Down]
A remake of a cherished horror property with few equals in terms of visual aesthetics and genre significance, 2018's Suspiria is a lifeless, uninspired mess of a movie. Robbed of all the color, vitality, and joy of the original, this new version mistakenly assumes that the basic elements of the plot made Argento's 1977 Suspiria a success. Leaning into the violence and novelty of the story, and begging off the gonzo structuring and visual elements, this version tries (and fails) to make sense of things by fitting them into a manageable narrative box. The result is a film that retains all of the flaws of the original with none of the charm, and is only hamstrung further by a lead performance that is as coarse and stiff as the bristles on a witch's broom.
The movie opens with ballet student Patricia (Chloe Grace Moretz) running to her shrink in a dark and stormy Berlin of 1977. Her psychiatrist, Dr. Josef Klemperer (Tilda Swinton under several layers of make-up in her first of three roles), does not seem overly concerned with Patricia's frantic state, yet nevertheless gets out his treatment file to take notes on the young woman's deteriorating condition. Patricia is speaking in wild, scattered fragments, yet one thing is clear: she believes that her ballet school, "tanztheater," is filled with witches. Before Klemperer can stop her, Patricia works herself into a froth and runs off into the night, leaving her belongings (and a very confused doctor) behind.
After a few flashbacks and time jumps (the film is lousy with these), the audience meets shy mid-western American Susie (Dakota Johnson), who travels to Berlin to try out for the prestigious dance academy Patricia just fled. Self-taught, and with a burning passion for dance that's seen her take several forbidden trips to New York to watch the pros in action, Susie shocks the staff at the academy with her raw, electric movements. She even catches the eye of the tanztheater's famous director, Madame Blanc (also Swinton, sans prosthetics), who agrees to enroll Susie.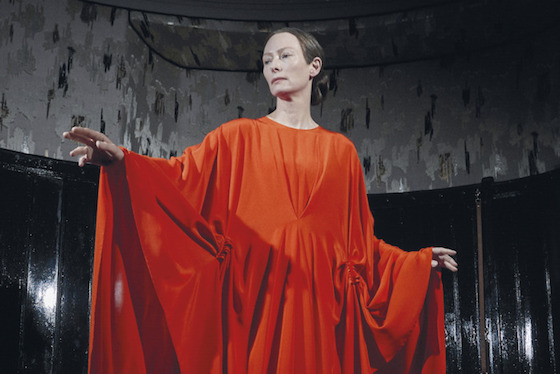 The film proceeds thus, with the story about Susie falling deeper under the spell of the dance schoolmarms while Klemperer picks through Patricia's abandoned belongs, searching for clues about what's really going on at the academy. Both Susie and Klemperer learn that a power struggle is underway at the academy, part of the collateral fallout of which spills over onto the students, who seem to have varying levels of understanding about what's really going on there. And while director Luca Guadagnino succeeds in his attempts to imbue this story with structure and the spooky atmosphere befitting the narrative, Suspiria fails to extend any menace or fear beyond a few shocking moments.
Argento's 1977 version is widely hailed as a progenitor of cinema's absurdist horror genre in the Giallo tradition (i.e., The Evil Dead). Less concerned with origin stories or the mythos of a big-bad, Suspiria-1977 toyed with the juxtaposition of horror tropes and visual queues, introducing women in a vulnerable state only to make them agents for change in their own narratives. Likewise, Argento famously employed a universe of loud colors and elaborate set designs to light up what was then a famously dark genre. In short, the original Suspiria was having a lot of fun, and broke new ground in nearly every way a film could. Nothing could be further from the truth with this 2018 version, however, where gore exists simply for the shock-factor: as if it is a bothersome ingredient that needs to be added to the oh-so important story.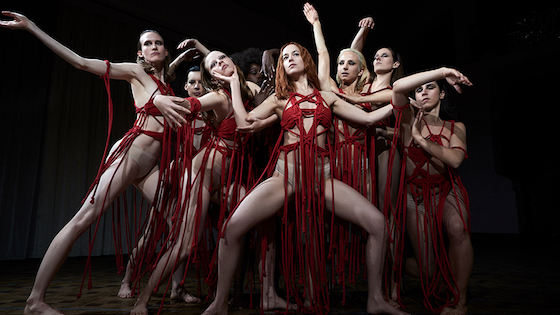 Suspiria opens with a title card that explains how the movie is composed of six separate acts and an epilogue (with subsequent title cards appearing dutifully to denote the passage of each). At two and a half hours long, nearly an hour longer than the original, to call this movie bloated and a bit on the self-serious side would be an understatement. At once married to the narrative while also prone to wild detours, Suspiria wants to have its witch cake and eat it too. The film is also hampered by a one-note lead performance from Johnson that seems just as much the fault of a clunky script as the actress herself. And while a magnificent original score by Radiohead's Thom Yorke does keep things engaging, this is about the only consistently positive thing the movie has going for it.
Long in the tooth, needlessly bland, and not at all scary, Guadagnino's Suspiria is without any of the fun or excitement of the original. Unpredictable and raw, sure, but Argento's 1977 version was like a wild stallion cut loose on a prairie: dangerous, unpredictable, and unrestrained. This 2018 reboot is the same animal, yet it is saddled, tamed, and penned up. It affords one a look at something that has the basic appearance of the original, yet with none of the spark or originality. Sure, the two versions share the same title, but if they could talk, one gets the sense that the 1977 version would not ask this new one to, "call me by your name."