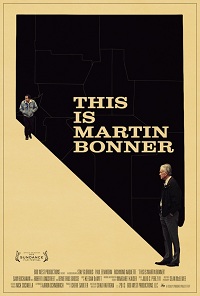 Yet another in a long line of quiet, contemplative character studies showing at this year's Sundance Film Festival, This Is Martin Bonner is amongst the best of this lot, yet like the others, fails to completely tie its characters into a satisfying conclusion fit for the journey they've been on.
It stars Paul Eenhoorn as the title character, Martin Bonner, who starts the film in an interview with a prison inmate.  Although he's there to try and to convince the convict to enter into a voluntary rehabilitation program designed to help prisoners get a leg-up on their reintegration into society, the man sitting across from Bonner immediately clocks the program for what it is: a waste of his time.  Further, the inmate recognizes something in Martin that reveals him for what he is: new to the job.
It's an interesting way to start the film, yet it serves a deliberate purpose, for in Martin's response there sits a tell-tale clue to the man.  In his late-50's, Martin admits that he's new to the job, and further, that the organization he is newly affiliated is, in fact, a lot of work, and doesn't promise anything so appealing as an early release or special treatment while in the shithouse.  Martin's candor seems to impress the convict, for the audience gets the impression that this is the first honest conversation this prisoner has had with an authority figure in quite some time.
The exchange is an important one, for it sets the stage for the main character of This Is Martin Bonner, a man who will spend the rest of the film silently working through his own problems whilst generously offering his service to others.  One of these "others" is Travis (Richmond Arquette), a recently released convict who is already enrolled in Martin's program.  Although Travis is assigned to another mentor-like figure in Martin's program, there's an unobtrusive and unassuming air to Bonner that seems to put the recently released convict at ease, and an unlikely friendship begins to develop between the two.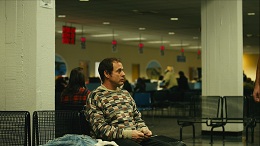 It's not long before the reasons behind this curious connection become clear, for Martin, like Travis, is at something of a crossroads in his life.  New to the area (Reno, Nevada) and his job, Martin, like Travis, is starting over in Reno, and is without much of a support group to help him on his journey.  It doesn't take long for the audience to realize that Martin is a lonely guy, for some of the first shots of him outside of the interview show him wandering through an undecorated apartment, weaving through only partially-opened moving boxes as he makes his way towards a kitchen cooking a dinner for one.  It's a poignant scene, and skillfully shot in a way that gives one a sense of where Martin is at without drawing too much unnecessary sympathy out of the moment.
Indeed, this would have been inappropriate considering the frequent juxtaposition of Martin against shots of Travis, fresh out of prison, who is also coping with his new life.  The movie makes clever use of its scene transitions to bolster this connection, for moments that show Martin on his first date in years come hard on the heels of Travis doing the exact same thing.  From a purely thematic and technical standpoint, this is where the picture is at its best, for the unexpected connection between these two men is very poignant, and against the grain of what one might expect.  Yet this is the film's high-water mark, and unfortunately, as deep as it appears willing to go.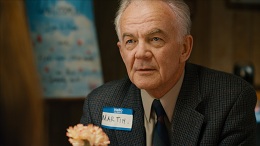 Without going too much further into the plot, it should suffice to say that This Is Martin Bonner never really gives its audience a satisfying payoff.  Content to simply follow the surprising friendship that develops between Martin and Travis, the movie never really takes advantage of this, nor does it provide any insight into how the relationship affects the two men after the final credits roll.  While it is clear that both men are richer for the experience of knowing each other, and have helped one another through a couple small-scale rough patches, that's about the extent of it.
Try to imagine a film like Silver Linings Playbook without the rousing dance-off finale, or Django Unchained without any final shoot-out.  Sure, both would have been interesting explorations of its characters and the themes of unlikely friendship and bonding, yet what of it?  Had David O. Russell simply made a character study about two mildly-crazy people, or if Tarantino had just made a western about a bounty hunter and slave meeting up and hitting it off, those movies would have been interesting and okay, yet hardly the crowd-pleasing successes they've shown themselves to be.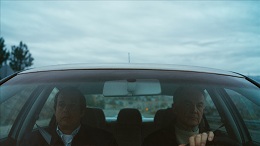 Audiences generally need something that demonstrates how a cinematic journey they've gone on was one that brought about an interesting conversion in the lives of the characters they've gotten to know.  Truly, if the public wanted to simply look on as a couple normal people go through the mundane (if unexpected) trivialities of a normal life, they could just stay home.
And while This Is Martin Bonner is a very thoughtful, well-acted, interesting character study, at a paltry 83 minutes, it could have survived another 15 or so to give some closure to the stories of Martin and Travis, who both seemed on the verge of a breakthrough in their lives.  And while a movie doesn't always need a rousing, feel-good ending to tie everything together, in this case, considering the thoughtful and careful work director Chad Hartigan put into his picture, it would have been immensely satisfying.