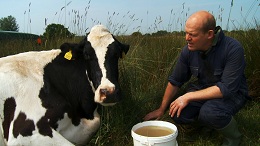 The U.K. documentary The Moo Man starts with a farmer calling out to his dairy cows in the same way a suburban dog owner might call for his or her Labrador.  The farmer is Stephen Hook, the man behind Hook & Son, a dairy farm in Southern England that runs an old fashioned-style operation that emphasizes a personal connection with the animals under the man's supervision.  As Stephen explains, his farm only contains about 72 cows, while other similar farms support nearly twice that amount; and although this smaller-scale operation lets Stephen interact and tenderly care for each of his animals, increasing the quality of their product and life, this comes at the expense of his profits, and part of his heart.
Actually, "profits" isn't an especially astute description, for as Stephen explains at one point in the film, it costs him more to make and market his product than what he's bringing in from the effort.  Yet it only takes about two minutes for a person to realize that Stephen isn't in the dairy business for the money, but rather due to what appears to be an almost spiritual connection with his animals and his profession.  This is at the heart of The Moo Man, for the documentary is very honest about the hardships of modern animal husbandry and farming, yet succeeds in painting a very beautiful picture about the unmistakable bond between caring farmers and their stock.
For his own part, it's clear that Stephen loves his cows very deeply, and cares for them as might a person in possession of a very loyal, loving pet.  When he speaks to the camera about the anguish he feels when he's forced to separate young calves from their mothers, a not-quite-hidden pain washes over his face that sent a shiver up this journalist's spine.  Later, when speaking about the drawbacks of his style of farming, where the stockman personally interacts and cares for each of his animals, you know he means it when he says that the inevitable loss of an animal is something that hurts him very deeply.  Indeed, Stephen Hook isn't just a dairy producer, he's the guardian of roughly six dozen souls in which he's deeply invested.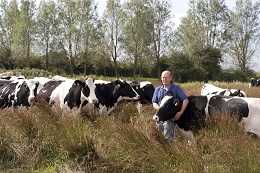 Directors Andy Heathcote and Heike Bachelier shot the documentary over the course of four years, demonstrating a commitment to Stephen's story that seems appropriate considering the source.  For many in the U.K., Stephen's story rings with a familiar tone, for countless pieces have been written over the last decade or so lamenting the shrinking independent farm community, and the struggles these more organic operators face when competing with larger, more industrialized operations.  Yet this is part of the film's message, for it is a celebration of those brave souls out there, in any job, who engage in a difficult profession because they enjoy it and believe in it, and not simply because it pays the bills.
More than this, though, The Moo Man seems especially concerned with the growing divide between mankind and its food source, and implies that this loss is affecting our core humanity.  Besides the chemical engineering and the physical implications of crowding animals into confined spaces during their upbringing, Stephen's more organic, personal approach appears to play a very important role in the man's life, for after just a handful of minutes watching the stockman interact with his cows, it's impossible to imagine the man doing anything else.  Like a piano virtuoso, or painting master, Stephen seems born for his profession, and appears to delight in every facet of this existence.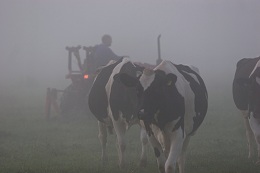 As a picture, the documentary is structured and presented in a very tender and warm fashion.  The score is wonderful, for the plodding piano and clarinet (with a little accordion here and there) give The Moo Man a warm and organic feeling that is entirely appropriate for the content.  There's a loving, almost parental quality to the music that matches the images of the luscious English countryside splendidly, and informs the audience where the picture's emotional core resides.
And while the documentary is a bit light on introductions, or a conflict arc, it exists for the sake of Stephen and his cows, allowing for something of a pass in this regard.  Indeed, the movie would not have been the same if it had widened its scope, and brought in the world outside of Hook & Son, for this isn't the universe it is concerned with.  The Moo Man is content to simply tell the story of a hard-working dairy farmer, and how the sacrifices and resiliency of a passionate man can sustain a person's soul (if not their bank account).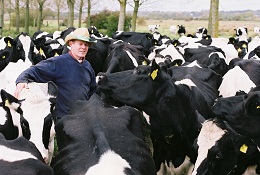 The film is also very honest about the consequences of such a lifestyle, for besides the hard fiscal realities inherent in this kind of business, there's also the emotional toll to take into account.  While the tender affection and constant attention to their well-being extends the life of Stephen's cows beyond that of a normal bovine in a dairy operation, and improves the quality of the milk and cream they produce, it also very hard on Stephen, personally, for part of being a farmer is watching several different generations of animals die in one's lifetime, animals that Stephen has clearly developed a bond with.
Currently playing at this year's Sundance Film Festival, there were more than a few sniffles when the end credits began to roll at the Press and Industry screening.  Truly, if a person can get through this movie without feeling an emotional tug on their heartstrings, then they're about as human as the cows Stephen cares for.