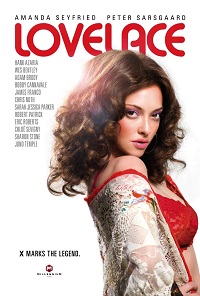 Less of a story about a pornographic film, its star, or even that industry as a whole, Lovelace is actually a very compelling movie that speaks to the broader topic of domestic violence and abuse, something that might surprise the casual filmgoer hoping to see Amanda Seyfried slut it up a little.  There's plenty of that, to be sure, yet the most striking aspect of Lovelace is how it offers some level of humanity to those associated with the production of pornographic films, an industry known for its deficiency in that regard.
Based on Linda Lovelace's autobiography, the film is somewhat divided, for the first half of the picture offers the audience a more familiar take on Linda's story, somewhat reminiscent of Boogie Nights, about a young kid with a special "gift" that is driven into the arms of the porno industry by an emotionally abusive parental figure.  Amanda Seyfried plays Linda as a shy, somewhat modest 21 year old who, at the beginning of the picture, is still living with her parents in Davie, Florida without the slightest pornographic ambition.  During the summer Linda meets Chuck (Peter Sarsgaard in a career-defining performance), an older man immediately drawn to the young woman, her petite curves, and the potential both represent.
Even those unfamiliar with Linda Lovelace's story know that this guy is no good right out of the gate, for behind all his polite gestures and compliments there sits a coiled viper looking for fresh prey, a sentiment conveyed with startling efficiency with every sideways glare and table-slam.  And as the first half of the picture progresses, Linda goes from supportive spouse to a mostly-willing participant in Chuck's newest money-making scheme: pimping his wife out to the porno industry.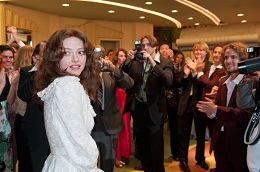 This portion of Lovelace moves easily, and with a few surprising doses of humor, for it follows Linda on her journey from an unknown housewife to the darling of the skin-flick world.  An unparalleled success, Linda and the film she stars in, Deep Throat, become an overnight sensation, bringing the young woman into circles that allow her to meet celebrities like Sammy Davis, Jr. and Hugh Hefner, even if it comes at the cost of becoming a late-night talk show punch line.  Yet as Lovelace progresses into its second half, the darker portion of her journey is given some light, and Sarsgaard's Chuck comes to the fore.
An abusive, controlling, jealous, violent man, Chuck treats his wife Linda like a business commodity that can be traded, sold, or simply loaned out for profit.  Although somewhat confusing at first, the film's use of flashbacks allow it to carve out an entirely different version of the story presented during the first portion, when the fantasy of Linda's story plays out much as one might expect.  During the second half, however, large portions of the story only just covered are filled in by new versions of scenes that had only showed the audience one side of the action, and these versions are hardly pleasant.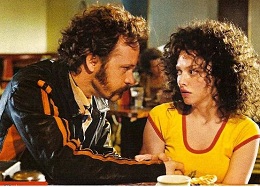 During this latter half of Lovelace, directed by Rob Epstein and Jeffrey Friedman, Linda's story is laid out bare, and is revealed to be the product of a very violent marriage between a controlling manipulator, and a young woman too frightened to do much about it.  And again, while the temporal cuts and transitions do leave a viewer somewhat dizzy at first, their presence in the film hardly serve an arbitrary purpose, and succeed in creatively telling Linda's story in a thematically relevant fashion.
Yet the strongest aspect of this film lies in its casting, for every actor, especially within the supporting cast, knock it out of the park.  Robert Patrick and Sharon Stone, as Linda's parents, disappear into their roles, and act as more than just the domestic foundation of their daughter's past.  Hank Azaria also makes an appearance as Jerry Damiano, the writer/director of Deep Throat, and provides the film with a few desperately needed moments of humor to break up the picture's taut emotional core.
In Peter Sarsgaard, however, the film has its true breakout star.  The actor plays Chuck with what starts out to be little more than a preying deviance, and develops that into a menacing force of nature that practically jumps out of the screen.  It's hard not to think of Harvey Kietel's portrayal of Sport in Taxi Driver when watching Mr. Sarsgaard in Lovelace, for he carries himself with the same manipulative, emotionally abusive air that made the former film's head pimp character so terrifyingly effective.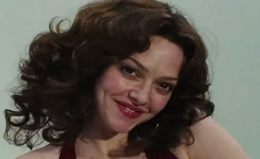 Indeed, there's a lot to be said about this kind of connection, for Lovelace, as mentioned earlier, is less a film about the pornography business, or even Linda Lovelace herself, than it is about a person's capacity for evil and cruelty in a relationship.  In the film, Linda loves Chuck just as much as she is terrified by him, a tenuous balance maintained and sustained by a husband more interested in controlling and owning his partner than anything else in the world.  It's a terrifying portrait of a relationship, and is made all the more frightening by the knowledge that it happens every day, without the more glamorous and interesting backdrop of the pornography industry to give the story teeth.
A fascinating inside look into the making of what some have called the Gone With the Wind of porno flicks, Lovelace is most successful when allowing its characters room to explore their emotional topography.  Whether it's the overbearing mama-Lovelace, tender papa-Lovelace, or the cruel manipulator, Chuck, the movie doesn't waste a single moment, and gives its audience a brutally honest look at the consequences of love at its worst.