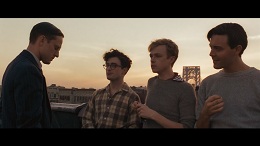 For a young actor pigeonholed into a world-famous franchise role marketed towards the pre-teen bubble-gum crowd, getting serious, against-type roles can be difficult.  Of course, if serious about their career and their craft, actors can make bold decisions in their work that force audiences to look at them differently.  This was probably something Daniel Radcliffe considered when taking the role of highly influential Beat poet Allen Ginsberg in the film Kill Your Darlings, where the Harry Potter star spent the better part of the film smoking cigarettes, huffing nitrous, and getting fucked in the ass (literally).
The movie traces Ginsberg's development from a shy, studious, Jewish teenager from New Jersey into the early stages of a literary career that would span decades, and influence countless millions.  It starts with a glimpse into Ginsberg's home life, just before his departure to Columbia University for his freshman year of college.  Once at Columbia, Ginsberg comes into contact with the boisterous, crass, and profane Lucien Carr (Dane DeHaan), whose antics immediately attract Ginsberg's attention (among other things).
For those who have studied or (like this author) surrendered themselves to the literature of the Beats during their late teens and early 20s, the story of what follows is a familiar one.  While at Columbia, Ginsberg would meet the men who would usher in a new era in American literature, not to mention fall in love with the charismatic Lucien Carr.  The scenes early in the film that show Ginsberg meeting William S. Burroughs (Ben Foster) for the first time, or interacting with Jack Kerouac (Jack Huston) nervously during a football toss are exquisite, for they capture moments in time that fans of this literary genre have only been able to imagine.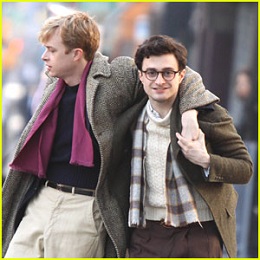 Kill Your Darlings unfolds from here, and tracks Ginsberg's development as a shy, closeted homosexual into a literary force that repeatedly astonishes his far more seasoned, older, experienced peers.  As Allen and Lucien's relationship progresses, conflict sprouts up in the form of David Kammerer (Michael C. Hall), Lucien's former lover and codependent, a man who is obviously threatened by Ginsberg's sudden arrival into his circle.  David is the predatory type, and early on, it's clear to the audience that his relationship with Lucien isn't a healthy one.  And while Ginsberg's relationship with Carr is shown to be the catalyst for the former's literary awakening, it's equally obvious that Lucien is no better for Allen than David is for Lucien.
Kerouac and Burroughs act as stabilizing forces in Ginsberg's life, for they provide the young poet with the same creative and social juice provided by Lucien, yet with none of the sinister undertones.  Again, for those familiar with the story, the events play out on a fairly predictable path that follows the historical record fairly closely, yet even with this in mind, the picture tosses in a few surprises, along with a couple inside-references that would tickle any fan of the Beats.
These include a conversation between David and W.S. Burroughs, where the latter gentleman offers some advice about living independently, only to be shot down by the former with the very astute and cutting comment, "Not everyone gets an allowance."  Another poignant and familiar moment comes after Kerouac is picked up on an accessory to murder charge, and is rebuked over the phone by a father whose approval means everything to the young writer.  For those who have read 'Vanity of Duluoz,' this particular scene comes with some difficulty, for when reading Kerouac's account of it, one can practically feel the man's anguish: a sentiment wonderfully portrayed by actor Jack Huston in the film.
Yet this film belongs to Daniel Radcliffe, who disappears into the Ginsberg role completely and commits to the performance wholeheartedly.  Although the film compresses the timeline of events to fit the scope of the picture, and plays fast and loose with some of the facts (the reasons for Ginsberg's expulsion aren't accurately portrayed in the picture), Kill Your Darlings does succeed at bringing the story of Ginsberg's early adulthood to life in a very visceral, genuine manner.  It tracks the intellectual, sexual, and emotional maturity of Ginsberg over the course of a year or so, and gives its audience a look at the makings of a literary genius.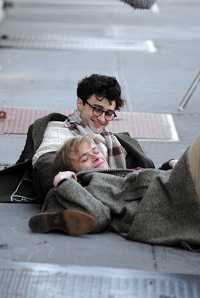 It's also a wonderful peek into the early lives of Kerouac and Burroughs, whose portrayals by Huston and Foster demonstrate the commitment of those actors to the research of their roles.  Foster in particular, as Burroughs, is masterful, for the cadence, pitch, and halting speech delivery matches that writer's own voice perfectly.  The movie should also be credited for pulling no punches, as it honestly portrays the important role of Benzedrine (speed), marijuana, booze, and shameless sexual promiscuity in the lives of these men.
More than anything else, though, the film succeeds in developing a sense of excited optimism during this period of Ginsberg's life, as if the young man is inching closer to a destiny more profound than even the young man could imagine.  Darker undertones abound, to be sure, for the relationship between Lucien and David doesn't end well, yet the film works hard (and succeeds) at developing its lead, Ginsberg, in such a way that the events of the picture only bolster the quality of his person.
A beautifully shot picture with stunning performances from each member of the cast, Kill Your Darlings is a very tender, thoughtful tribute to the Beats, and their spiritual leader, Ginsberg.  Credit should be given to director, John Krokidas, who works the personalities and stories of each character into a larger narrative about Ginsberg's early adulthood, all while never losing sight of the development of these men into the core group of writers that would turn the literary world on its ear.