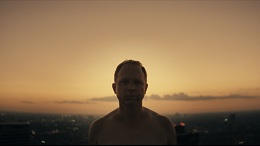 Oh, you Germans.  You try and act all quiet, polite, reserved, and non-confrontational, but you aren't fooling anyone.  Any nation that starts not one, but TWO World Wars over the course of a century is one full of people any smart guy or gal would be wise to treat well, for while they are hardly an evil people, Germans certainly shouldn't be underestimated!  After all, this is the country that gave the world the rocket engine, the ballistic missile, and amphetamines: they know how to punish their enemies.
The Americans of Houston (the primary setting of the film of the same name), don't concern themselves with any of this, for in Clemens Trunschka (Ulrich Tukur), most see a push-over.  To be fair, Clemens feels mostly the same way, and is constantly reassuring himself via self-help CDs that he CAN succeed, that he IS a winner.  The audience isn't so sure, however, for Clemens seems like an emotionally fragile man on the verge of a complete breakdown.
A hopeless alcoholic, husband, and father of two, Clemens starts the movie on a racetrack, going for a test drive around a banked, circular course.  This is the first of many clever metaphorical cues director Bastian Günther employs to draw the audience into the mental state of his lead, Clemens, whose life definitely appears to be going in circles.  As a piece of cinema, Mr. Günther's film should be commended for this kind of work, for Houston never just tosses a character component on the table for its audience to absorb, but instead dresses its scenes with subtle visual cues that tell a larger story.  And as Houston gets going, and the audience is drawn into the increasingly desperate world of Clemens, these hints assemble into a very fascinating picture.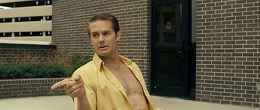 In a nutshell, the film follows Clemens as he heads to Houston, Texas to recruit a big-name oil company CEO for the car company he works for.  Clemens is told that it's a corporate head-hunting mission, in that the recruitment must be done in secret, and on the down-low to avoid the professional stigma of being known as a company that "steals" employees away from others.  The task is a daunting one, however, not only because of Clemens' secret alcoholism, but because his target is constantly flanked by a legion of personal assistants and security personnel that make access to the man virtually impossible.
Growing more and more desperate because of his failure to so much as speak to the intended CEO, Clemens begins to increasingly rely on the help of a gregarious yet lonely travelling businessman, Wagner (Garret Dillahunt), who sees a fellow lost soul in Clemens.  Although Ulrich Tukur capably carries Houston as its lead, it's the work of Mr. Dillahunt that provides the movie with its most impressive fare.  Fans of the television series Deadwood are already familiar with Garret Dillahunt, for he was so damn good in that show that creator David Milch cast him in two separate roles (Jack McCall and Mr. Wolcott).  The power of his craft is again on display in Houston, where he runs away with every scene in which he appears, and actually livens the film up a bit via a few well-timed comedic moments.
As Houston progresses, and Clemens sinks deeper and deeper into his own despair, the picture allows its audience greater access into the mind of its lead.  The man sweats a lot, and is constantly fiddling with his hotel room's temperature control; at one point, peering out over the sterile, concrete abyss that is Houston, Texas, Clemens sees a shirt falling from above, as if tossed off the top of a tall building.  All of these images and the subtle camera moves that frame Clemens against the objects of his pursuit create a rich metaphorical texture for the movie, and aren't wasted on the actors reveling in these carefully crafted moments.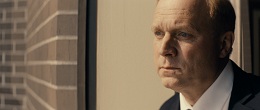 Yet like so many pictures playing at Sundance this year (see Concussion and A Teacher for more on this), it seems like the filmmakers of Houston were more interested in telling an interesting story than they were in connecting it to any discernible point of resolution within its thematic base.  What's the effect of this Houston trip on Clemens?  How has he changed, if at all?  (A certain lifestyle choice is hinted at one moment, then betrayed later on).  Taken up to a certain point, the film often seems on the verge of answering these questions, only to leave its audience with a somewhat inconclusive taste in their mouth time and again.
An interesting movie with a well-paced plot, fantastic acting, and thoughtful direction, Houston doesn't quite bring it all home.  It seems like the director wanted to leave his film open-ended, and subject to the interpretation of the audience, a move that might not have been as frustrating as it was for this particular viewer had the movie not so capably pulled its audience in with such compelling storytelling