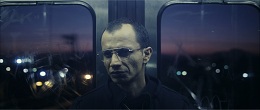 Thoughtful, quiet movies without much dialogue or action are difficult to pull off, as they challenge audiences to draw connections and deeper meaning out of subtle clues inserted via visual and thematic queues.  Halley, a Mexican film playing at this year's Sundance Film Festival, succeeds in drawing out these themes due to very clever cuts and visual juxtaposition, yet this comes at the expense of the narrative, which bends and very nearly breaks by the end of its very tidy 78-minute runtime.
It stars Alberto Trujillo as Berto, a pale, gaunt, meek man working as the nighttime security guard at a 24-hour gym. Not too long after Halley starts Berto tells his boss, Luly (Lourdes Trueba), that he cannot work there any longer due to health reasons, something that seems entirely reasonable considering the half-dead, almost zombified look of the man.  Although Luly presses Berto about his illness, trying to get him to open up about his condition, the man seems either unwilling or incapable of doing so.
From here, the film moves into very quiet, cerebral territory, as the ambient, almost humming drone-style soundtrack fades in deference to the sounds of Berto's life as he commutes home.  Long, quiet shots of Berto sitting on the train, or languishing in his spotless, perfectly arranged apartment take over from here, giving Halley something of a Terrence Malick vibe.  As Berto silently polishes and cleans his fine china, and washes himself in the bathroom, the depth of the man's illness comes into focus.  Indeed, Berto isn't just sick, or dying, but is in fact dead.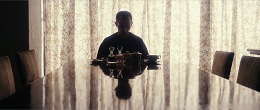 While at home, the security guard peels off his clothes in a ritual that seems familiar to the man, for the sluffing off of skin and the oozing, open sores all over his body speak to a very serious problem that doesn't seem to phase Berto all that much.  This portion of the film is probably the most striking and thoughtful, for director Sebastian Hofmann cuts his film in such a way that color-scrubbed scenes of the deteriorating Berto slam hard up against visually vibrant vignettes of people working out in the gym, or putting on make-up.  These scenes, demonstrating the vibrancy and promise of life outside Berto's existence, provide Halley with the appropriate atmosphere, yet do little to move a stagnant plot forward, or provide clues about what's actually going on with the man.
One of the more generous moments of the film in this regard comes about 35 minutes in, when Berto collapses in a subway station and is taken to the local morgue.  Assumed to be dead because of his physical state and what the audience must assume was a lack of pulse (this is never shown), Berto is next seen on a morgue table, getting washed down when his eyes suddenly open.
Yet the film does an interesting thing here, it skips what would have been a morbidly humorous realization on the morgue attendant's behalf to a scene a few minutes later, with Berto sitting upright, conversing with the only slightly-astonished attendant.  Of course, one has to assume that there was a shocking reveal only a few minutes before this, yet the film constantly side-steps this sort of thing, going instead for the effect rather than the cause.  The mortician casually eats a cup of noodles whilst speaking to Berto about his condition, saying, "I knew this could happen.  You're very lucky."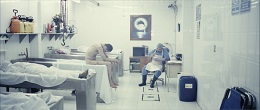 Berto certainly doesn't seem to think so, a sentiment shared by an audience that's had more than a half hour to soak up the realities of the existence of the living dead.  Unable to eat, drink, or sustain his physical condition, Berto is slowly wasting away, and it doesn't appear very pleasant.  As the film progresses, Berto continues to deteriorate, and is further tormented by the vibrancy of the living world around him.  Yet Halley doesn't take things much further than this, and seems content to simply follow a man suffering through the burden of a waking death.
A very quiet movie with only a few scenes involving dialogue, Halley moves much like its main character: lethargically.  In one scene, after Berto has finished working his last day at the gym, he sits with his boss Luly in her apartment, listening as she explains her childhood fascination with Halley's Comet, and how she realized as a little girl that she and everyone she knew would be dead the next time it came around: that the world moves on and continues to spin regardless of what those walking its surface do or think.
It's a touching scene, and the closest the film gets to baring its thematic soul, for Berto, like Halley's Comet, seems to keep going long after his time in the universe has passed.  Like some kind of manifestation of the mortality of man, Berto seems to represent the inevitable passage of time and loss, and the inability of any person to halt that process.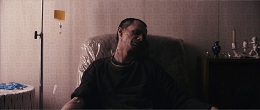 It takes some patience to get here, however, and a lot more to get past it, for Halley quickly brushes all this troublesome dialogue aside to return to its more cerebral, silent core.  A challenging film with some very, VERY disturbing images of a man literally wasting away (let's not talk about the fingernail scene), Halley should be commended for having the balls to see its message through to the end, which contains some of the most beautiful images of any film currently playing at Sundance.  It would have been nice if the film hadn't made its audience work so hard to get there, however.