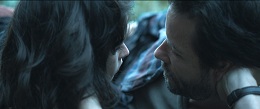 Crafting a movie with a unique love story is a difficult thing to do, for if it involves two people falling for each other, chances are it has been done before.  Yet director Drake Doremus has bucked this trend with his newest picture, Breathe In, a film about a middle-aged father coming to terms with a domestic life he never fully settled into.
Guy Pearce plays Keith in the film, a man who quickly abandoned his musical ambitions when his wife became pregnant roughly 18 years before.  Shots of Keith in his study, listening to his old band's tapes whilst flipping through photographs of himself on-stage speak to a deep longing about a past suddenly abandoned in exchange for the domestic life he appears to endure, if not enjoy.
Mr. Doremus and writer Ben York Jones don't simply throw all of this on the table, however, and rely instead on the exquisite work of Guy Pearce, who carries the film with what can easily be called the performance to beat here at the Sundance Film Festival.  Keith teaches music classes at a local high school, a profession that is clearly a poor substitute for the man's musical passions.  Scenes with Keith wincing at the arrival of his new school-year schedule, or playfully arguing with his wife about his musical "hobby" say it all, for this is a guy who is clearly itching for something more.
Although Keith's wife, Megan (Amy Ryan), appears blissfully consumed by the trappings of domestic living (she directs a family photo shoot like a Yugoslavian dictator) Keith is equally obsessed with notions of escape.  He finds that route with the arrival of Sophie (Felicity Jones), a U.K. foreign exchange student that Megan has ordered for the semester, as if to add another log to the domestic fire.  Even if Keith doesn't realize how much trouble this new arrival is, the audience does, for Sophie is a piano prodigy, and speaks to Keith through music in a way that his wife and daughter cannot.
And while it's clear that Keith isn't "looking around," the moments he and Sophie share when speaking about or playing music seem like a long-suppressed breath of fresh air for the man, as well as for the young woman, who seems equally lost at just half the age.  Yet this isn't simply a story about a frustrated fortysomething yearning for a new (or in Keith's case, former) life, it's about the fragility of love, and how it can spring up organically, in a very pure way, between two people who are wrong for each other.
Actually, "wrong," isn't quite the correct word, but it will have to do.  Eighteen years old, and possessed of a maturity far beyond her years, Sophie is actually the one thing in Keith's life that gives him happiness, a sentiment that is returned in kind; yet this isn't about sex, but rather a longing for a connection after half a lifetime of being lost.  As Keith and Sophie's relationship progresses, the former's bond with his wife and daughter only further deteriorates, for the two women represent a domestic prison that threatens to consume the last pieces of a creative soul hammered almost completely into submission.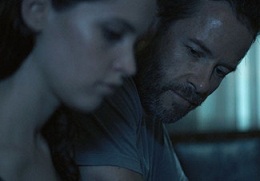 Mr. Doremus should be credited with his subtle touch when developing these moments, for it would have been easy for Keith to immediately fall head over heels in love with a beautiful exchange student, or to use the wife and daughter as pawns in the narrative, yet the film never yields to this pressure.  Keith's daughter, Lauren (Mackenzie Davis), is a well-developed and believable character, and plays an important role in both the progression of the plot, and the transformation of the surrounding characters.
Special mention should also go to cinematographer John Guleserian, who uses a splendid combination of both hand-held and fixed shots to develop the emotional texture of Breathe In.  And besides that, the movie is friggin' gorgeous: the fall scenery of upstate New York essentially playing the picture's fifth lead.
And while it would be imprudent to delve much further into the plot (for the film should be taken in fresh, and absorbed like warm sunshine on a winter afternoon), it is worth noting that the movie doesn't provide any easy answers to the dilemmas it tosses out.  Much like another film showing at this year's Sundance festival, Concussion, Breathe In follows a married individual on their quest for something more fulfilling than what their home life can provide, yet unlike Concussion, Mr. Doremus' film finishes what it starts, and provides a story that is true to the characters inhabiting it.
Easily the frontrunner for the best picture going at Sundance right now, Breathe In is a film about adulthood, marriage, compromise, and how love, true, pure love, isn't always a good thing.  The actors disappear into their roles completely, due in large part to the thoughtful construction of each character, flaws and all.  And while it is a difficult movie, for it asks its audience to go along on a very bumpy, uncomfortable ride, the destination is more than worth the ardor of the journey.