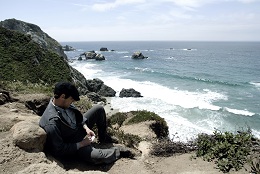 Truman Capote once famously remarked about Beat writer Jack Kerouac, "That's not writing, that's typing."  It's on oft-repeated criticism, for people who don't enjoy Kerouac usually complain about the man's rapid-fire literary style, and the stream-of-consciousness prose that flowed from the man's pen as if poured from a Benzedrine tap.  For those who found Kerouac during their late teens or early 20s, and connected with the rebellious nature of his work, Big Sur (both the book and the film of the same name currently playing at the Sundance Film Festival) is a revelation, for it represents the man's most honest work.
Unlike Kerouac's previous novels, which depicted the writer during his earlier days as a bohemian artist and traveller, Big Sur tracks Kerouac after his literary career has taken off, and follows the writer's struggles with fame, alcohol, and his own mortality.  The film adaptation remains religiously faithful to the book in almost every way, and makes extensive use of Kerouac's own voice from the novel as a narration device.  Early in the picture, as Kerouac (a stunning Jean-Marc Barr) wanders the beaches of Big Sur, California, his voice rings out over the images, and explains that there's a world of fans out there who imagine him as a vibrant 26 year old hitchhiking his way back and forth across the U.S.A.
The reality couldn't be further from the truth, however.  Well into middle-age, and the owner of a very severe alcohol addiction, Jack Kerouac at the time of Big Sur is a broken, lonely, frightened man with more uncertainty inside of him than at any other time in his life.  He explains early in the picture that he'd gone to Big Sur to stay at a friend's cabin by the beach, to write, dry out, and generally just escape the trappings of his own fame.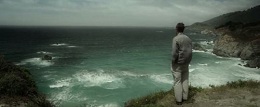 Yet the trip is a frightening wake-up call for Kerouac, who realizes very quickly that nothing, not even the idyllic setting of the northern-California coast, can save him.  Death surrounds Kerouac, and seems to follow him wherever he goes.  When he leaves the cabin to return to San Francisco, where booze and distractions from his thoughts abound, he learns of the death of his beloved cat back east, and is further saddened by the sight of a dead seal lapping up against the rocks of a coastline he visits later on.  It's a recurring theme, and one appropriate for a main character rapidly losing the grip on his own existence.
Seemingly unwilling to give up the promise of his own redemption within the confines of the Big Sur cabin, yet equally incapable of leaving the companionship of the adoring San Francisco community, Jack combines the two, and gets anyone willing to do so to come back with him into the wilderness.  One gets the sense listening to Kerouac's narration prose that these people act as a necessary distraction for the writer, who seems haunted by his own company, and the dark thoughts that he can't seem to escape.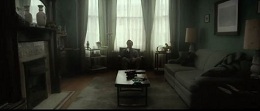 As a cinematic adaptation of a literary piece, Big Sur is near-flawless, for it makes extensive use of Kerouac's writing from the book, and uses its powerful cadence and pacing to draw the audience into the increasingly fragmented mind of the legendary Beatnik.  Yet this may also be the film's biggest problem, for it treats Kerouac's writing as gospel, and never seems to tire of its harmony.  For fans of the author, this is a welcome addition to an already breathtaking visual feast, yet for those with little patience for Kerouac and his comma-sparse prose, it may be something of a chore.  And while this particular journalist loved every moment of it and felt like he'd returned to some lost corner of his early 20s, others might not find it quite so appealing.
That aside, Big Sur stands as a wonderful counterpoint to another film playing at this year's Sundance Film Festival, Kill Your Darlings, which is about the formation of the literary movement that would ultimately haunt Kerouac decades later, during the Big Sur period.  The exuberance and optimism of youth found in Kill Your Darlings is vanished by the time of Big Sur, leaving only the shell of what was once a talented, brave writer with a literary voice that could cut glass.  And while that talent remains, the vessel housing it is broken, and beyond the repair of a man who seems to know he's too far gone for help.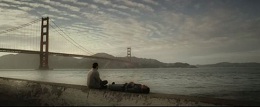 Wonderful supporting performances are turned in by Balthazar Getty (playing Michael McClure) and Josh Lucas (Neal Cassady), but especially by Kate Bosworth as Billie, a woman trying to "save" Kerouac via domesticated strangulation.  As a film, Big Sur remains fanatically faithful to its source material, which, again, may drive a lot of people off (there were at least 20 walk-outs during the Sundance Press & Industry screening).
It's a film about an unapologetic and nasty drunk whose mental state is increasingly taxed, yet it's as honest a picture as any playing at Sundance this year.  For those out there who aren't a fan of Kerouac, consider yourself warned.  For those, like this author, who have long-since discovered the beauty in Kerouac's tortured prose, it's as close to a true, authentic adaptation of the man's work as you're ever gonna get.