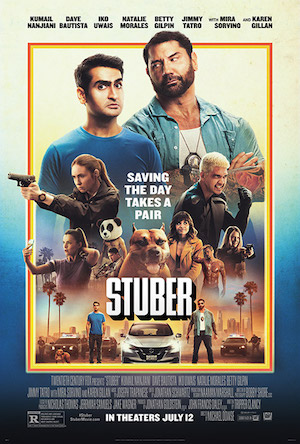 [Rating: Minor Rock Fist Down]
What do you get when you put a hulking former wrestler-turned-actor (David Bautista) and a feeble (though bulking) stand-up comedian-turned-actor (Kumail Nanjiani) in an electric Uber car in LA? You get Stuber, a funny, unorthodox ride that's reminiscent of 80s style buddy-cop movies. While the jokes and one-liners are a plenty, there's something missing from making it an awesome experience. 
Bautista plays a tough, insensitive cop named Vic chasing a drug lord. He employs a mild-mannered Uber driver named Stu, played by Nanjiani, to help him chase down the villain while he recovers from Lasik surgery. They are the true stars here who make for a great pair, where their scenes together are well-timed and comedic. Their hilarious tension plays well off the "odd couple" vibe of their pairing, which makes me want to see them paired together in future comedies.
I would love to see them in something more solid, preferably written by the team behind Nanjiani's TV show, Silicon Valley. There are other fine performances by Natalie Morales as Vic's daughter, Mia Sorvino (!) as Vic's captain, and Iko Uwais (The Raid) as the bad guy. The overtly violent action and coarse language earns the R rating it receives.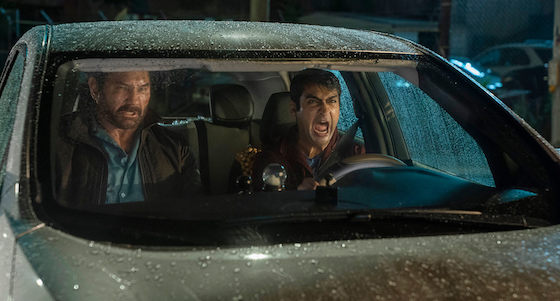 So where does it go wrong? The writing. Tripper Clancy pieces together scenes and situations that work well individually but not collectively. Plot points that start off believable are either forgotten or become too superlative. There are moments where the message of machismo gone wrong lands but it misses in stitching everything together.
It's silly and enjoyable, but only in segments. As a complete script, it fails. But it's a fun and not offensively bad, so it passes a bit and is enough of a popcorn movie to hold my attention. Think Collateral meets Lethal Weapon… but less of each.
The chemistry of Bautista and Nanjiani is the true attraction, but nothing in the film over-delivers or surprises. On that level, I suppose it delivers, just don't expect any extras like bottled water or mints.