"Lars and the Real Girl" is an slightly absurdist and truly original story about family and love. It is incredibly well executed and the acting is ridiculously good. Ryan Gosling actually deserves an Oscar nomination.
Do not seek out or read a plot summary of this film, should you stumble upon one. It was a gift that I went into "Lars" with absolutely no idea what I was getting myself into. It paid dividends. Knowing what happens in this story would be like telling a three year old there's no Santa Claus. It's a totally unnecessary destruction of someone else's potential fun.
Knowing the plot ahead of time will only deny you the experience of a beautifully written screenplay, one that layers subtle and fantastic character development with rich story and surprise. To read the plot would remove purposeful and necessary tension and destroy the anticipation of what's next. It would be a shame to know to much about the characters or the outcome. The movie should unfold just the way it does, uncluttered by expectations.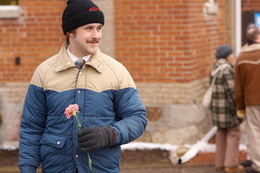 "Lars and the Real Girl" is a rare movie, one that doesn't appear to have been messed with. No studio or team of producers hacked this simple notion into the trite Hollywood comedy it could have become. Nor did a lack of budget limit the production from getting the perfect people behind the lens and in the cast. Someone got their idea all the way from the page to the screen, unimpeded by whatever it is that sucks some of the life out of the average attempt at filmmaking. First time feature director Craig Gillespie and screenwriter Nancy Oliver ("Six Feet Under") were assisted by marvelous performances from the Capra-esque cast of town's people, co-stars Patricia Clarkson ("Good Night and Good Luck"), Emily Mortimer ("Match Point"), "Elizabethtown" stand out Paul Schneider – who really shines here – and of course Gosling.
It would be mind bending to watch and compare Gosling's performances in "Half Nelson" and "Lars and the Real Girl" back-to-back. If nothing else it would prove, beyond a shadow of a doubt, that he's the real thing.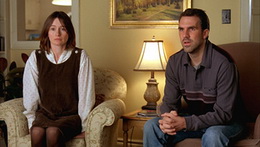 "Lars and the Real Girl" is a really cool film. It takes chances, with all the edge and energy of great independent film, but is a show of major league achievement in technique and story. This movie is most certainly destined for my list of top ten films of 2007. Force yourself to know as little as possible about the film, it will be worth the trouble.