Perhaps it's suitable that MTV films has partnered with Paramount to bring us the story of U.S. soldiers who return home from the current war in Iraq and are very changed people. After all, it is the young generation that's doing their duty; being sent to fight in that uneasy, messy conflict. (Earlier this week, the U.S. passed a grim milestone, as 4,000 of our troops have been killed in the conflict since the 2003 invasion.)
Thematically, "Stop-Loss" is not all that much different from 1946 Best Picture winner "The Best Years of Our Lives." Set directly after World War II, it revolved around the difficulty that three servicemen face trying to return to a "normal" life back home in the Midwest after fighting the war overseas. "Stop-Loss" concerns three servicemen who come home to Texas after five years in Iraq, only the added twist is that one of them is stop-lossed.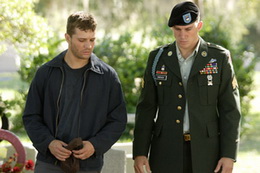 The stop-loss policy was called by John Kerry in 2004 a "backdoor draft," which is exactly what Sgt. Brandon King (Ryan Phillippe) calls it not long after he finds out the president has invoked the involuntary extension of his enlistment contract to retain him beyond the normal end term of service. Since Congress never actually declared war in Iraq and Bush said the mission was accomplished years ago, activists and lawyers argue that soldiers like King have more than a leg to stand on here.
What's impressive about director/co-writer Kimberly Peirce's movie (her first since 1999's "Boys Don't Cry") is that it isn't concerned with politics whatsoever. There isn't any policy discussion in the entire film other than Sgt. King's knee-jerk reaction when his commanding officer tells him it's time to report for duty in Iraq again just when he thinks his tour of duty is finished. Told entirely from the point of view of the servicemen, it avoids the pitfalls that less-subtle, sloganeering Iraq war movies like "Lions for Lambs" fell into last year.
Peirce understands that this younger generation fighting overseas are literally changing the way we look at war. Handheld cameras are everywhere as soldiers document their experience with diary-like footage. "Stop-Loss" opens with a montage of King's infantry unit, shot from a camcorder and posted on the Internet. It shocks us right into the present-day when, immediately following the introduction of the main characters through that user-generated film, the troop is led into an alleyway after a tense checkpoint stop and ambushed with machine guns and RPGs (rocket-propelled grenades).
Complicated issues become simplified very quickly when you are under attack, and not only do the men not know what direction enemy fire is coming from, as the assailants duck into a building and dissipate, they don't even know who their enemy is. Off the traditional battlefield, Peirce shoots hard, jagged angles from the soldiers' point of view in a breathless sequence. The attackers are barely seen around corners or hiding on rooftops, and King's men cannot see straight in the confusion. As the fighting continues in the building, women and children get involved.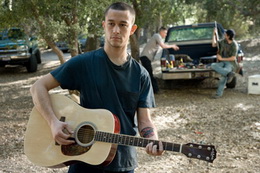 The ones who make it out of the battle are greeted as heroes in Texas, including Sgt. King, his best friend Steve (Channing Tatum), and their troubled friend Tommy (Joseph Gordon-Levitt). In wartime, these men were brothers, had clearly defined roles, and backed each other up every step of the way. Now they endure constant flashbacks and find that with their friends and family, they are on shaky, unfamiliar ground. Even the strong relationships they built with each other start to come apart. When King gets stop-lossed and flees the Army station, the movie examines how everyone is affected.
King's position on the matter is simple. "I'm done with killing and I ain't leading any more men into a slaughter," he says. Steve and Tommy are equally as positive that the only place they fit in is in Iraq, but Tommy's ruined marriage causes him to get thrown in jail after several nights of drunken troublemaking. Gordon-Levitt does a lot with an underwritten role, even if a last-minute plot twist doesn't feel like it had quite enough time to develop properly.
Peirce approaches a tricky subject without heavy-handed preachiness or agitprop. If there is one thing you can say about "Stop-Loss" it is that it absolutely respects the soldier and their honor/sacrifice for our country. Whether they are against the war or for it, no one is let off the hook, however. Each serviceman sees his decision on whether to continue fighting as a clear matter of principal, whether it's their reaction to what King calls the president's "fine print" clause or their general uneasiness at a world that feels different after returning home.
One scene sticks out in mind as a metaphor for the entire film. In a fleabag hotel parking lot in Memphis filled with passed-out drug addicts, drunks, and hookers, Sgt. King and Steve have a heated argument about where they truly belong. While their dilapidated surroundings may remind them of their former home in Iraq, the bond that they held so tightly during conflict has irreversibly changed back in the States.