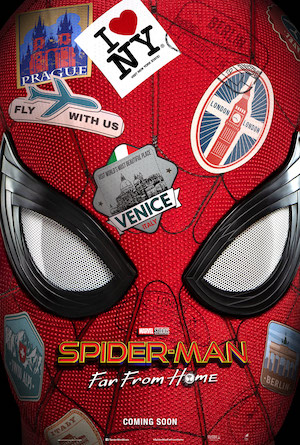 [Rating: Solid Rock Fist Up]
You'd think that after 17 years and 10 movies (if you count his appearance in the MCU films), Spider-Man would be feeling pretty played out on the big screen. And to some, maybe he is, but with Spider-Man: Far From Home, Marvel has been able to practically reinvent the character by integrating the character's growth into their own changing expanded cinematic universe.
Set in the aftermath of Avengers: Endgame, Far From Home finds Peter Parker just trying to go back to his life and be a regular high school dude for a while. But when some elemental monsters from another dimension start wreaking havoc while he's on a class trip through Europe — and with the Avengers kinda not being a thing right now — Nick Fury (Samuel L. Jackson) turns to Spider-Man, who in addition to his personal life is still dealing with the death of his mentor.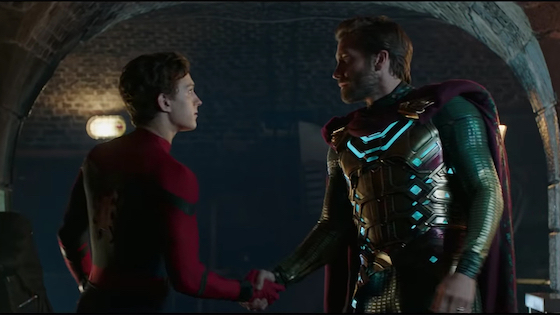 To add to the confusion, Peter is teamed up with Quintin Beck aka Mysterio (Jake Gyllenhaal), some sort of super powered dude from said other dimension, who has a personal vendetta against the elemental (water, land, fire) monsters, but can't do it alone. Peter is torn between the weight of losing Tony and the apparent burden that nows lies on his teenage shoulders to carry the Avenger torch going forward.
There's a twist at play that is predictable whether or not you know the characters and the background history and it takes a little too long to get there. At times you can tell director Jon Watts would rather be making a fun teen comedy, especially in the first half of the flick, when there are a lot of smoke in mirrors at play to mask the obvious twist that's coming. But it's all wrapped in the narrative of a kid who's being forced to grow up faster than he's ready to.
Far From Home is at its best when it's focused on the characters driving the story and not the action that everything revolves around. Despite being to space and taking part in an intergalactic battle to save the universe, Peter is just a kid who just wants to live his life. He's got a crush on a girl, MJ (Zendaya is adorable) that he wants to spend a vacation trying to woo and a buddy, Ned (Jacob Batalon), who wants his bro to do the bachelor thing while they're roaming Europe, all the while this kid continues to steal scenes and has some hilarious moments with Betty (Angourie Rice).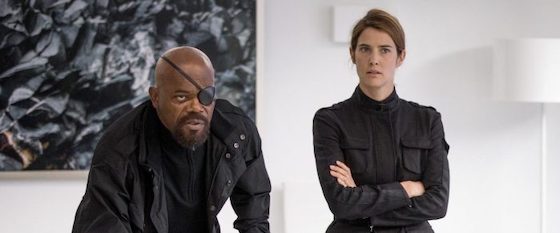 But the action is a lot of fun too. As the story revolves around Peter's reluctance to get involved, there's a lot of fun play on how he interacts with the chaos, all the while trying to save his friends and maintain his secret identity. These scenes allow for some incredibly inventive displays of Spidey's skills as well as as couple of fresh suit designs.
Tom Holland, more than any other actor that has played the web-slinger is truly making this his character. If he continues to grow and develop as an actor, and is unable to get out of whatever insane contract Disney/Marvel/Sony have him under, he could be mentioned with the same level of "nobody else can play that part" the way Christopher Reeve, Hugh Jackman and Robert Downey Jr. are today.
Mysterio may be one of the sillier villains in Spidey's rogue gallery, but they make it work both visually and within context of the story. The casting of Gyllenhaal works, I guess. Normally this dude bores me but he works as Beck, who comes off as a bit of an off-brand Tony Start wanna be. The problem with Mysterio and the elementals is it all seems so irrelevant. It's a small scale story trying to act on an epic level but it only works when it's focused in on the little details, whether it be scenes with Peter and Zendaya, or Happy (Jon Favreau), or Aunt May, and even yes….Gyllenhaal.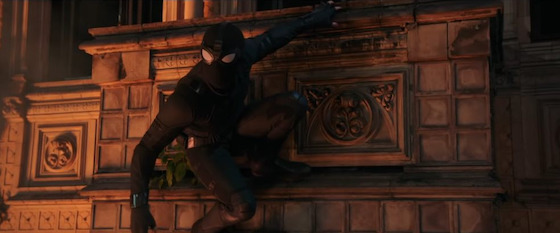 But this is a transitional movie and fans are going to love the extra love devoted to the fallen Avengers, especially during a hilarious opening montage that acts as an In Memoriam, and a little explanation as to how all those people who were snapped away were returned and how it is still affecting this timeline.
Spider-Man: Far From Home is another win for Marvel. It's funny, it's exciting and the cast is so much fun together. It serves as a nice epilogue for what is being dubbed the Infinity Saga (the first 23 films from Iron Man through Far From Home), while also acting as a springboard into the next phase of the MCU.
And yes…stay for the credits for not one but two amazing scenes, one of which has the perfect cameo and sets up an interesting path for the future of Spider-Man movies, the other just a killer gag.