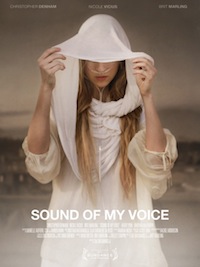 Summer has been the home to huge budget, action packed, visual effects extravaganzas for the past 40 years. Summers have also been marked more recently by the exceptionally tiny independent films. Some of these films are sleeper hits looking for an audience, or film festival fare that was picked up by a major studio for a small sum to bolster their year's roster.
Last year's standout summer indies were films like Beginners or Midnight in Paris. Occasionally you'll find a gem as well as a much-appreciated break from Imax 3D explosions.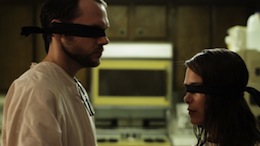 Sound of My Voice is this summer's first lower-than-low-budget offering. It garnered quite a bit of buzz when it premiered at the 2011 Sundance Film Festival and inspired interactive performance works at SXSW just a few months later.
Though Sound of My Voice had almost no budget, it is an inspiring testament to what can be achieved with very little.
The film follows two would be investigative journalists, Peter (Christopher Denham) and Lorna (Nicole Vicius), as they infiltrate a supposed cult. At the center of this cult is the mysterious and alluring Maggie (Brit Marling), who claims to be a time traveler from the near future. Peter and Lorna (and the viewer) must decide whom to trust throughout the course of the film.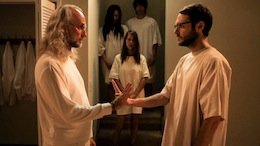 The script, which was co-written by Marling and director Zal Batmanglij, is superb and places the focus entirely on its main characters. At each turn we can see why someone might fall in or out of trust with another, or why they may be drawn in against their will to a plot or deception. The characters delicately lead the story in Sound of My Voice, a feat made all the more impressive since Marling also co-wrote the screenplay for Another Earth at the same time.
Marling, Denham and Vicius all do a solid job in their roles, which is important since the believability of many of the moments relies entirely on performance. In one particular scene, Peter and all new recruits are asked to vomit up the contents of their stomachs as a show that they reject the poisons of their pasts. While Lorna looks on, Peter and Maggie explore a violent emotional trauma from Peter's past.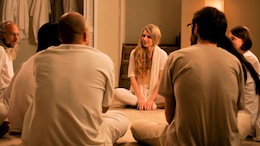 Denham must play the guarded Peter as he slowly softens to Maggie's charm and persuasiveness. Marling balances encouragement and care with a rigid aggressiveness that lies just below the surface, and all of this takes place in a scene, in which Vicius as Lorna watches, only her subtle expression carrying the content of her character's thoughts. It is a wonderfully disturbing scene and held aloft by the skills of each actor.
Though there was little budget, director Batmanglij stays in control of his visuals and makes specific choices based on the content on screen. In the secluded basement he allows the location to constrict and press in on our characters as a group. The depth of field is more inclusive and rarely do we get a character isolated in a shot. This is in contrast to the shallow depths of field and isolated frames of remembrances, which often occur at traumatic moments in a character's past.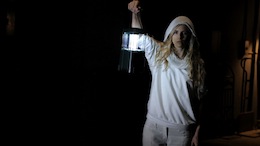 In addition to the visual style of the frame, there is consistent layering of intricate visual information throughout the film, which gives the viewer a rich multi-textured experience. It helps to create a film that is worthy of a second or third viewing.
Sound of My Voice is not a film for everyone. It is emotionally complex and challenging. The suspense comes through the characters and their situations not pat cinematic contrivances or multimillion-dollar pyrotechnics, but if this summer already has you craving a respite from wearying action films, then you might find a welcome reprieve in Sound of My Voice.
Watch the first 12 minutes of Sound of My Voice below.