I love movies about the power of movies.
Believe me, I'm not a film critic because I think there's a lot of money in it. I review movies because they hold this strange and exciting power over me and they have ever since I was a kid—the power to ignite the imagination. U.K. import "Son of Rambow" is about that very power and how it manifests itself in two young boys with massive troubles at home.
The unlikely source of inspiration for left-behind juvenile delinquent Lee (Will Poulter) and introverted religious cult victim Will (Bill Milner)? "First Blood," the first in an iconic series of Vietnam War fallout "outsider justice" films from Sylvester Stallone.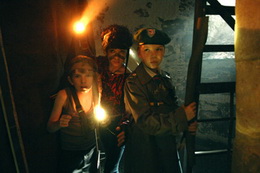 Is it a weird coincidence that this movie and Michel Gondry's similarly-themed "Be Kind Rewind," which came out earlier this year, both revolve around film being both a liberating and healing force? (What's weirder: they both involve a heavy fascination with 1980s Hollywood flicks.) I don't think so. Inspiration comes in all forms and writer/director Garth Jennings gets that idea across with equal parts cliché and whimsy in "Son of Rambow."
Will's family are members of a strict religious sect called the Brethren who don't allow their members to partake in TV, among other things. His stifled creativity takes shape in other things then, like drawing expansive and detailed murals anonymously on the inside bathroom stall at school. When Lee happens upon the reclusive lad and shows him a pirated copy of "First Blood," everything changes.
While Will's limiting factor may be an over-easy and overbearing construction, Lee has a more complicated family life, with an out-of-town mother and an older brother who treats him like a servant. To these unknowing malcontents, Stallone's Rambo points the machine gun-littered way to escape, and the two set off to make their own movie for a BBC young filmmaker's contest.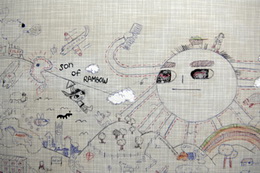 Dreamy sequences involving a French exchange student named Didier (Jules Sitruck) have an entirely different gauzy-fantasy feel and distract from the boys' story until the two eventually and predictably meet. Jennings builds a couple funny scenes, but Didier is a distraction from the boys' plight. He's a supporting character to be sure, but the subplot of his hero worship at the school has a completely different tone than the rest of the movie. As Will and Lee cement their friendship, Didier becomes a mildly comic diversion.
Like he showed in "Hitchhiker's Guide to the Galaxy," Jennings is still a bit "off." This has a double meaning of course. His sensibility is just outside the mainstream, yes, but his storytelling isn't quite cohesive enough to pull together a truly great movie. If the movie truly celebrates the outsider status of its protagonists, then why does the screenplay rely on a couple obvious and melodramatic turns in its final act? "Be Kind Rewind" may have had as lazy a plot as can be, but at least it was different.
"Son of Rambow" has its heart and central relationship in the right place, however, and it drives home the power film can have to transform a life, and I'm glad Jennings himself reached for a camera all those years ago.