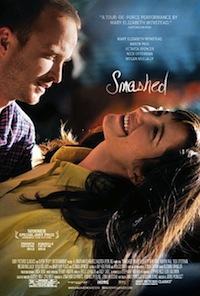 Addiction is alluring. It's alluring because when a person is within addiction's grip, they become distilled down to base desire. It is only about the now. This moment. Food, sleep, sex, and feeding their addiction, this is all that they care about. These animal desires are within each of us and drive us all. The subjects of interventions are never that different than any of the rest of us.
When films about addiction work well, they focus on the humanity of the individual. The struggles dominate the story, not the substance or the usage. This is why films such as Barfly, Half Nelson, or even Leaving Los Vegas affect us. They are about characters, which have problems similar to our own, but also bear the weight of their addictions. They are slowly crushed into alcohol soaked diamonds.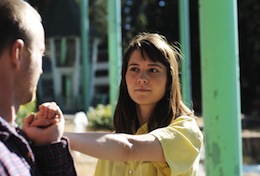 The key is character, and it often comes with a charming and utterly likeable actor or actress. Jack Lemmon in Days of Wine and Roses, Ryan Gosling in Half Nelson, Peter O'Toole in My Favorite Year, all are entertaining and easy to like. You want them each to succeed, and when they disappoint us, because of their own choices, it hurts us all the more.
Smashed has all of the markings of a solid film exploration of alcoholism, a charming cast and a simple story that puts the weight firmly on the recognizable obstacles that face its characters.
Kate (Mary Elizabeth Winstead) attempts to maintain her job as an elementary school teacher, while living her party lifestyle with her loving, but always drunk husband Charlie (Aaron Paul). After vomiting in her classroom from a hangover and claiming to be pregnant to avoid the consequences, Kate decides it is time to dry out and attends an AA meeting with her coworker, Dave (Nick Offerman).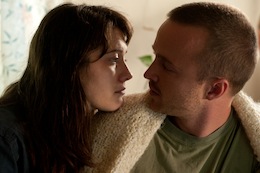 The film takes its subject seriously and offers an unsentimental look into the lives of Kate and Charlie. We go with Kate as she moves from the embarrassment of wetting her pants in a convenience store to the panic and terror of waking up on the street after a night's drinking. Kate comes to the realization that she must get sober, but her husband's continued drinking gets in the way. Charlie and Kate obviously love each other, but neither knows how to resolve the growing differences that arise from Kate's sobriety.
Though Smashed is unusually short for a feature – it comes in at around 75 minutes before the end credits roll, this brevity lends itself to the content. There are no unnecessary embellishments or philosophical pontificating. Sometimes there's nothing to do, but point out that things are irreparably broken. Sometimes it is because we broke them.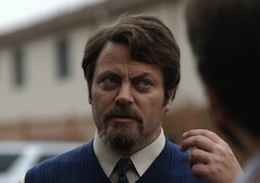 My only real criticism of Smashed is the hip indie acoustic guitar riff that runs throughout the film. It eases editing transitions and seems to tell the viewer, "Hey it's okay. This is just a quirky indie flick after all." It sometimes feels like a lie when paired with the visuals of a drunken young woman weaving blindly in and out of traffic on her bicycle.
But Smashed is a surprisingly affecting film. You should watch it for its simple story; its commitment to its subject; four understated and excellent performances, including a solid supporting performance from Octavia Spencer; and it's lack of sentimentality. Watch Smashed because it is only takes the time it needs to be a great little film.