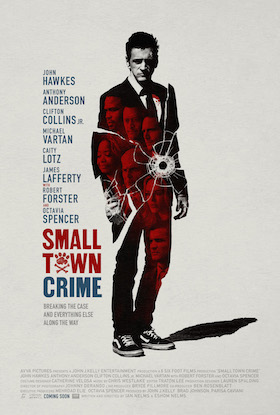 [Rating: Minor Rock Fist Up]

An accessible neo-noir with an all-star cast of reliable character actors, Small Town Crime is a fun watch, even if it never quite overcomes the formulaic elements cemented into its foundation. It stars John Hawkes as a disgraced former cop looking for a little redemption, and hits just about every note one would expect from a movie of this ilk (hard boozin', private investigating, surly cops, salty prostitutes, car chases, and even a first-class shoot-out). Yet stilted dialogue and thin character work blunt the edges of Small Town Crime, and don't allow for it to stretch its legs beyond what one might find in a CSI: Miami episode.
The film opens with its lead, Mike Kendall (Hawkes), going through a bit of a rock-bottom drunk phase. Mike drinks all day and night, intentionally blows job interviews to keep his unemployment benefits, and dreams unrealistic dreams of becoming a cop again. Although it is referred to obliquely early on, subsequent flashbacks inform the audience that Mike lost his badge because of a drunken incident while he was on-duty, and neither the community nor his former colleagues seem ready to forgive him.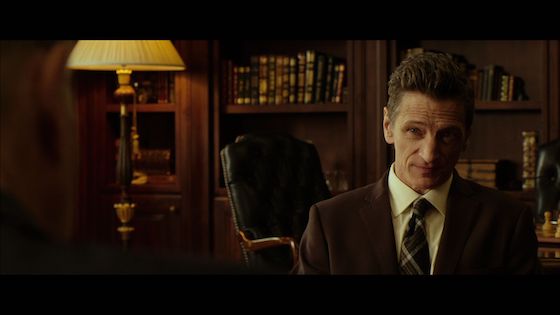 Following an all-night bender, Mike finds himself reinvigorated after he stumbles upon a badly injured young woman, one he resolves to help in a flash of heroic familiarity from his policeman days. Beaten within an inch of her life, Mike becomes laser-focused on solving the mystery surrounding the lady's predicament, much to the chagrin of the local fuzz who don't want any help with their investigation. The opportunity presents Mike with a chance at both personal and professional redemption, and while the cops working the case make it clear that there will be none of the latter, Mike pursues the mystery regardless.
Mike is encouraged by his sister (Octavia Spencer) and brother-in-law (Anthony Anderson), who notice a change for the better in the previously unmoored drunk, yet Mike is careful to keep them more or less in the dark. For example, they don't know that he's working a case despite warnings from the police against just that, and they're less than thrilled when the intrigue following the mystery finds its way into their lives. Their presence in the story grounds the story in reality, however, which helps to breathe a little life into the script, which picks up steam in its second and third acts.
Still, there's something just a little off with Small Town Crime. Narrative elements fall into place with seeming ease, yet attempts at genuine, real-life moments come off as a bit plastic. The moments when Mike mouths-off in drunken tirades, or talks shop with the cops strain the viewer, and feel like the leftover remnants of older, familiar fare. Indeed, the script crafts these moments in a way that makes them feel like the authors have never experienced or witnessed booze-fueled depravity except on T.V., and the dialogue reflects that. When Robert Forster is introduced as the mystery girl's grandfather, things pick up a bit, just as they do when the girl's pimp (Clifton Collins, Jr.) makes an appearance. Yet by the time the audience gets to the final thirty minutes or so, there isn't a lot of investment in the characters or the story.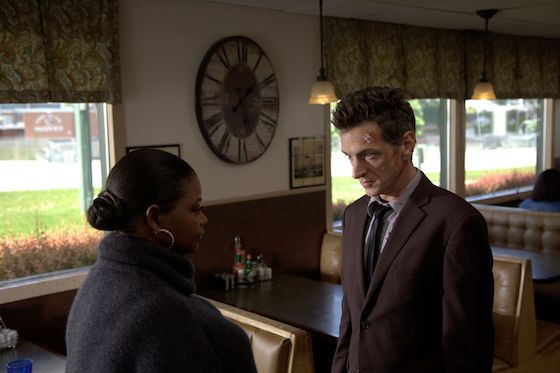 Aside from the fact that Mike's mystery victim was badly beaten, there isn't much to connect the woman with the audience, or invest them in the circumstances surrounding her assault (or Mike's investigation into it). Although Mike seems like a decent enough guy deep-down, there's not a lot of work put into the script to make him likable or relatable, aside from the fact that he's trying to do a good deed. Consequently, as Small Town Crime lurches towards a resolution to the circumstances surrounding its central mystery, a lot of the iron seems to be missing from the movie's glove.
Which isn't to say that the film is a bad one. John Hawkes can pull off anything, and is engaging and interesting enough as an actor to keep the audience's attention throughout the effort. Likewise, Forster and Collins are so damn good, and are written with enough weird personality that they (quite unexpectedly) jump off the screen. How their characters develop and bond with Mike and each other is one of the most entertaining aspects of Small Town Crime, and keeps on amusing the audience until the last shot (literally). The action is paced with thoughtful deliberation, and is strung together well by co-directors Eshom and Ian Nelms, even if the script they co-authored does leave a little to be desired on the dialogue end of things.
Opening tomorrow at the Screenland at Tapcade, Small Town Crime is a decent time for anyone who enjoys a little noir action without any need for a thinking cap. Great acting, decent action, and middling dialogue round out the overall effort, and offer an interesting spectacle that is a bit uneven at times, but is fun regardless. Supporting turns by Spencer, Anderson, Forster, and Collins keep the film from capsizing in a few places, and are a great compliment to Hawkes, who carries the film ably. As a production, it might come off as a little small-time, yet it is certainly no crime.