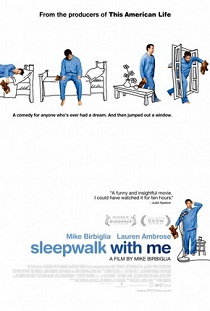 Mike Birbiglia, a stand-up comedian and frequent contributor to the outstanding radio program This American Life, adapts his autobiographical one-man show (which has been excerpted on TAL) and 2010 novel Sleepwalk with Me and Other Painfully True Stories into a movie with one really great idea.
As Birbiglia's character — a fictional aspiring stand-up comedian named Matt Pandamiglio who also has REM behavior disorder — sleepwalks, the film cross-cuts between what he's imagining (that he's won the gold medal for some unexplained event, for instance) and what's really happening (that he's about to fall off a high ledge sleepwalking in his pajamas).
These are often laugh-out-loud funny and genuinely suspenseful.
Unfortunately, this is the only part of his story that is uniquely suited to movies, which leads me to believe that perhaps Sleepwalk With Me (co-written by Ira Glass, Seth Barrish, and Mike's brother Joe Birbiglia) and should have instead been a series of short films.
Although Birbiglia does come to life in his short stand-up bits and during the times when he narrates the film by directly addressing the audience, the comedian seems to be sleepwalking through this film. He's not much of an actor, and his naturalistic approach comes off as bored. It makes you wonder why so many people care about Matt and believe in him so much.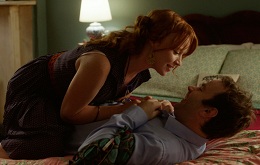 As Matt's disorder gets more serious, though, and it becomes apparent he could cause harm to himself and others, the film takes on a level of seriousness that elevates the material. His girlfriend of eight years (Lauren Ambrose) and his parents, played by James Rebhorn and Carol Kane, are rightly concerned. The sleepwalking, we find out later, could be a manifestation of a deeper psychological problem.
This interesting premise is torpedoed by that very problem, however, the old standby for men of his generation: a deep fear of commitment. If there were a new spin on this theme, Sleepwalk With Me might work better as a film, but we've seen it all before and done way better. (The incisive and far more honest High Fidelity jumps to mind.)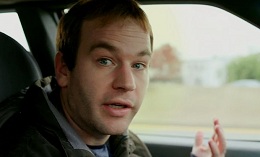 Ambrose exists only to be the perfect girlfriend. She's endlessly supportive despite Matt's laconic attitude and his own mistakes — without the story ever getting into hers. The actress is terrific, but she's wasted in the movie.
Sleepwalk with Me isn't the typical romcom with a happy ending and rosy outlook all around, but it spins its wheels in familiar territory too often and takes a lazy approach to its central relationship, even as its sleepwalking scenes hit all the right notes.