First-time writer/director Cary Fukunaga's "Sin Nombre" is a movie about devastating and emotionally draining moments. What makes it unique among films that cover similar subject matter is the restrained acting and richness of its visual sense. In that respect, it is a descendant of a less showy cinematic lineage.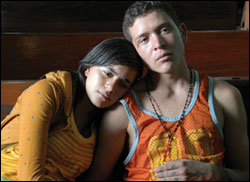 You would think that a movie that profiles the brutal gang culture of Mexico—where initiation involves getting the crap kicked out of you by fellow members and being forced to kill someone—would be full of hip, quick-cut transitions and hyper-charged with swooshy sound effects and showy pans. Fukunaga and cinematographer Adriano Goldman, however, maintain a more objective and less intrusive camera style.
"Sin Nombre" (roughly translated: "the nameless") reveals instead way of life that ensnares kids at a very early age with the promise of brotherhood, and then makes it nearly impossible to escape. Casper (played with considerable restraint and weight by Edgar Flores) is one of those teenage gang members. His 12-year-old friend Smiley (Kristyan Ferrer) looks up to Caspar as much as he is unsure that he is man enough to join the Mara Salvatrucha gang. Fukunaga captures equal measures of loyalty and fear within the literal confines of the gang's community and the mental constraints of Caspar, who has a secret he's hiding from them with good reason.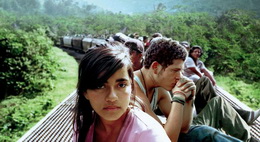 Casper feels trapped, as does a Honduran teen named Sayra (Paulina Gaitan) who, ironically, is traveling North with her uncle and a father she barely knows to cross the U.S.-Mexican border. She's trapped because the trip is actually her father's ambition. He is only seeing her now because he was recently deported from the U.S., and now he wants to make his way back to New Jersey again to be with his new established family—strangers to Sayra. She is not convinced she wants to accompany him and is definitely not prepared for the horrors that await her as they sit atop trains with hundreds of other migrants, constantly exposed to the elements.
There is a twist of fate and the two meet quite unexpectedly. Sayra becomes more embittered and makes a rebellious choice, while Casper is forced to imagine a life that exists outside of the gang.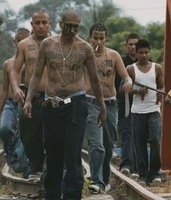 "Sin Nombre" exposes a culture that, despite its widespread nature, is probably not widely known about outside its home country. The mechanics of the plot start to become a little familiar, but the care for which realism in character and especially setting are portrayed make it a very powerful movie. Fukunaga and Goldman won the director and cinematographer prizes at Sundance in January. It's not hard to imagine why.
"Sin Nombre" was shot in old-fashioned 35mm, and its images are both gorgeous and unsettling at the same time. Rain-soaked people huddled together on train cars and covered in tarps look like sinking lily pads in a river. A mass of humanity—humbled and weakened—hides beneath those flimsy coverings just like the debilitated souls of the gang members, long ago swallowed up by the oppressive group mentality.
Fukunaga is able to draw stirring and naturalistic performances out of a virtually unknown cast. He also takes time to show the little details of everyday existence in Central America—even taking time to cast a wider net and portray residents not directly involved with, but certainly affected by, the gang culture. Once the story reaches its climax, a feeling of inevitability takes nothing away from the deep feeling it produces.