The past few weeks has been a blessing for the upcoming release of Love, Simon (directed by Greg Berlanti), the new young-adult adaptation centered around Simon Spier and his one little secret that sets the film in motion.
From people I know who attended last Saturday's advance to the advance screening, many showtimes sold out and had the lucky audiences who saw it, wanting to experience this touching story again. As for me, I am in the group who will gladly pay for this experience all over again.
Based on the novel Simon vs. the Homo Sapiens Agenda by Becky Albertalli, this "easier to say in one sentence" film stars Nick Robinson (of Jurassic World fame) as Simon, a guy who has everything: great friends, loving parents and an all around chill life. Things turn for Simon however when he encounters the mysterious "Blue," someone with a made-up moniker, on his high school's gossip blog. Blue and Simon's big secret in life is that they are gay. Simon realizes this and begins an online friendship to share stories and feelings, leading Simon to wonder: Is Blue a close personal friend of his, or a random fellow classmate he may not be aware of?
Along the way, Simon is joined by his friends Leah (Katherine Langford), Abby (Alexandra Shipp) and Nick (Jorge Lendeborg Jr.) who each have their own smaller stories in this film that work. The actors playing Simon's friends are just so good — there's no bad one in the bunch, and that's almost an incredible thing to accomplish. In fact, the entire cast is great. From the no-nonsense drama teacher (Natasha Rothwell) to the goofy and caring Vice Principal (Tony Hale), everybody works!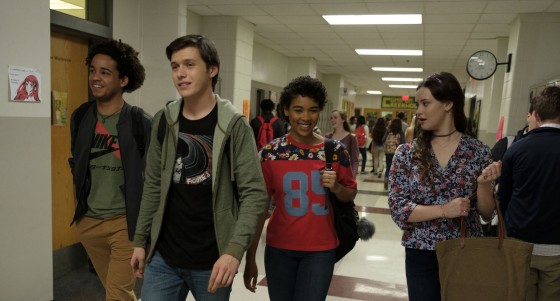 I cannot go on in this review without mentioning just how good Simon's parents are, here played by Josh Duhamel and Jennifer Garner. Their tenderness around loving their son for who he is is so pure-hearted that they win parents of the year in my book. Last year the world was graced with Michael Stuhlbarg's speech in Call Me By Your Name — well get ready for people to start talking about Jennifer Garner's parent speech.
There is such a pure "cheesy" goodness to this film, that I can't help gush over it. Love, Simon, is filled with your standard teenage cliches, and it even goes as far as having a lit soundtrack that makes the film resemble a John Hughes movie from the 80s. It's a film that the LGBTQ+ youth of today really need. Heck, any age, any gender, any race, any sexuality would probably appreciate the positive representation the film has to offer in showing how normal Simon's life is, even when he discovers and accepts himself for who his is despite some backlash and downfalls.
I want so bad for families to see this! Don't look at it as a gay movie, but rather a movie about an ordinary kid any of us could know, who just wants to accept himself and have the best time of his life with those who love him the most.