A clever idea, shooting technique or framing device only goes so far, and once it runs out of steam, there has to be something further to invest in emotionally or else the movie quickly falls apart.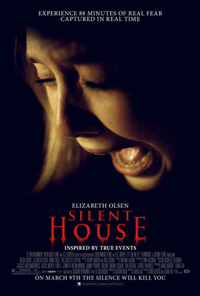 There are plenty of films that manage to hold our attention even after their initial cleverness has worn off (Memento, The Matrix and the original Toy Story), but there are even more that fail.
Silent House is one of the latter.
The film, which stars the talented Elizabeth Olsen, follows a young woman named Sarah as she helps her father and uncle renovate the family's beach house. When Sarah and her father investigate a noise upstairs, they are separated and she is then terrorized inside the poorly lit house by a faceless, would-be attacker.
Here's where the gimmick comes into play: The entire film is shot and presented as if it were one continuous take.
Whether the directors Chris Kentis and Laura Lau actually achieved this one-take wonder is debatable, but what is certain is that as a framing device, this single-take approach proves that it's possible to establish tension, but difficult to be frightening beyond the quick scares punctuated by jarring sound effects. If anything, this shooting style is more limiting both as a narrative tool and a scare tactic.
Then again maybe Lau's script is to blame. After all, the continuous take approach does lend a sense of immediacy, especially during a particularly shaky running sequence. Also, Olsen does a great job selling the paralyzing fear of a home invasion: The first time the camera pulls in close on her face as she stifles screams, but maybe not the fourth or fifth.
Regardless, not much insight is given into Olsen's Sarah or any of the other characters. The dialogue between Sarah and her father John, played by Adam Trese, is stiff and devoid of the familiarity most people share after knowing each other for 25 years.
Because the movie gets any of the conversational dialogue out of the way in the first reel, it can spend the next two acts alternatively chasing Olsen down dark hallways and shooting down her shirt once she's reached her next hiding spot. These early scenes were the only time to establish any kind of rapport between the characters, and that isn't accomplished.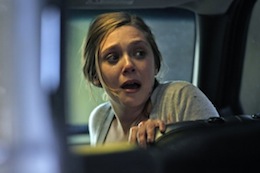 Oh, and because telling a straightforward story about a violent home invasion inside one of the places we're alternatively the safest and the most vulnerable simply isn't scary on its own, there's a twist ending.
It doesn't warrant spoiling because it's easily predictable, but even if you don't see it coming, it still manages to fall flat and effectively undo every major decision or any small amount of investment a willing audience member may have given the movie up to that point.
But that's Silent House as whole: Predictable, not at all frightening and a waste of everybody's time, especially the audience's.