Warren Cantrell reviews a new foreign film from the 2012 Seattle International Film Festival: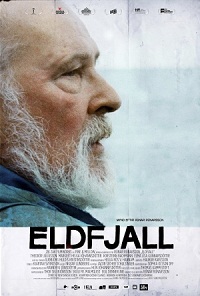 Many of the foreign features playing at this year's Seattle International Film Festival seem packaged and ready-made for a U.S. remake, as some of the most interesting, well-paced and wonderfully conceived stories put to film in years are playing at that event.
Some movies at this year's S.I.F.F. that have earned justified praise include Game of Werewolves, King Curling, and The Fourth State — each of them primed for American distribution, if not reimagining.  Though somewhat seedy in practice, the habit isn't without logic, for Hollywood number-crunchers would much rather harvest the rewards from a proven foreign commodity than roll the dice on a domestic unknown.
Yet this isn't something that's going to happen to Volcano (Iceland: Eldfjall), an Icelandic picture that probably deserves this recycling treatment more than any other, yet will almost certainly never benefit from such generous plagiarism.  This ironic failing seems appropriate, too, for everything about Volcano revolves around a cruel twist that, again, one isn't going to see in a big-budget American film.  Accompanied by a sparse, yet pinpoint score that only intrudes during brief flashes, much like the expansive Icelandic landscape, the film uses visual and audio stimulus to wonderful effect, and employs an admittedly slow beginning to create a thick, layered texture for a superbly thoughtful picture.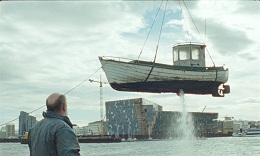 Director Rúnar Rúnarsson's film is about the grizzled, hard-hearted Hannes (Theodór Júlíusson), whose retirement "party" at a local Reykjavik school opens the picture.  The film presents Hannes as an empty, lonely man who doesn't seem to know any joy or happiness; although his children come over to visit, it's clear that they want little to do with the man, and simply bear him for the sake of their mother, who has stuck by her callously bitter husband all these years.
Volcano progresses through its first act as a mostly silent meditation as seen through the eyes of Hannes, who is having a very difficult time coping with a seemingly futile existence.  He turns a corner, however, due to an experience at sea, where the old man realizes he has something to live for.  Very near a death he seemed to welcome earlier in the picture, Hannes returns to his home and finds himself naked (both spiritually and literally), where he's offered a brutally honest opinion of his life from a son and daughter who don't realize their dad can hear them talk.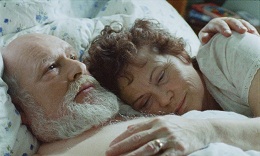 Hannes makes the decision to turn his life around that very night, and shares a very tender, exposed moment with his wife, Anna (Margrét Helga Jóhannsdóttir), who seems relieved at the transformation.  The two seem genuinely happy for what feels like the first time in decades, and the audience watches as Hannes begins to take steps to repair a marriage he's nearly ruined after decades of spiteful despair.
And then Anna has a stroke: a really, really bad one.  In maybe the most gripping, gut-wrenching scene of the film, Hannes lies on the ground, next to his collapsed wife, and pleads with an emergency responder to hurry the ambulance: that his precious Anna is sick.  It's a cruel twist, for it is only after Hannes has reevaluated his life, and recognized how lucky he is to still have Anna after all these years, that Anna falls ill.  Having suffered a major stroke, it's revealed that Anna will never wake up, and will need round-the-clock care for the rest of her life, which includes diaper changing, bathing, and feedings.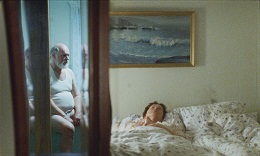 Demonstrating his unconditional love and total devotion, Hannes dedicates himself completely to Anna's care, and in so doing finds an inner-peace that he had either never known, or had long-since forgotten about.  As a detached man who had never put much effort into raising his family, he knows very little about the basic necessities involved in caring for a person completely (he explains to a nurse that Anna had always changed diapers, and that he'd mostly stayed away from all that), yet he begins to learn.
Slowly, Hannes comes into himself as a human being, which is maybe the most interesting, touching thing about this film, for at its foundation, it is a coming of age tale.  Hannes, perhaps serving some sort of penance for his decades of assholery, must learn what it means to be a selfless, decent husband, father, and grandfather under maybe the most difficult circumstances possible.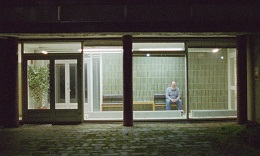 It's a very difficult journey to accompany the man on, for the years of hard, bitter living have clearly taken a toll on Hannes, and are difficult to bear when watching him trying to do good whilst others sneer disbelievingly at the man from the wings.  For example, when his children meet Hannes at the hospital after the stroke, yet refuse to sit next to the visibly distressed patriarch, it's clear that decades of antagonistic petulance have taken their toll.
Yet this is how it should be, for this film, just like real life, is a difficult haul, yet one that offers some unmistakably honest truths about age, love, loss, and what it means to dedicate one's self to another 'til death do you part.  Still, Volcano isn't for everybody, for it moves quietly and earnestly through Hannes' development: never afraid to peel back the layers of a genuine human existence.  American audiences rarely turn out in the droves necessary to finance and promote an endeavor such as this, one that takes as its hero a 70 –ish year old whose most exciting scene comes when he's bailing water out of a sinking boat.
No, if Hollywood wants to roll the dice on a dying wife movie, they'll cast George Clooney in the lead, and give him two sassy daughters to help lead him through to ultimate redemption.  In Iceland, though, they make movies like Volcano — and bless them for that.