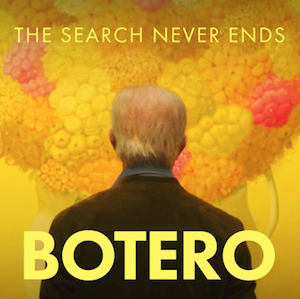 [Rating: Minor Rock Fist Down]

A straightforward hagiography piece that celebrates its subject with little critical analysis, Botero is an instructive albeit unambitious documentary. Tracking the creative growth of Columbian painter/sculptor Fernando Botero, the film hits all of the expected notes of the artist's professional maturation using testimonials from family members, curators, art historians, and Fernando himself. And while it does a decent enough job laying out the man's story from A-Z, its refusal to explore Fernando as anything other than a game-changing artist gives the whole effort a distorted look: much like the man's most famous works.
Director Don Millar proceeds in a linear fashion, starting with Fernando's childhood and his origins as an impoverished sketcher. Some early success in Columbia gave the young artist just enough money and confidence to proceed to Europe, where he was first exposed to the titans of the art world in the galleries of Spain and Italy. In the film Fernando talks about his discovery of Renaissance painters and the way they incorporated volume in their pieces, which came as a revelation to him. Returning to Columbia from Europe in the mid-1950s, he thus had an informal education that allowed him to merge classical forms with a distinctly Columbian perspective; color was more fully integrated into his pieces, and a distinct style began to emerge.
A move to New York City followed, as did a further evolution of Fernando's style, and there's a lot to admire in the man's story as it's told here. His steadfast dedication to figurative art in the mid-twentieth century, when abstract was all the rage, speaks to Fernando's strength of vision and convictions as an artist. He powered through bad reviews and poverty, emerging as one of the leading visionaries of the art world by the early 1960s following a chance encounter with Dorothy Miller, perhaps the most influential curator of that era.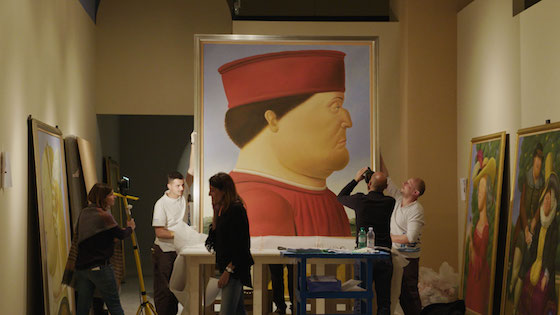 Christian Padilla, Botero's biographer weighs in, as does Dr. Edward Sullivan of the Institute of Fine Arts at NYU, joining numerous curators, museum directors, and art historians to give testimonials speaking to Fernando's courageous vision and growth of style and technique. Yet source-wise, Botero uses Fernando's children and the artist himself most heavily, creating a credibility gap that only widens as the documentary proceeds. And while there are a few brief critiques of Fernando's oeuvre, they are hand-waved away almost as quickly as they appear, and serve as little more than a launchpad for further praise.
What the audience is left with, then, is an 80-minute book report which strives to build a case for Fernando as the greatest living artist in the world, which is convincing enough, sure, but is also ruthlessly boring. A life doesn't need conflict, disagreement, or drama to be worthwhile, but a good documentary almost always does. Indeed, as Botero proceeds it feels less and less like a documentary and more like a Wikipedia page come to life.
Some kind of exploration into what Fernando sacrificed or lost as a result of his blinding passion for his work would have helped in this regard, and since the guy's kids appear all throughout this piece, it seems that this was indeed feasible. Fernando's two divorces are glossed over, and the one moment of adversity that does pop up in the doc, the tragic death of his young son, gets only a handful of minutes before launching into the next phase of Fernando's artistic progression. Fernando Botero is a world-famous, successful, highly respected painter and sculptor, that much is clear, but what was sacrificed or lost along the way, and was the end result worth it?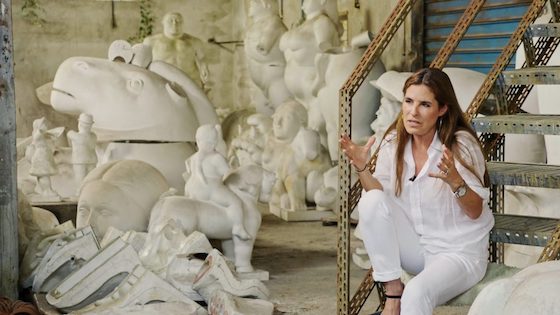 Again, going back to Fernando's kids, rather than trot them out to add more fuel to the "this guy is great" fire, might they not have been better employed as a critical examiners of the consequences of a life lived in total service to one's art? Granted, if this conflict doesn't exist in their life, so be it, but why make a movie about the guy if the sole purpose is just to further prop up Fernando and his reputation? The documentary spends the majority of its runtime making the case that Fernando has reached the pinnacle of success in his field, so making a documentary to further draw this out doesn't just seem unnecessary, but vain as well.
Early in Botero, Fernando's daughter remarks that in 1971 he left for Paris and, "he never looked back." For a moment, it seems like this will be the pry-point for a deeper exploration of the cost of Fernando's journey, yet it is brushed aside for more time building a case for the man as the world's most important artist. And that's a pity, for it seems there are a few people that feel like Fernando isn't the alpha and omega of the modern art world, and one has to imagine there's maybe an ex-wife or two that might have a different perspective as well. Hearing from those people for more than just a minute or two as a means to further establish his greatness would have rounded out the effort and given Botero more weight as a documentary (even if it came at the expense of his coronation as art-king).
Hampered thus by a refusal to delve into the man behind the legend, to look at anything except the fruits of admittedly inspiring labor, puts this all in a very confined box. A case is conclusively made that Fernando's work is indeed important, and a crucial component of the 20th century's artistic story. Yet as a documentary (now playing at the Seattle International Film Festival), Botero does not achieve (nor does it strive to) anything resembling critical analysis or a multifaceted exploration of Fernando as a human being. If all one is looking for is a thesis on why the man's artwork is important, then Botero suffices well enough, but if there's any yearning for an evaluation of the intersection of art and sacrifice, or the cost of a life wholly devoted to one's craft, this one falls notably short.