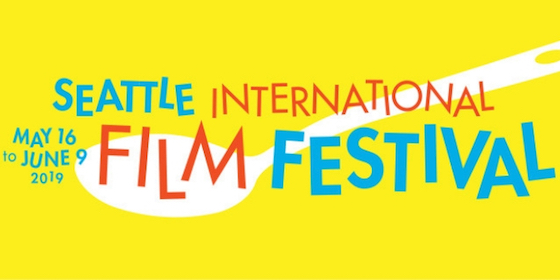 [Rating: Solid Rock Fist Up]
By employing a refreshing, unique spin on a classic high school yarn, Banana Split succeeds in crafting a story that manages to be simultaneously entertaining and empowering. Supposing that a boy is the catalyst not for conflict, but communion between two young women, the film demonstrates what's possible when stories aim to bring ladies together rather than put them at loggerheads. And while the age of the cast sometimes stretches the bounds of belief for a high school comedy, their characters and the world they inhabit never do.
When Banana Split opens, the audience meets April (Hannah Marks) and Nick (Dylan Sprouse), two high school classmates who decide to jump into a relationship together on a whim. True to their teenage selves, they have little in common except a desperate need not to be alone, so for two years their relationship is held together by sloppy make-out sessions and misplaced angst. As the pair approach graduation, however, their differences and arguments become more pronounced, and a break-up ensues. And while Nick is quick to move on and into a new relationship, April is despondent.
Things take an interesting turn for April when she attends a house party and comes face-to-face with Nick's new lady, Clara (Liana Liberato), who she is all geared up to hate before the two have an impromptu conversation. It doesn't take more than a minute or two before Clara and April realize how well they get along, using some gentle mocking of Nick as a springboard into an instant connection. Unwilling to let this new friendship perish over something as trivial as a boyfriend, the two resolve to keep their relationship a secret from Nick so that they can spend more time with each other. As the two bond, they realize that they are the best friend either has ever had, and despite the sticky "Nick" situation (which does cause a few complications), they try to make their friendship work.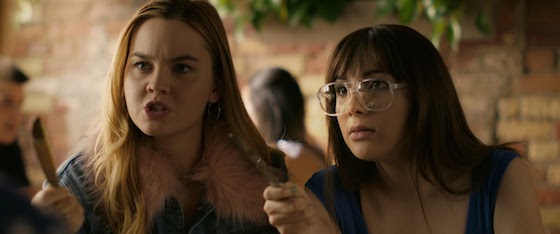 Clara and April's refusal to play the rivalry game with each other speaks to an innocence and purity of heart that is reflected in the somewhat childish nature of their relationship. In their little bubble, they can still be friends, yet as adulthood creeps closer, so too does the harsh reality of their situation. Director Benjamin Kasulke made his bones as a cinematographer, and the visuals of Banana Split bear this out. Set in L.A., the film eschews traditional landmarks of the region to make way for more of the suburban outdoors. This seems altogether appropriate since this is a story about young ladies who have yet to spread their wings in the "real" world and are thus still relegated to childhood bedrooms, cul de sacs, and local beaches.
Yet as good as the camera work is, the script is what holds Banana Split together: the dialogue passing with an authentic flair well suited to the characters. Teenage-speak is a difficult thing to nail down, as it usually unfurls in a double-edged manner that allows for the words to carry both a sweet and sour connotation. Hormones and the social pressure of merely existing often force these characters to hedge in a way that allows for every sentence to be taken literally or as a joke, exclusive to neither. It masks the pain of truth while still allowing it to tumble forth, and Marks, as both star and co-writer, really nails this.
What's more, Banana Split could be set in any time period or region, with its themes of female empowerment in the face of expected male competition universal in both time and place. Even so, it makes good use of the modern social media landscape, with anonymous Instagram stalking and good old-fashioned rumor mill gossip walking hand-in-hand, here. The fact that April and Clara are able to overcome the expected enmity to find their own common ground in spite of all this social pressure is the foundation upon which the entire effort is built, and the care the script takes in showing how this evolves against all the odds is what makes it so solid.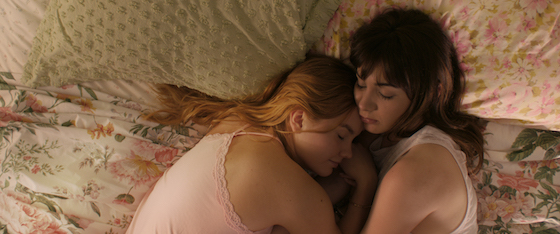 Indeed, Marks and co-writer Joey Power have written a tight script whose only failing is a lack of attention paid to ancillary characters like April's mom (Jessica Hecht), or April's movie theater co-worker, Jacob (Jacob Batalon). Hecht is largely wasted as a mother with little to do except tell her daughters to be nice during dinnertime squabbles, and Jacob is provided considerable runway to put the self-absorbed and sometimes superficial April in her place, and seems poised to do so when the script kind of forgets how to use him. Batalon, who does such great work in the new Spider-Man franchise, didn't need to be in the movie any more than he already is to land the blow that could have made his small part jump off the screen, but he's sadly not given the chance to do so.
Even so, Banana Split moves with enough confidence and familiarity that its one weakness (an over-reliance on the April and Clara relationship) is also its biggest strength. Marks and Liberato have an on-screen chemistry that jumps off the screen and breathes life into what could have easily been a stilted, superficial teen-com. The movie works because the audience believes these young women are good friends, and this wouldn't be possible without the effortless report the two actresses have with each other. Now playing at the 2019 Seattle International Film Festival, Banana Split is an honest yet emboldened take on the classic high school dilemma of exes. Bolstered by a sharp script and magnificent performances from its leads, this one should encourage audiences to stick around rather than split.