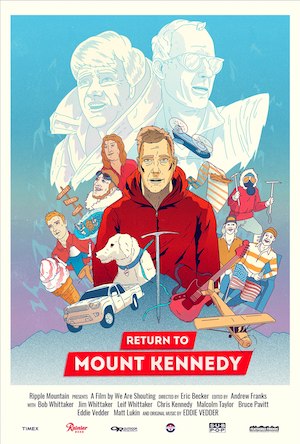 [Rating: Solid Rock Fist Up]
A meditation on the power of legacy, mid-life ennui, and the majesty of the outdoors, Return to Mount Kennedy is a Gonzo-esque documentary with a Grunge anthem in its heart. Following the impulsive and somewhat manic quest of Bob Whittaker to follow in his father and namesake's footsteps, the feature is interested in the ways people evolve, change, and reflect. And while there aren't any profound revelations to be found at the end of this little journey, director Eric Becker has crafted a unique story that speaks to one family's amazing journey.
Becker opens his documentary on his subject: Bob Whittaker. The son of legendary mountaineer Jim Whittaker, the first American to summit Mt. Everest, Bob details how his dad's frequent absences encouraged him to forge a different path. Coming of age in Seattle during the mid-to-late 80s, Bob took to the local music scene with a passion, and soon became a mainstay of it despite his inability to perform musically. Since the guy was always around anyway, early Grunge pioneers Mudhoney enlisted Bob to be their road manager, which led to greater opportunities in this field later in life with the band R.E.M.
Although never explicitly stated, Bob hints at the fact that in his youth he seemed to have been trying to distance himself from his father's considerable shadow, as well as the even longer one cast by his namesake/dad's best friend: Bobby Kennedy. Other talking heads such as Pearl Jam's Eddie Vedder, Mudhoney's Matt Lukin, and Sub Pop Founder Bruce Pavitt speak about the notoriously rambunctious and wild force of nature that was Bob Whittaker during Seattle's Grunge heyday, and his notable place in it. A prank-pulling, hard-partying music freak who surrendered himself to the city's music scene heart and soul, he was about as far away from the person his father was at that same age.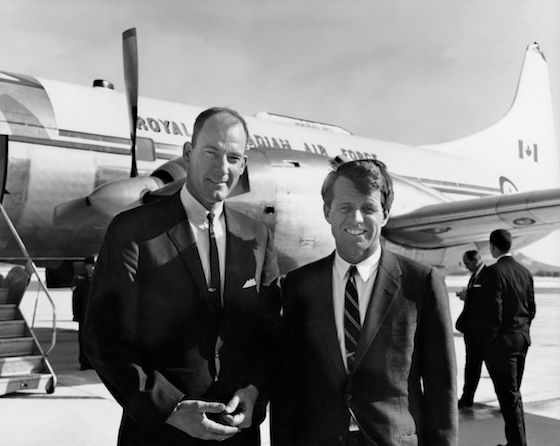 At around this point in the doc, Return to Mount Kennedy begins to seamlessly move back and forth between these conversations with Bob and his friends, to ones with his father Jim, who unpacks the story of his relationship with Bobby Kennedy. These two men came together for a P.R. stunt of sorts in 1965: to climb an unexplored mountain in Canada that that country intended to name in honor of the recently-slain J.F.K. Bobby Kennedy and Jim forged a deep and lasting friendship as a result of the expedition, and in their successful summiting of the newly christened "Mt. Kennedy," a bond spanning generations and multiple descendants cemented into place.
Becker is wise not to rush through these exposition pieces, however, deciding instead to pepper the stories of Bob's rebellious youth and his dad's expedition with Bobby Kennedy throughout the documentary. Ostensibly the story of Bob, now 50, turning a page in his life to get more involved in conservation and the roots of his past, this story has a lot of layers to it, and the structure of Return to Mount Kennedy accommodates this splendidly.
Who Bob is and what he's transforming into as he hits 50 is a long, complex story with more than a few unexpected twists and turns (going from rock and roll party god to environmental political activist isn't exactly a straight line). Bob's expedition to Mt. Kennedy with his brother, Leif Whittaker, and Chris Kennedy (the son of Bobby) acts as a relatable hinge upon which this grand narrative can rest. The story of a 21st century mountaineering expedition, and how the people involved got there (physically and emotionally), Return to Mount Kennedy simultaneously finds a way to relay an old story about American royalty while fleshing out one man's journey to reinvent himself and reconcile the self-harvested demons of his past.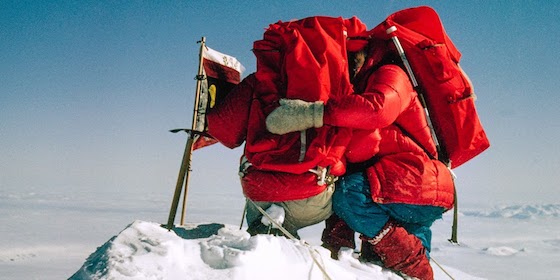 As grand as all this sounds, perhaps the documentary's biggest strength is its candor, and the willingness of the participants to acknowledge how silly all of this is. Bob's contemporaries and friends all think it is insane that this man, the hard-drinking mascot of the Grunge movement, now wants to climb a mountain. Bob is incredulous himself, and Becker doesn't shy away from the moments of self-doubt when Bob laments his less than ideal physical condition. Although guarded, and with more than a little air of self-importance, Bob's vulnerabilities and insecurities leak through often enough to complete a picture of a man who is compensating for something. He's a guy striving to be more than he was/is via a pair of legacies he's spent most of his life avoiding, and this conflict between the man he was and wants to be informs the best parts of Becker's doc.
The whole effort is bolstered by the brisk nature of the documentary, which never allows itself to get weighed down by any one segment or interview. Home movies and photo albums from the Whittaker archives are a magnificent window into the past that the elderly Jim so fondly speaks about when on-camera, and a reminder of the idyllic too-perfect world Bob seemed intent to distance himself from in his younger days. An original score by Bob's long-time friend, Eddie Vedder, is a boon to the effort as well, and adds an emotional rhythm to Return to Mount Kennedy.
Playing June 2, 9, and 10 at this year's Seattle International Film Festival, Return to Mount Kennedy is a moving story that also moves well. At just 80 minutes, the documentary might have dug a bit deeper to get at the more uncomfortable aspects of Bob's estrangement with his family, yet it still delivers on its primary objectives. An interesting look at a couple of important men making history, as well as the sons of those two men going back fifty years later for a tangled web of reasons very much their own, Becker has done something special here.