Movies playing in the narrative sandbox of zany antics during a bachelor or bachelorette party have been done to death, and it is usually the boys that get to have all the fun.
Not so with the French dark-comedy Going to Brazil, which follows the misadventures of a group of female friends during pre-wedding celebrations. Side-stepping softer, more light-hearted comparisons like The Hangover or Bachelor Party, and improving on darker one-dimensional examples like Very Bad Things or Stag, director Patrick Mille has struck a terrific balance with his lady-driven oeuvre. Light on its feet without coming off as silly, tense enough without edging into mean-spirited, and bolstered by its four exceptional leads, Going to Brazil (playing now at the Seattle International Film Festival) walks a tightrope and lives to tell the tale.
The film opens in France, where sisters Agathe (Alison Wheeler) and Lily (Philippine Stindel) live with their close friend, Chloe (Margot Bancilhon). All three have just received invitations and plane tickets to Brazil to attend the wedding of their good friend, Katia (Vanessa Guide). Katia moved to South America some time ago with little notice, a snub Chloe is still smarting over for personal as well as professional reasons. Yet this isn't enough to keep Chloe from succumbing to the peer pressure applied by Agathe and Lily, who are tickled at the idea of an all-expenses paid trip to the beach.
Yet Chloe's reservations about Katia's sometimes selfish behavior prove to be prophetic once the trio touches down in Brazil, where they learn that Katia won't be back in town for another day due to unexpected plans. On their own in Rio de Janeiro, and resolved to have a good time with or without their host, the three girls stumble upon a wild party full of booze, drugs, and all the revelry that they can handle. Things go a bit off the rails for them when one of them kinda, sorta, accidentally kills an overly-aggressive bro, however, which compels the ladies to make a quick exit from the party.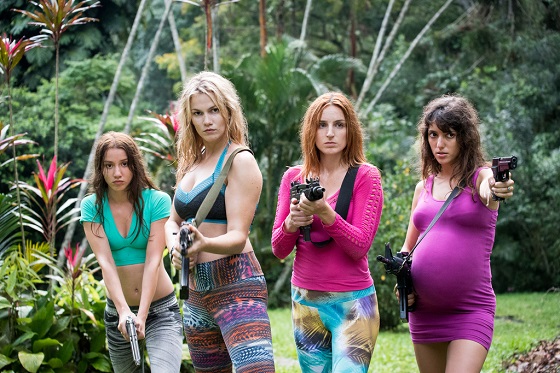 Going to Brazil unspools the bulk of its plot from here, with the three women tip-toeing through the dicey business of avoiding murder charges whilst simultaneously keeping the bride-to-be placated. When she finally meets up with them, Katia can't understand why her friends are acting so strangely. Indeed, between the trio's efforts to get out of the country as soon as possible and the stress of the impending wedding (not to mention Katia's late-stage pregnancy), tensions mount. Old arguments and grudges mingle with the stress of the 2nd degree homicide, and before long, developments inch everyone closer to the proverbial ledge.
Mille's direction keeps the whole affair light, yet as a whole, the movie works as well as it does because of the razor-sharp comedic timing and interplay between the four female leads. At just 95 minutes, Going to Brazil doesn't bog itself down in backstory, yet it still manages to create four distinct, lived-in personalities for Katia, Chloe, Lily, and Agathe. More than just functional tools to advance the story, each of the ladies is unique and identifiable via their specific character traits: all of which advance the ever-developing plot. Agathe is the buttoned-up, somewhat repressed "mom" of the bunch while her sister Lily, the brooding and moody hothead, is the wild card. Chloe is the world-weary, serial-dating man-eater while Katia, the self-absorbed social climber, actually represents the heart of the group.
These women aren't afraid to fight back, speak their minds, own their sexuality, and take their destiny into their own hands: yet their true power resides in their ability to come together as a whole. Too often in Hollywood, women are pitted against each other to create dramatic tension, yet Going to Brazil bucks this trend by demonstrating how much power these ladies wield when working together. And while the second act of the picture sags a bit at times due to the weight of the events that bookend it, sharp dialogue, clever plot-twists, and the strong, nuanced character work of the script keep everything afloat.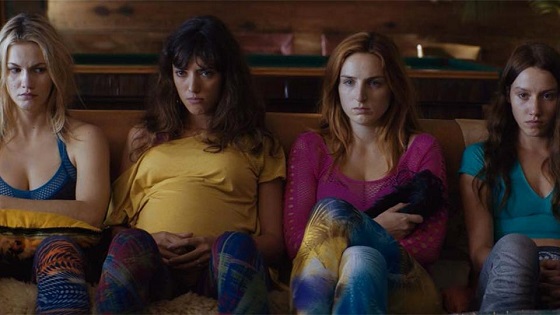 Going to Brazil is also a delight to look at, with the beaches, jungles, and favelas of Brazil stepping in as characters in their own right. Mille does a magnificent job contrasting the more muted, bland hues of France with the vibrant, opulent colors of Brazil, which corresponds to the somewhat outlandish, other-worldly nature of events in Rio. This keeps things on the level in terms of the overall tone of the picture, which manages to remain tense yet still silly and light. Really, though, all credit regarding the success of the film should go to the four leads, who sell the dark comedy with effortless aplomb.
Bancilhon is a standout among standouts as Chloe, who is self-aware enough to dislike the woman she's become while still remaining proud enough to stand up for herself. Wheeler as Agathe is no less a delight, for she has the unenviable task of playing nursemaid and secret-freak all wrapped up in one bundle. And while some of the ancillary characters veer off into shtick (director Mille playing the French consulate officer Herve is a bit broad), others (like Chico Diaz as the father of the groom, Augusto) work well.
Currently playing at the Seattle International Film Festival, Going to Brazil is a fun, taut, often hilarious look at friendship, class, and accidental murder. A decent film in its own right, the effort is elevated by strong performances from its female leads, and a fantastic script with outstanding dialogue and creative twists and turns that, like a cocaine-fueled oopsie-murder, you won't see coming.