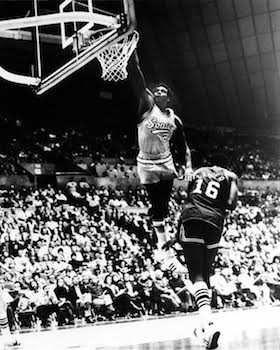 [Swiss Fist]
A good documentary should involve a balanced mix of interesting subject matter, relevance, context, engaging presentation techniques, and a thought-provoking narrative that challenges its audience. And while Full Court: The Spencer Haywood Story succeeds on the first three counts, it falls decidedly short on the last two. This partial triumph does bolster the overall effort, yet to use a basketball simile, this is like having a great center and pair of power forwards, yet a deficiency in guards to bring the ball up the court. In other words, there's the seed of something great here, yet a lack of core essentials crucial to ultimate success.
Full Court proceeds at a leisurely pace, and develops as a straightforward rags-to-riches tale concerned with basketball prodigy Spencer Haywood. Using a mix of talking head interviews and narration (by Chuck D), the documentary walks the audience through Haywood's journey from childhood to present day. Haywood himself explains that he grew up poor in rural Mississippi, and would have followed in his family's footsteps as a low-income cotton picker were it not for his natural athletic abilities. Although Haywood was lucky enough to have an older brother that pushed him on the court, and later on, coaches that invested a great deal of time and energy developing his fundamentals, the man's journey was all his own. Indeed, what comes through is a sense that Haywood's personal fortitude, steely determination, and athletic prowess carried him through a life beset by hardship and long odds.
Nevertheless, a distinguished high school, Olympic, and college career all took a back seat to the drama that would unfold when Haywood decided to go pro after playing just two years of NCAA ball. When Haywood made this leap in 1969, the NBA's eligibility rules prohibited him from playing until he was at least four years removed from high school, so his case went to the courts (legal instead of hardwood). This development is the hinge upon which the rest of the documentary pivots, as Full Court maintains that Haywood paved the way for a generation of superstars that wouldn't have otherwise been able to play when they did were it not for this legal challenge. The Supreme Court ultimately ruled in his favor, and countless teenagers have become millionaires overnight as a result.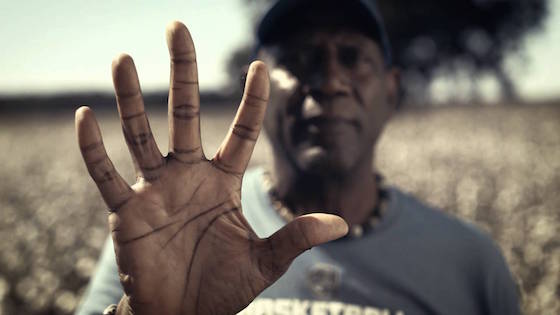 It is a compelling story, and is bolstered by the fact that Haywood had a pretty tough time both personally and professionally as a result of the litigation. Rival reams and their fans rode Haywood mercilessly during his early years in the NBA, accusing him of being a cheat for challenging the rules the other players had to abide by. Yet despite all this, Full Court never digs very deep into Haywood's mindset during this period, except to allow him a chance to say how difficult a time this was for him. There also isn't that much ancillary commentary to give insight into the man or the events, either from Haywood's professional contemporaries (i.e., Kareem, Bird, Magic), or personal circle.
And while basketball legend and T.V. analyst Charles Barkley (who was not a professional contemporary) adds some depth, as does a childhood friend of Haywood's, the documentary feels light in this regard. Indeed, Full Court has the flavor of a manufactured narrative entirely beholden to Haywood's perspective and preferred message, and while interesting, one can't help but to feel like the audience is only getting part of the story. Although Pat Riley, an assistant coach with the L.A. Lakers during Haywood's tenure, offers some great insight when the doc. moves on to cover Haywood's substance abuse problems, this almost makes the absence of additional context from other contemporaries more glaring. On a personal level, again, there are a few great moments where Mr. Haywood's daughter is featured, and speaks about their relationship, yet the lack of any other familial or personal insights leaves a lot of questions unanswered.
Who was Spencer Haywood as a husband, or as a teammate? Although his place in modern sports history as a Hall of Famer and eligibility pioneer is established with efficient clarity, who Mr. Haywood was and is as a man remains somewhat up in the air. What the audience is left with is a feel-good story about a small town kid who reached the pinnacle of the sporting world, nearly threw it all way via a nasty cocaine addiction, yet persevered and overcame in the end. It is an inspiring (if not especially original) story, and one that hits all the proper beats along the way, yet its impact isn't really felt due to the presentation.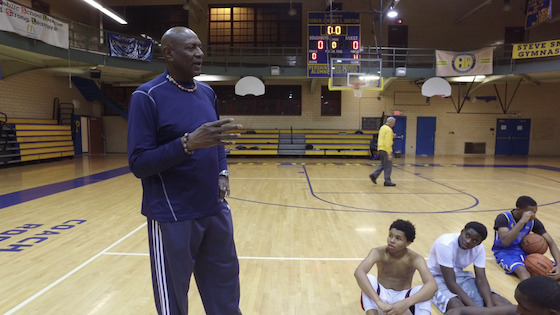 If Full Court relied less on voice-over exposition and Haywood as the narrative's conveyance method, things might have been different. For example, the documentary name-drops Kobe Bryant and LeBron James as modern beneficiaries of Haywood's struggles, yet neither of these players appears to talk about Haywood and his influence on today's game. With the exception of Barkley (who has been a vocal advocate for Haywood's induction into the basketball Hall of Fame), there isn't much in the way of professional journalistic context, either. Had this documentary allowed for people other than Haywood to tell this story, it would have had considerably more punching power, yet as it stands, one just has to sort of take the picture's word for it.
Full Court is playing at this year's Seattle International Film Festival, and isn't a bad watch by any means. Spencer Haywood's story is an interesting one, and his documentary is forthright as it concerns the good as well as the bad in the man's life. Yet the picture doesn't exactly reinvent the wheel when it comes to its presentation, and its reason for existing isn't propped up by many people outside of Mr. Haywood's inner-circle, making the whole affair somewhat one-sided. Basketball fans might enjoy this one, but for everyone else, it may come off as a little too vanilla and familiar.