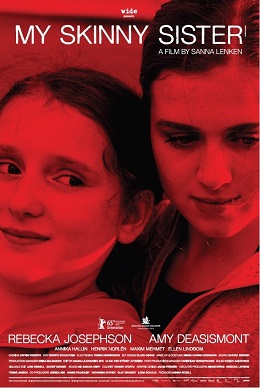 [Rating: Solid Rock Fist Up]
In My Skinny Sister (Swedish: Min lilla syster), Swedish pre-teen Stella (Rebecka Josephson) is having a hard enough time navigating the minefield that is adolescence without the passive torment doled out by her big sister, Katja (Amy Deasismont). Stella is just entering puberty's awkward phase as the movie starts, and looks on with envious eyes as her teenage sister soaks up all the advantages of a life three or four more years advanced than her own. Katja is a rising star on the figure skating scene, and possess all of the grace, beauty, success, and attention that her little sister craves. Yet only a 12 year old could assume that life as a teenage girl is the pinnacle of existence, and young Stella's education in this regard makes up the meat of My Skinny Sister.
Early on, Stella's expressions silently tell the audience everything they need to know about her life, and the relationship she has with her family. My Skinny Sister opens with Stella sitting in the stands of an indoor ice rink, looking on as her big sister perfectly executes a skating routine. Katja's skating is fluid, graceful, and the source of the visible pride lathered all over the faces of her parents. Stella is still growing, and is not yet the picture of traditional Nordic beauty, yet Katja's slender frame, praise-worthy acrobatics, and dreamy skating coach speak to the points of sibling-envy Stella hangs her hat upon. All this is exacerbated later that evening, when Stella and Katja's parents heap praise all over the latter sibling, and present her with a new competition costume to congratulate Katja on her skating accomplishments.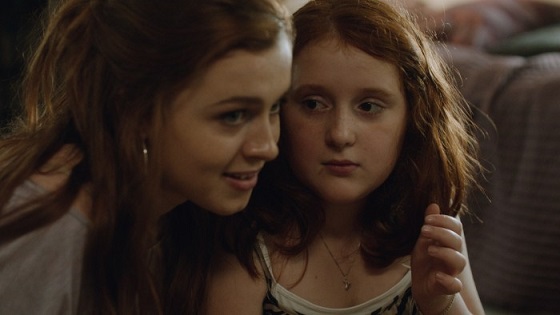 Yet Stella is also loved, and her parents seem very conscious about making sure that their youngest knows that. Indeed, My Skinny Sister is not a one-dimensional after-school special with clearly defined roles, a-la a "good guy" and "bad guy." Just like in real life, there are times when the attention of two parents is sometimes unevenly siphoned off to one child over another, yet like any good mother and father, Stella and Katja's folks appear to be well-adjusted, patient, thoughtful, and caring. They try to talk to their children instead of just ordering them around, and dedicate themselves to being there for their kids however much they can manage to be.
Yet just like real life, all the thoughtful, well-reasoned parenting in the world doesn't necessarily preclude a child from the many pitfalls of adolescence and young adulthood. For example, Katja is a smart, beautiful, talented young woman, yet she isn't immune to self-loathing and body dysmorphia. My Skinny Sister follows Stella as she tries to make sense of Katja's condition, and her attempt to balance those concerns with her responsibilities as a good daughter, sister, and human being.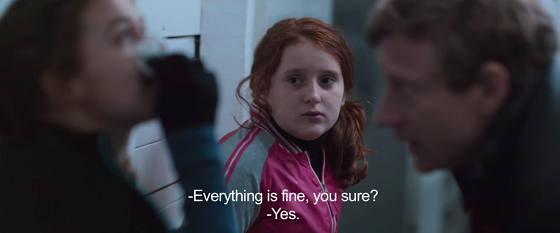 Through it all, writer-director Sanna Lenken cleverly keeps the film in Stella's universe, and sets up most of her shots in a slightly shorter eye-line. In this way, My Skinny Sister uses Stella as the audience's guide through the drama, and is careful to parse out information only the younger sibling would be exposed to. Worried conversations between the family's matriarch (Annika Hallin) and patriarch (Henrik Norlen) come in fragments when Stella drifts in or out of a room, or when the conversations leak through the bedroom walls. This cinematic tactic is effective insofar as it allows the audience a glimpse into the mind of a young girl quickly coming to terms with a very confusing world: one she struggles to make sense of as she goes along.
One of the strengths of Lenken's picture is the patience it demonstrates in drawing out the subtleties of a normal, confusing childhood. There aren't any straightforward answers, or connections to be made as it concerns Katja's struggles with eating and her body, nor is there an easily-digestible lesson to take away from all this. Katja is going through a very serious yet exceptionally normal predicament throughout the course of the film, and while they aren't perfect, her parents express an appropriate (and relatable) amount of concern. What's more, the parents and Stella all act in much the same way as many have (and many more will) when confronted with the dilemma of wanting to simultaneously help and protect a daughter/sister.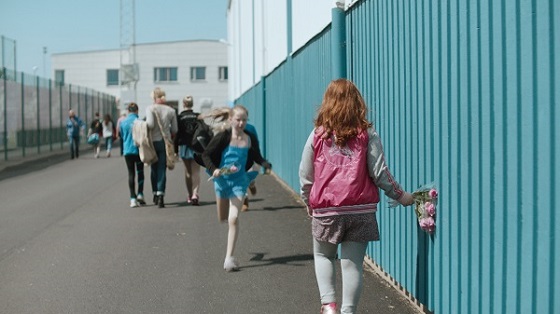 Watching this Swedish family deal with their daughter's struggles, which might just as easily be transplanted into a British, American, German, Australian, or Korean (or any other developed country) setting reminds the viewer just how universal this human condition of ours really is. Sure, aside from the language, there are cultural indicators that dog-ear this production as decidedly Swedish. For example, you know you're not in Kansas anymore when characters snack on toast with cheese and pickle garnish, view figure skating as a life-and-death struggle, and listen to hard-driving black metal during play-dates. Yet at its core, this is a movie about a family coming together, and one girl's journey into young adulthood on a rocket-powered sled sponsored by anorexia and bulimia.
Currently playing at the Seattle International Film Festival, My Skinny Sister works because it is successfully anchored by the strong, quiet, thoughtful work of lead Rebecka Josephson as Stella. A lesser actor would have been forced to verbalize much of the narrative that Ms. Lenken wisely leaves in the eyes, actions, and furtive movements of Ms. Josephson. It's sometimes easy to forget that one is watching a movie and not some Cinema Verite docudrama about a real-life family when watching My Skinny Sister, which side-steps overly-dramatic family tropes for genuine moments of familiar uncertainty and confusion. The stellar production values and editing bring the audience back time and again, however, and make up the foundation of a superb film.