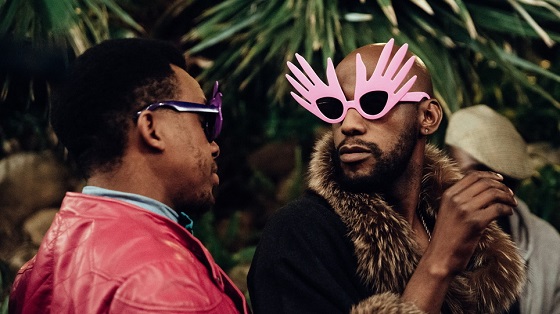 [Rating: Solid Rock Fist Up]
Back in 2005, director Mark Dornford-May took a daring risk when he rebooted the French opera standard Carmen for the screen via an updated South African soundtrack and setting. That adaptation, U-Carmen, was a critical hit, and likely inspired the director's newest offering: Breathe Umphefumlo, a similarly transposed South African take on Puccini's, 'La Boheme.' The story about two young bohemian types in late-19th century Paris, Puccini's opera spun a tragic tale about poverty, tuberculosis, and young, passionate love. The fact that Breathe Umphefumlo is set in modern-day South Africa hardly seems an arbitrary choice, for just like the opera's original setting, T.B. still claims thousands of lives there every year, and the division between the haves and the have-nots is just as sharp.
Although credit title cards establish that Breathe Umphefumlo is based on 'La Boheme' right off the bat, the first few minutes leave room to wonder whether or not this is just in spirit (i.e., the plot). Dornford-May is patient with his film, thus before pitching into things, he allows the audience to drink in the atmosphere of Khayelitsha: the Cape Town neighborhood in which the film is set. Although it is winter when the movie opens, there's a vibrancy to the people and their surroundings that leaks through the screen. Within these first few moments, the film introduces its lead, aspiring poet Lungelo (Mhlekazi Mosiea), who lives in a crowded and underfunded dorm with his friends/fellow students. As they gather around a table to lament the lack of central heating and libations, Lungelo and his friends break into operatic song, and establish that this is indeed Puccini's opera (albeit disguised in South African accoutrement).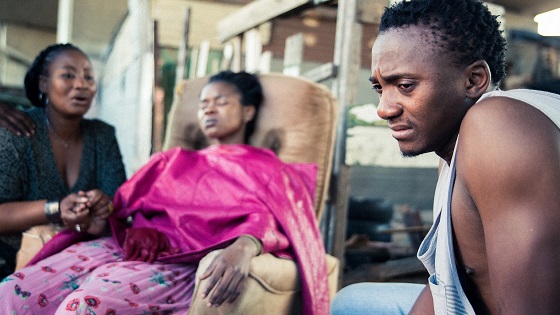 Fans of 'La Boheme' will no doubt be tickled by the unspooling of Breathe Umphefumlo, which follows the same basic act and narrative structure of its source. Each scene is more or less a beat-by-beat reboot of Puccini's opera, right from the opening dorm room discussion about using one's art for "warmth," to the famous lost key and candle scene between Lungelo and his beloved, Mimi (Busisiwe Ngejane). The seemingly seamless transition from the 19th to the 21st century is a testament to the film's quality, as the writing allows the scenes to play out so smoothly, and without any anachronistic aftertaste.
Some characterizations remain in place or only slightly altered, like Lungelo being a student/poet instead of a playwright, as Rodolfo was in the original. Other small changes don't drastically alter any of the core elements of 'La Boheme,' like the fact that Mimi is a botany student instead of an embroiderer. Indeed, great care seems to have been taken to assure that the bedrock of the original opera is preserved for Breathe Umphefumlo. And while certain practical considerations called for some updating, at the end of the day, the movie is defined by what is essential to any opera: the music.
Singing in Xhosa, one of the official Bantu languages of South Africa, the cast of Breathe Umphefumlo pitch into their roles with total, brilliant commitment. This film is straight-up opera minus the stage, from the soaring, sweeping vocals to the brutish, sometimes-cartoonish buffoonery of its characters. In opera, people fall deeply, madly, stupidly in love, they rend their hands at entirely avoidable tragedy, and most importantly: they fail to effectively communicate. These operatic hallmarks largely define the genre, and are all at play in Breathe Umphefumlo, which is good-natured, yet doesn't pull any punches in this regard.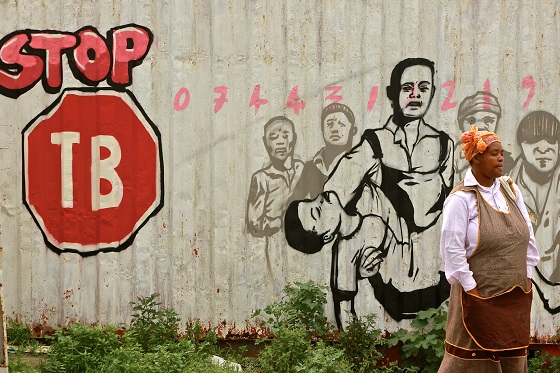 The gorgeous musical numbers frame this tragic love story wonderfully, and breathe new life into a somewhat stale and stodgy old tale. By moving Puccini's opera into a modern setting with social conditions on par with the level of poverty and preventable illness that was ripping through Paris in the late 1800's, the story achieves a renewed sense of urgency and palpable tragedy. Director Mark Dornford-May is making a poignant and shameful observation with his picture, which is itself a sort of condemnation of a world that would let a tale this tragic have a modern equivalent. People in thriving, modern cities are still living in poverty and dying of diseases that modern medicine CAN treat, yet this terrible drama lives on. As a wise man once said, this "lofty scene" is again and again "acted over in states unborn and accents yet unknown."
As far as critical take-aways, Breathe Umphefumlo, like 'La Boheme,' is a little light on providing any context for Lungelo and Mimi's love for each other. Seriously: they just meet in a dark hallway, talk for about ten minutes, and then mutually agree that they love each other with the flaming passion of a thousand burning suns. Again, like the opera, Lungelo's friends are a little cartoonish, as is the sub-plot about the romance between one of them and a local jazz singer, yet this development is faithful to the source material, and does no real harm to the picture. Although things like this might not pass the sniff-test of a modern cynic, fans of opera, and 'La Boheme' in particular, will appreciate Mr. Dornford-May's fidelity to Puccini's tale.
Currently playing at this year's Seattle International Film Festival, Breathe Umphefumlo is a witty, thoughtful, and enjoyable take on a classic opera standard. Magnificent vocals, brisk pacing, beautiful cinematography, and understated yet considerate set design tie the production together, and combine for quite the treat, both for lovers of opera, and good cinema in general.