[Solid Rock Fist Up]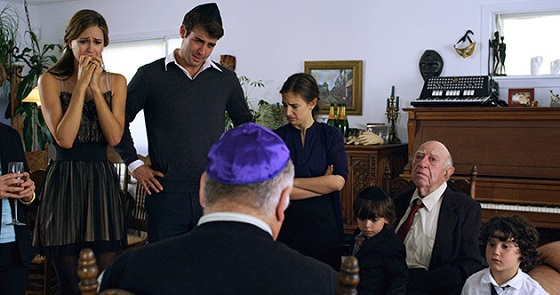 Rookie director Jake Wilson has crafted a light, quirky, but always humorous movie about one woman's adventures navigating the treacherous waters of a late-twenty-something N.Y.C. existence. Barb (Sas Goldberg), the star and anchor of You Must Be Joking, is smart, single, college educated, and excellent at her entry-level job for which she is criminally overqualified. Yet Barb just can't seem to catch a break between her condescending co-workers, overbearing mother, and treacherous sister, all of whom seem to work together, in shifts, to assure that she suffer.
A small ray of sunshine breaks through this gloom in the form of Billy (director Jake Wilson in a co-starring role), a childhood acquaintance of Barb's who by coincidence has hired his long-lost friend's law firm to represent him. Loud, brash, fearless, and confident in all the ways she isn't, Jake inspires Barb to stretch herself a bit, and explore the more creative aspects of her personality. Having got himself caught up in a very public sex-tape scandal (hence his need for legal representation), and ostracized by his work peers and friends, Billy finds no small amount of comfort in the reestablishment of an old friendship, and a strong bond between the pair is formed again.
And that's pretty much it in terms of plot development. You Must Be Joking expands slowly but surely, what with Barb moving further and further out of her shell to confront insecurities in both her personal and professional lives. At Billy's urging, Barb begins exploring some of her comedy and improv. instincts, leading to some of the most enjoyable moments in the film. Indeed, the scenes where the audience gets to watch a faithful recreation of a real improv. circle, and some of the exercises involved in this kind of training, is a rare look at this unique comedy process.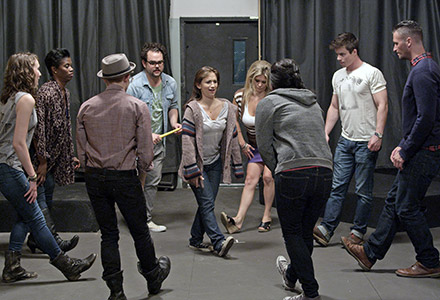 The other realm for personal growth is with Barb's family: her condescending sister and demoralizing mother chief impediments in this area. At its core, You Must Be Joking is the story of one woman's journey over the course of a few months to break out of the personal and professional stagnation that has plagued her since college. Although Billy is the catalyst for this change, Barb is the one who ultimately must pull the trigger, and find the courage within herself to make the tough decisions, and say the unpleasant things in her heart. The scenes with Barb's family allow for some of the most profound growth in this arena, and along with the improv. group moments, are some of the sharpest of the picture.
Ms. Goldberg's work, augmented by Mr. Wilson's deft directorial touch, makes this journey a worthwhile one to watch. Classic comedy tropes are thrown into the film at key moments to give the whole production a light, almost familiar flavor; quick cutaways to daydream sequences that have Barb recreating the I Love Lucy chocolate factory episode, or another where she walks down a crowded New York street dressed as the classic sad clown are especially clever, and well-placed.
If the movie has one stumbling point, it is found in the script, which is dialogue-sharp, yet a little heavy-handed in its treatment of Barb throughout the course of the picture. Something of a whipping boy for the film's narrative, Barb is made to suffer an endless series of indignities by one-dimensional characters that all seem to delight in her misery. In terms of moving the plot forward, and developing the trajectory of Barb's growth, all of this works, yet it does come across as somewhat disingenuous at times. Truly, as tough a time as Barb is having with life, it's hard to imagine that the entire world could hate her with as much gusto as this movie suggests.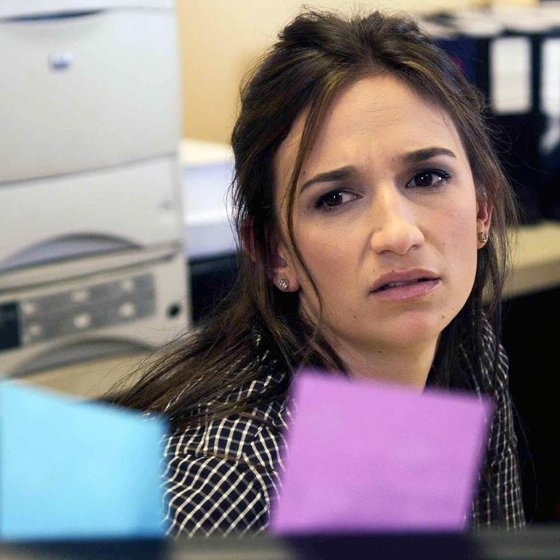 Still, all of this does work within the thematic framework of You Must Be Joking, and the universe it sets up early on. Also, as mentioned earlier, Ms. Goldberg carries the film in a number of places where others might have let the weight of the story crush them, and keeps her character grounded and relatable throughout the entire production. Another surprising strength of the picture is in its casting, for the ancillary characters in You Must Be Joking look and act like real people who might actually inhabit this world. For example, it's refreshing to watch Barb develop a possible love interest with a man who isn't lean, chiseled, and in possession of a 1000-watt smile.
On the one hand, while it does stretch one's imagination a bit when all the bad luck and misfortune in the world lands on Barb's head, it's nice to see her navigate this mess amongst ordinary people who do indeed ring true more often than they don't. It's a precarious balancing act, to be sure, yet You Must Be Joking and director Jake Wilson make sure the scales are maintained and even.
Now playing at this year's Seattle International Film Festival, You Must Be Joking is a classic New York comedy in the best Woody Allen-Diane Keaton tradition of quirky characters in an even quirkier world. Full of poignant laughs that mix well with the sillier ones, Mr. Wilson's picture is an impressive debut from a director and actress audiences will likely be seeing a lot of in the future.