[Minor Rock Fist Up]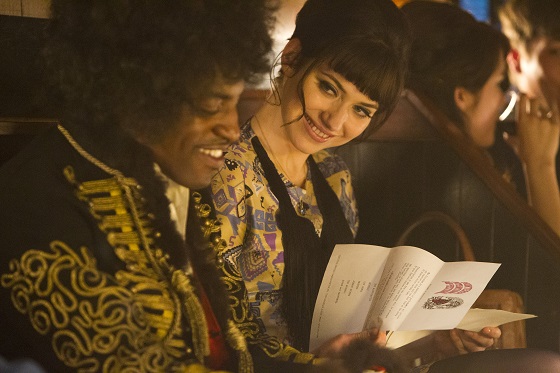 12 Years a Slave scribe John Ridley did an admirable job directing a Hendrix biopic devoid of any of that musician's original musical work, yet admirable isn't the same as excellent, and Jimi: All Is By My Side is indeed a few shades short of excellence.
The movie's focus is the period in Hendrix's life between 1966 and 1967, when he was crafting the nuances of his unique sound: one that would explode into mainstream consciousness by the time 1968 dawned. And as interesting a moment as this was in one musician's life, as well as the world at large, Jimi: All Is By My Side is never able to successfully plumb the depths of either, or tie them into a consistent narrative that informs one or the other.
Ridley's picture is also a challenging visual experience, for its construction relies heavily on fragmented scenes that move liberally between moments whilst still holding onto the dialogue. An interesting technique in small doses, especially when a director is trying to open a scene up to multiple visual clues, Ridley's use of it in this picture doesn't add much to the texture of the moments where it's employed. And while the uncharacteristic use of this technique may have been the point, insofar as it mirrored Hendrix's own flaunting of convention, it didn't do the picture any favors.
Andre Benjamin (Jimi Hendrix), on the other hand, did.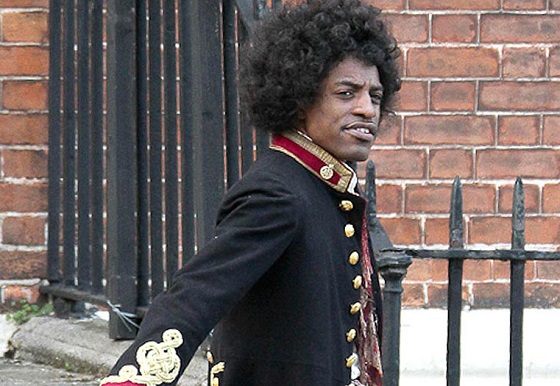 An exceptional musician with remarkable acting instincts, Benjamin transcends mere imitation, and absolutely inhabits the spirit of Jimi Hendrix. The cadence and pacing of his dialogue, his posture, even his stage presence slip into a Val Kilmer-Jim Morrison or Jamie Foxx-Ray Charles level of performance where it's easy to lose track of where the legend ends and the actor begins. A lot of people will say that this is a great performance for a mere musician, and that's bullshit. This is a spectacular turn: period.
Imogen Poots does a fine job as Linda Keith, girlfriend of Rolling Stones wild-man Keith Richards, and the woman who could claim ownership of the "I found him" distinction. It's Linda who finds Jimi playing in the background of a trashy New York club, talks him up, introduces him to a serious manager, and convinces him that London will embrace the guitarist's exciting new sound. Although Jimi will meet and mingle with other women once he arrives in London, Linda remains a faithful champion and mentor of sorts.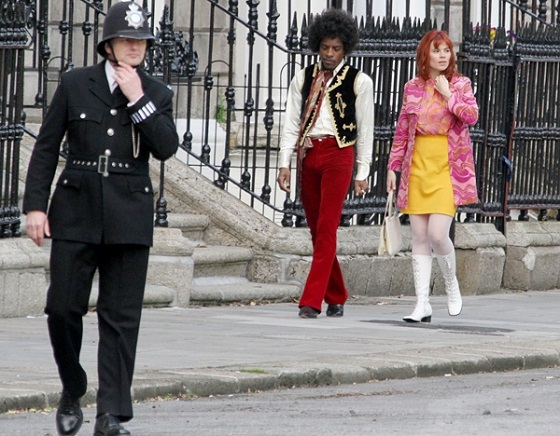 An exploration of Jimi's personality, riddled with insecurities and crippling shyness, is as much a part of the film as its look at Jimi's rise out of obscurity and into stardom. Credit should be given to Mr. Ridley for confronting some of the less glamorous aspects of Hendrix's life during this period, including the musician's struggles with alcohol, racism, and depression. It doesn't take more than a handful of minutes for a person to realize that this isn't a stroke-bio. Ridley's piece seems far more interested in fleshing out the circumstances that gave birth to the Jimi Hendrix the public would come to know during the last two and a half years of his life (a period this picture doesn't cover).
This is a reasonable filmmaking choice, for most people are somewhat familiar with that Jimi Hendrix. Jimi: All Is By My Side seems far more interested in the man most did not know: the guy learning how to become that which most now recognize. The problems creep into play in the basic construction of the film, as mentioned earlier, but also as a result of the incomplete composition of the characters surrounding Jimi. Linda is never given any real motivation or background to inform her decisions or actions in the picture, a fate that is even more pronounced for Jimi's other serious love interest in the film, Kathy (Haley Atwell).
Jimi and Kathy begin a relationship after his first London performance, and while the character serves to flesh out many important aspects of Jimi's personality, like his fragmented relationship with his family, Jimi's experiences with racism, and their mutual struggles with depression, she's little more than a plot-sounding board. This is a shame, for Atwell is magnificent in the picture, and displays a stunning range that is largely wasted on the poorly-written part.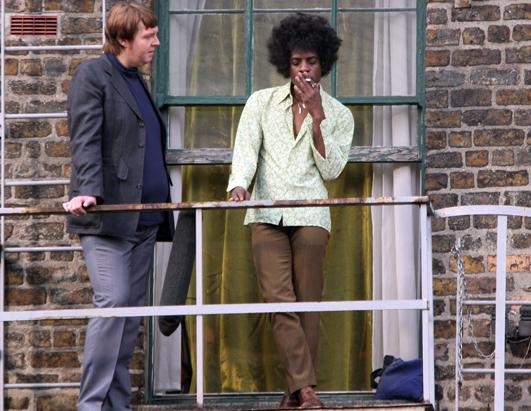 Andrew Buckley deserves special recognition for his performance as Chas Chandler, the bassist for The Animals who went on to manage Hendrix (along with the guitarist's sometimes erratic personality). His role offers a much-needed dose of comic relief to the picture that keeps the entire production buoyant and engaging throughout. Quick cameos by actors portraying people like Eric Clapton, John Lennon, George Harrison, and Keith Richards also add an enjoyable flair to things, and ground the story in the time period in a manner that seems lacking due to the refusal of the Hendrix estate to license any of Jimi's music for the production.
Now playing at the Seattle International Film Festival, Jimi: All Is By My Side is a very interesting look at the formation of an unquestioned legend. Although a bit light in the structure and atmosphere department, strong performances, an engaging story, and stunning period wardrobe and set designs make it well worth the price of admission.