[Solid Rock Fist Up]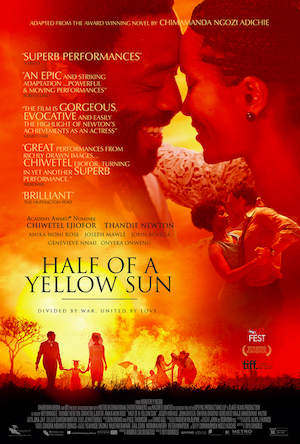 Whoa boy. Nobody does revolution like Africa, and when it comes to portraying the dreadful tidings of regime change, director Biyi Bandele doesn't pull any punches. His sprawling debut feature, Half of a Yellow Sun, spins multiple plates with its on-the-ground look at Nigeria's war for independence during the 1960s, tracking the personal growth of several unique individuals in the midst of a very complex socio-political struggle. This push for independence, and the violence that often accompanies it, brings out both the best and worst of those Bandele's picture focuses upon, and provides a captivating window into a story that could (and has) take place in other countries, during different times.
Based on the eponymous novel by Chimamanda Ngozi Adichie, Half of a Yellow Sun anchors itself in the lives of two sisters, Olanna (Thandie Newton) and Kainene (Anika Noni Rose). When the film opens, the pair are newly returned to Nigeria from their studies abroad in the U.S., and most recently, England. Although they are native-born Nigerians from a very distinguished and well-connected family in Lagos, their proper English mannerisms, accents, and fashion accessories set them apart from their peers.
This culture has come at a price, however.
Olanna's time in London encouraged the growth of a conscience, and her return to Nigeria sees her shun the family business in favor of an urban teaching post and a romance with a radical intellectual. This man, Odenigbo (Chiwetel Ejiofor), straddles the line between the traditional aspects of Nigerian society and the rapid advance of modernity into the region, for his fierce nationalism and ethnic pride often clash with the "modern" man he's trying to be.
As Half of a Yellow Sun develops and moves out of its first act, the audience watches as the good (albeit naïve) intentions of Olanna and Odenigbo run hard up against the ugly consequences of life in a country in the throes of revolution. As characters, both Olanna and Odenigbo travel unique ground, for each must contend with the tribulations of the war raging around them whilst trying to keep a handle on the drama each is stirring up in their own personal sphere. Their relationship isn't an easy one, and one of the biggest strengths of Half of a Yellow Sun is its willingness to explore the unpleasant aspects of its leads.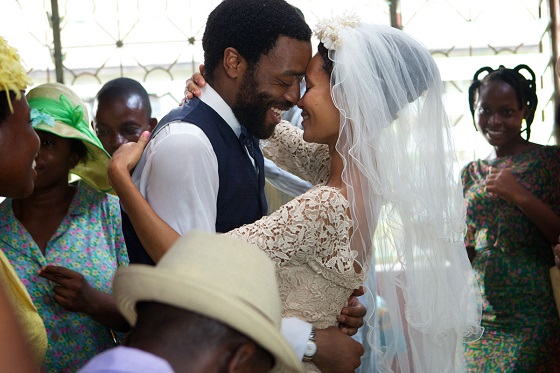 Although Olanna and Odenigbo's story dominates a majority of Half of a Yellow Sun, Kainene's portion of the plot is no less nuanced or poignant. The loyal daughter who stuck with the family business, and largely towed the line for both siblings, Kainene is no less independent-minded than her sister, even if she does express this differently. Drawn to a good-natured Englishman, Kainene develops a long-term relationship with this man, Richard (Joseph Mawle), whose innocent love of the continent is soon rattled by ethnic cleansing and the countless refugees it produces. As mentioned earlier, Kainene and Richard's story takes up far less time in the film, yet their experiences inform the larger themes at play in the picture, and even cross over into Olanna and Odenigbo's life at several points.
As Nigeria experiences the different permutations of independence and revolution throughout the 1960s, so too do Olanna and Kainene find themselves surprised by the unexpected turns their lives take over the course of about half a dozen years. Half of a Yellow Sun is at its best when it weaves the personal stories of its characters into the larger fabric of a country's struggle for independence. As Olanna and Kainene attempt to reconcile their more modern, Western views with their older familial loyalties, not to mention the men in their lives, a number of compromises become necessary. This notion of compromise represents one of the central themes of the picture, for the country, like the characters themselves, can't endure without it.
With a run-time of about 110 minutes, and the better part of a decade of history to cover, Half of a Yellow Sun does a fantastic job condensing stories down to make things manageable for the audience. Fans of the book will no-doubt feel a pang of disappointment that some of the ancillary characters only appear in the film as compliments to the larger story of Olanna, Kainene, et al, yet this is difficult to avoid in cinematic adaptations of literary works. Odenigbo's mother (Onyeka Onwenu) suffers thus, as does his houseboy, Ugwu (John Boyega), both of whom represent very important components of the larger story (mainly the poorer tribal communities and working-class individuals), yet enjoy only sparse screen-time.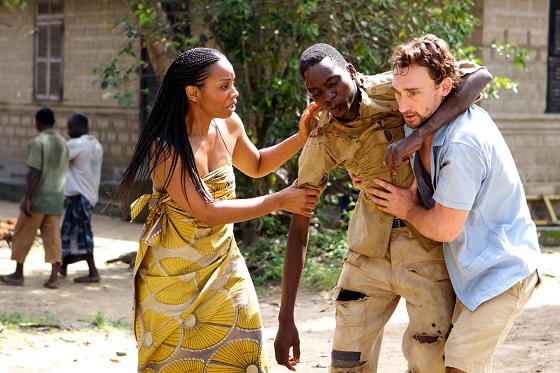 As a film, Half of a Yellow Sun works because it ably juggles the stories of its characters while keeping the larger events of Nigeria's independence movement in-play throughout each phase of their lives. Although Biyi Bandele does cheat a bit by providing archival newsreel footage of historical events to inform the audience about the revolution's particulars, the end result is positive. Sharp costume and set design successfully place the film and its characters in the time period and region presented, and do much to bolster an audience member's connection to the material. Currently playing at this year's Seattle International Film Festival, Half of a Yellow Sun is a hard, emotional, bloody, yet ultimately worthwhile look at an African independence movement through the eyes of people who, fifty years later, still seem entirely familiar.