[Solid Rock Fist Up]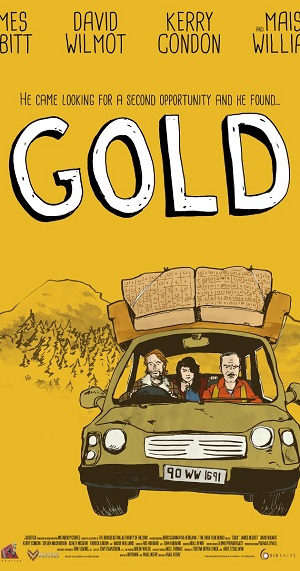 Something of a cross between an Alexander Payne and Wes Anderson film, director Niall Heery's new feature, Gold, transcends both comparisons. The movie is about personal redemption, and one man's struggle to overcome previous failures and personal feelings of inadequacy that have plagued him for over a decade. Gold also demonstrates how the best intentions can lead to disaster, and how disastrous decisions sometimes have a roundabout way of helping us find what we need (if not want). The end result is a film that is funny, moving, poignant, and altogether genuine in its portrayal of the characters and their world.
Gold tells the story of Ray (David Wilmot), who returns to his hometown after twelve years to visit his ailing father, and reconnect with the girlfriend and daughter he left behind over a decade ago. More or less homeless, with nothing but a beat-up jalopy and abandoned couch to his name, Ray touches base with his dad before resolving to reestablish a relationship with his daughter and high school sweetheart (the girl's mom). Yet when Ray returns to his hometown in Southern Dublin, he finds the situation to be less than ideal.
His –ex, Alice (Kerry Condon), is now shacked up with his old P.E. coach, an aggressive competitor with a line of sports-themed self-help tapes and a confrontational disposition. This coach, Frank (James Nesbitt), is also using Ray's teenage daughter, Abbie (Game of Thrones alum Maisie Williams, a.k.a., Arya Stark), as his "system's" guinea pig via a brutal cross-country running mentorship. These two men couldn't be more different, for while Ray simply wants to get to know Abbie and support her, Frank's efforts all revolve around that man's attempt to control the young woman, and shape her into something she's not.
Although somewhat predictable in its trajectory, Gold sparkles in all the right places at just the right moments. Crisp, witty dialogue mixed with a very keen soundtrack bring the scenes to life, and elevates the material into a very cozy, familiar place. Especially high marks should go to the cast, who all inhabit their roles with an effortless swagger that pulls the audience into this charming little world. Maisie Williams is particularly delightful as Abbie: a tough, headstrong, witty kid who is also shielding the painful scars of a childhood devoid of a father. For Game of Thrones fans, it is also somewhat satisfying to see the actress in a role where she's allowed to bathe, comb her hair, and live a life free of murder and betrayal.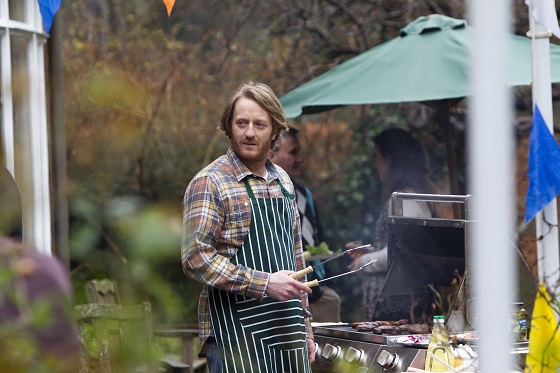 Gold also does a wonderful job peeling back the outer layers of one man's path towards emotional redemption, for if it's about anything, Heery's picture is the story of one person overcoming the demons of his past failures. Ray has to explain to Abbie that while Alice had left him a long time ago, it was he who had abandoned the family, and his responsibilities as a father. Ray has nothing but an apology for this, as no series of explanations can provide anything near a reasonable excuse for so egregious a sin.
Yet Ray is there again, in Abbie's life, and he wants nothing more than to stay there, supporting and caring for her in whatever way he can or is able. Really, this is about as much as any child can ask of a parent, and Ray makes it clear this is something he is more than willing to provide. Being new to the whole fatherhood thing, though, means that Ray has a learning curve to contend with. How can a guy without any experience dealing with a teenage daughter be expected to safely steer clear of catastrophic disasters?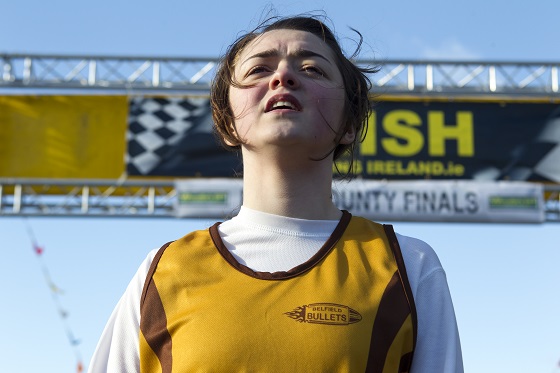 Indeed, Alice may have been less than thrilled about Ray's sudden reappearance, and Frank might be a pain in the ass, yet there is no more fiendish adversary in the world than a cunning, manipulative, teenage girl. Some movies might buckle under the weight of so many flavors, yet Heery's picture manages to hold itself together. While Gold is a comedy first, it is also a very perceptive take on parenting, relationships, adversaries, redemption, loyalty, and hope. The picture isn't afraid to make a sharp dramatic turn when needed, yet is always careful to balance the effects of these shifts against the thematic fabric of what has come before.
Currently playing at this year's Seattle International Film Festival, Gold is a rare treat. A feel-good movie about an exiled dad looking to reconnect with his family, this Irish flick finds a way to tickle all the right spots without squeezing the sappier portions too terribly much.